Olympic Basketball 2012: 3 Things We Learned from Team USA's Win over Nigeria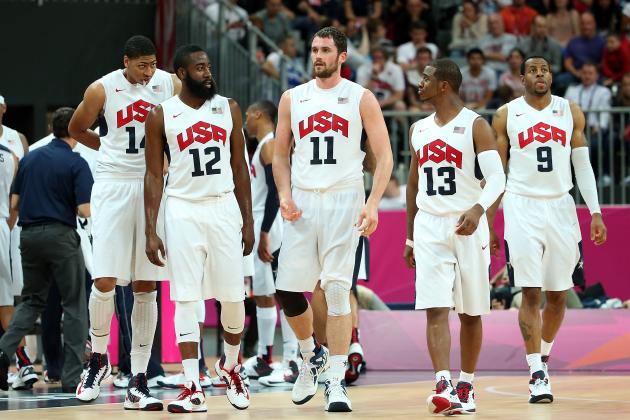 Christian Petersen/Getty Images

There are lots of good Olympic basketball teams, but the United States definitely fields the best team.
Team USA scored 156 points in an 83-point win over Nigeria, and shattered multiple records in the process. The old Olympic record of 138 points (by a team) was obliterated about halfway through the fourth quarter, and the US didn't stop there.
Every player scored, eight of them scored nine-plus points and Carmelo Anthony scored 37 points. Even though stars LeBron James, Kobe Bryant and Kevin Durant barely played, the Unites States flat-out dominated.
Here are three things we learned from Team USA's win over Nigeria.
Begin Slideshow

»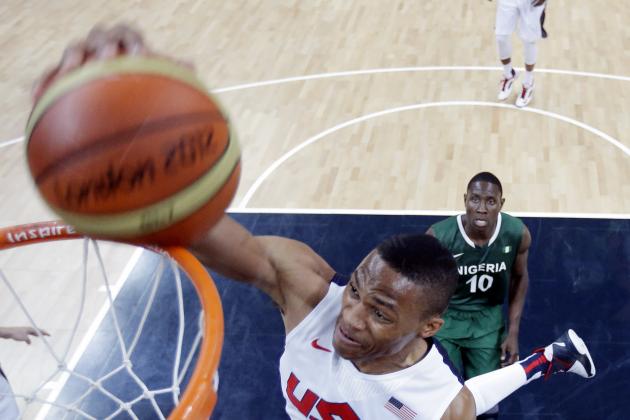 Pool/Getty Images

I'm sure you know this.
Team USA set an Olympic record with 156 points in just 40 minutes in a game that was never even close. They shot 71.1 percent from the field, 63 percent from beyond the arc and 64.3 percent from the free-throw line. In total, the Americans recorded a whopping 41 assists (compared to 15 from Nigeria).
Every player scored, and New York Knicks small forward Carmelo Anthony set a Team USA record by tallying 37 points. However, what's really amazing about his point total is that he scored them in just 14 minutes of playing time. Anthony hit 10 of his 12 threes and treated the crowd to a brilliant show.
Even though the Americans blew out France and Tunisia, they definitely weren't this sharp. Every player was on fire against Nigeria, and every player except James Harden shot 50 percent or more from the field. Russell Westbrook, who is known for poor decision-making and shot selection, hit 7-of-8 to put up 21 points.
Nigeria is an Olympic rookie, so they aren't a very good team. The USA will have a lot more trouble with Lithuania on Saturday and Argentina on Monday, but this game definitely sent a message to the Americans' opponents. When Team USA gets hot, there's no stopping them.
They just don't stop scoring (well, until coach Mike Krzyzewski tells them to run out the clock).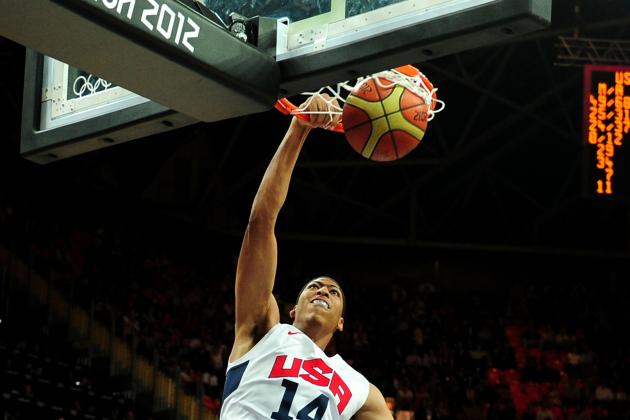 Mike Hewitt/Getty Images

I'm pretty sure you all know this, too.
Spain, who is considered the second-best team in the Olympics, had a starting five of Jose Calderon, Rudy Fernandez, Fernando San Emeterio, Pau Gasol and Marc Gasol. While four of those five players are in the NBA and the Gasol brothers are dominant big men, Spain definitely doesn't have the same amount of talent as team USA.
Kevin Durant, Kobe Bryant, LeBron James, Tyson Chandler and Chris Paul started the USA-Nigeria game. However, the halftime score was 78-45, so James, Durant, Chandler and Bryant rested during the second half.
And the Americans still dominated, outscoring Nigeria 78-28.
Team USA has seven reserves, and they are all elite players. Anthony came off the bench to score 37, but he didn't play the last quarter-and-a-half. Andre Iguodala, Anthony Davis, Kevin Love, Russell Westbrook, Deron Williams and James Harden were the other players to come off the bench, and they all dominated.
Davis is a great rebounder and shot-blocker, Harden is a prolific scorer, Love is a great three-point shooter and rebounder, Paul and Williams are terrific passers, Iguodala is a great defender and Westbrook is a prolific, athletic scorer. All seven bring something that's essential in Team USA's success, which means that there's never a bad lineup on the floor.
If you don't believe me, just ask Nigeria. They saw all the threes, dunks, blocks, layups, assists, jumpers and steals.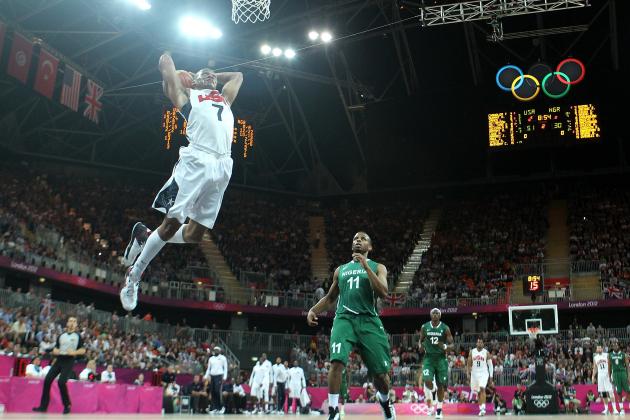 Christian Petersen/Getty Images

Spain and Argentina kept the exhibition matches close (with Team USA), but in truth, there's no team that can beat the Americans.
Argentina has Manu Ginobili, Carlos Delfino, Luis Scola and Andres Nocioni, all of whom have played in the NBA. Unfortunately for Argentina, it will take a major performance from all four of those guys and a bit of luck for Argentina to defeat the best Olympic team in the final game of pool play.
As for Spain, they have an advantage down low. The Gasol brothers can rebound, shoot and kick the ball out to the backcourt, disrupting Team USA's chemistry. Dwight Howard and Andrew Bynum sat out of the Olympics, so Tyson Chandler is the team's big man.
Even though Spain has a good frontcourt, they will have trouble getting the ball down low. James and Durant will try to keep the ball away from Spain's bigs, and Chandler will try to stop them from scoring.
Neither Gasol brother has dominated in the Olympics, and the two combined for just six rebounds in 56 minutes against Great Britain. If the two giants don't get more aggressive in the paint, Spain won't have a chance.
Overall, Spain has a good backcourt; however, their two guards just aren't good defenders. Team USA got a ton of open shots against Nigeria, and they made the most of them by converting 71.1 percent of their field goals. Spain will allow a lot of shots to Bryant, Durant, Anthony and James, which doesn't bode well for their chances.
The Olympics aren't really fair in basketball. Team USA is far and away the best team, as it's pretty hard to beat a squad with James, Durant, Bryant, Paul, Anthony and 12 of the best basketball players in America (and let's face it, the world). Everyone knows how to play on Team USA, which is why they'll be taking home the gold.