NBA Power Rankings: Grading Each Team by Their Backcourt Duo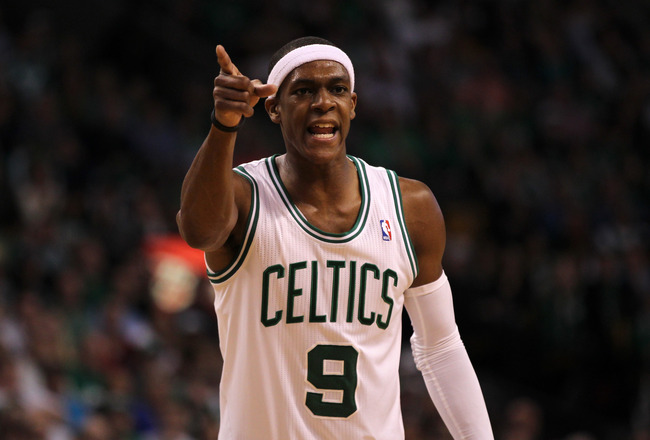 Jim Rogash/Getty Images
With many offseason moves this year, almost each teams' roster has changed significantly, for better or worse.
Recently, the NBA has been evolving more into a point guard league. Thus, stressing the importance of having a solid backcourt in order to achieve success. Think of the recent champions: Dwyane Wade, Jason Kidd, Jason Terry, Kobe Bryant, Ray Allen and Rajon Rondo are all extremely talented guards who led their respective teams to NBA titles.
This article will examine which teams have the upper hand in guard play and which teams will be stuck relying on their big men for all the help.
No. 30: Charlotte Bobcats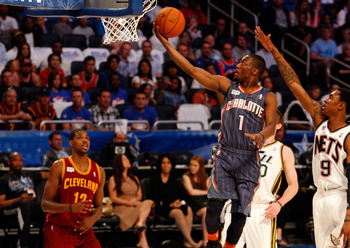 Ronald Martinez/Getty Images
With many offseason moves this year, almost each teams' roster has changed significantly, for better or worse.
Recently, the NBA has been evolving more into a point guard league. Thus, stressing the importance of having a solid backcourt in order to achieve success. Think of the recent champions: Dwyane Wade, Jason Kidd, Jason Terry, Kobe Bryant, Ray Allen and Rajon Rondo are all extremely talented guards who led their respective teams to NBA titles.
This article will examine which teams have the upper hand in guard play and which teams will be stuck relying on their big men for all the help.
Grade: D-
No. 29: Utah Jazz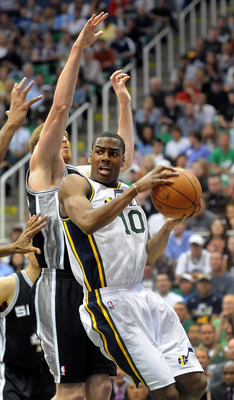 Steve Dykes/Getty Images
Mo Williams and Alec Burks
With Mo Williams and Alec Burks bringing up the ball for Utah, it's safe to say that the jazz have a pretty awful backcourt as well. I don't like to hate on Mo Williams, but the guy gets tossed around like a frisbee. On top of that, he's going back to the team that gave up on him after a dreadful rookie season. As for Alec Burks is nothing special either as he only averaged seven points a game in 13 minutes.
But what Utah lacks in the backcourt, they significantly make up with their frontcourt. The Jazz have promising young big men in Paul Millsap and Derrick Favors, so all hope is not lost in Utah.
Grade: D
No. 28: Phoenix Suns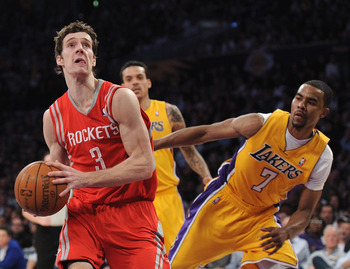 Harry How/Getty Images
Goran Dragic and Shannon Brown
Goran Dragic was a solid sign for the Suns as he will prove to be a decent replacement for Steve Nash. However, he is only paving the way for Kendall Marshall's reign. Dragic will be able to keep Phoenix's head above water until Marshall is ready to jump into the league and become a star point guard.
On the other hand, Shannon Brown is just terrible. He averaged less that 12 points a game last season and had a dismal PER of 13.68. This will be yet another down year for the Suns in the post-Amar'e era, but it's only a matter of time before they are back on the map.
Grade: D+
No. 27: Chicago Bulls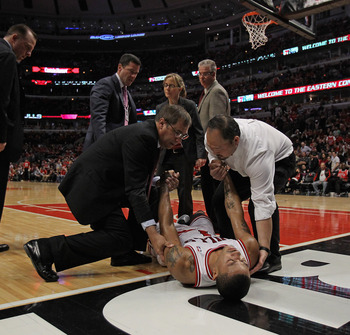 Jonathan Daniel/Getty Images
Kirk Hinrich and Rip Hamilton
If it wasn't obvious enough, I am not taking Derrick Rose into account when grading this backcourt. With the former MVP on the bench for most of the year with a torn ACL, the Bulls are pretty much screwed, for lack of a better word.
Don't believe me, Bulls fans?
When D-Rose went down in the playoffs last year, everyone thought the Bulls would still be able to make it past Philly and possibly even the Boston Celtics, too. Nope. They could not even last seven games against an inexperienced 76ers team. Not only that, but over the offseason, they lost C.J. "I think I can play in the NBA even though I'm only 4 feet tall" Watson to the Brooklyn Nets, leaving them with none other than Kirk Hinrich, whose biggest basketball achievement was losing in the final four. Oh, but its okay, they still have Rip Hamilton, you know, one of those guys that makes you say, "Didn't he retire three years ago?"
Sorry Chicago, but you blew your opportunity as the beasts of the east.
Grade: D+
No. 26: Detroit Pistons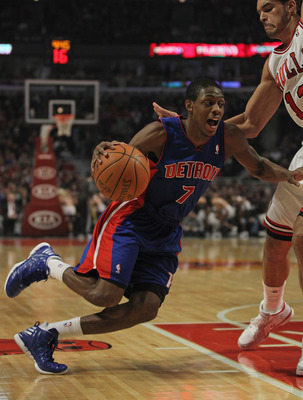 Jonathan Daniel/Getty Images
Rodney Stuckey and Brandon Knight
Rodney Stuckey and Brandon Knight are both very likable players, however they are nothing to bat an eye over. They both still have room to grow and develop, but the main focus in Detroit is on the big men. Detroit fans are hoping that Greg Monroe and Andre Drummond evolve into a one-two punch that will take the league by storm, which is not far fetched in the least bit.
Grade: C-
No. 25: Portland Trailblazers
Jonathan Ferrey/Getty Images
Damian Lillard and Wesley Matthews
Damian Lillard looks like a very talented guard, but it may be a little too early to tell being that the toughest opponents he played in college were Missouri Valley Community College and Texas A & M State.
If he does live up to the hypothetical hype, he and Wesley Matthews can form a very promising backcourt to pair up with LaMarcus Aldridge. Getting rid of Nate McMillan was a step in the right direction, as he led a very talented team to the gutters.
Grade: C-
No. 24: New York Knicks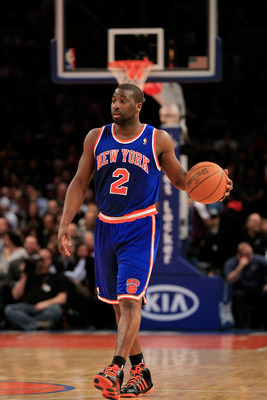 Chris Trotman/Getty Images
Raymond Felton and J.R. Smith (until Iman Shumpert is healthy)
Not getting stuck up in Linsanity was the best move the Knicks' front office made since drafting Patrick Ewing.
Jeremy Lin is average. Not bad. Not great. Average.
The Knicks could not possibly afford to spend, as Carmelo Anthony might say, a "ridiculous" amount of money on an average player while they already have there hands tied in three other max contracts.
Raymond Felton is decent, can play well with Amar'e, and best of all, he is a third of the price. Having said that, he did have a significant drop off when he left New York. Along with him, we don't know how badly Shumpert's knee will affect him, and J.R. Smith hogs the ball more than a greedy teenager playing in a pickup game with his girlfriend watching.
Taking everything into account, this frontcourt will get the job done. They just so happen to have three all-star caliber players in their frontcourt, so they should experience a good year in New York.
Grade: C
No. 23 : Toronto Raptors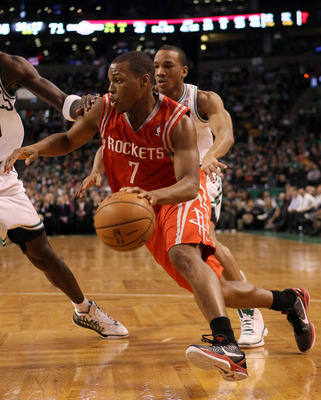 Elsa/Getty Images
Kyle Lowry and DeMar DeRozan
It took the Raptors long enough to realize that Jose Calderon isn't good. They had a very good offseason signing Kyle Lowry and Landry Fields, as they will finally head up the standings.
DeMar DeRozan is one of those "trust me I'm talented, I'm just playing with a bunch of scrubs" players that has been dying for some help. Finally, he's getting a little bit of what he's been craving in Toronto and his future looks much more promising.
Grade: C+
No. 22: Memphis Grizzlies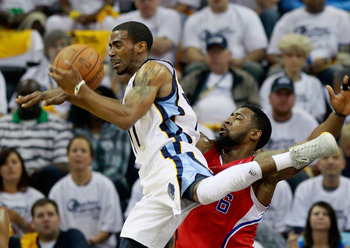 Kevin C. Cox/Getty Images
Mike Conley and Tony Allen
Mike Conley is a very under appreciated guard as he averaged almost seven assists a game last season. With Rudy Gay on the verge of stardom and Zebo possibly staying healthy this year, Conley will have a pure opportunity to rise and lead the Grizz back to the playoffs.
There are plenty better options than Tony Allen at the two, but he is a solid role player to say the least.
Grade: C+
No. 21: Dallas Mavericks
Andy Lyons/Getty Images
Darren Collison and O.J. Mayo
This is O.J. Mayo's last chance before we can officially right him off as a bust. He was a scorer in college, but did not translate well on the Grizzlies as he hasn't even been in the radar of averaging 20 points a game.
Going to the Mavs was the right move for him, however. He will have a bigger opportunity to show his worth because he won't have to share time with guys like Tony Allen and Rudy Gay.
As for Darren Collison, he is one of those "we don't have enough money to sign a legit point guard" players. However, he will still be able to do what's asked of him.
Grade: C+
No. 20: Golden State Warriors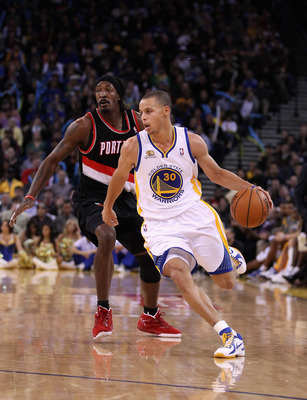 Ezra Shaw/Getty Images
Stephen Curry and Klay Thompson
Stephen Curry is good and he finally has the opportunity to take over with Monta Ellis out of the picture. Curry put up okay numbers last season, as he had a respectable PER of 21.23, while averaging about 15 points a game with five assists.
Klay Thompson is no Monta Ellis, but he can most definitely develop into a respectable role player. He averaged about 12 points a game in limited minutes last year, and was selected for the All-NBA Rookie team, despite not being elected for the rising stars challenge. It will be interesting to see how this duo will be able to combine with Andrew Bogut, but I don't see them making the playoffs.
Grade: B-
No. 19: Atlanta Hawks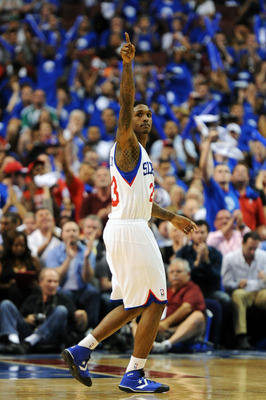 Drew Hallowell/Getty Images
Devin Harris and Lou Williams
Despite losing Joe Johnson, the Hawks made a significant recovery by signing Lou Williams and Devin Harris. Both of these guys have shown they have talent, while they both still have plenty of room to develop. The Hawks can be a good team as long as Josh Smith decides to stop being the "watch my fancy dunk" player and evolves into the "put the team on my back" player.
The Hawks always seem to hover around that four spot in the East. They are missing that mystery piece to send them over the edge, and that still seems to be the case this year.
Grade: B-
No. 18: Philadelphia 76ers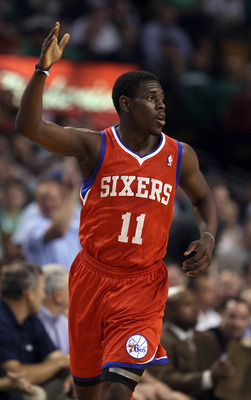 Elsa/Getty Images
Jrue Holiday and Evan Turner
Holiday and Turner both have room to grow. Neither of them put up ridiculous numbers last year, but that is largely due to the 76ers' style of play. They were a team that had equal talent up and down the roster, instead of one or two big name guys.
Grade: B-
No. 17: Orlando Magic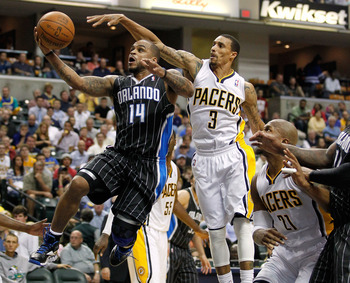 Gregory Shamus/Getty Images
Jameer Nelson and Jason Richardson
With one of the more older backcourts in the league, the Magic are going somewhere. Down. Pending the loss of Dwight Howard and Ryan Anderson, the Magic will experience a significant drop off as they will plan to rebuild for future years, trying to acquire as many draft picks as possible in the upcoming Dwightmare blockbuster.
Nelson and Richardson are very admirable players, however, they are getting old and have nothing going for them.
Grade: B
No. 16: Houston Rockets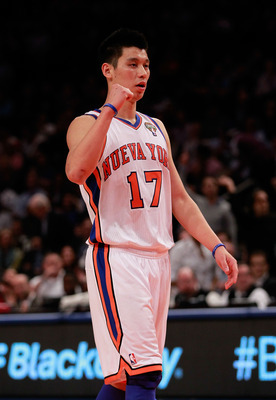 Chris Trotman/Getty Images
Jeremy Lin and Kevin Martin
It was very difficult to grade this particular backcourt. Ignoring the fact that the Rockets 14 million on Jermey Lin in the third year of his contract, this is a pretty solid duo nonetheless. As I said before, Lin is a solid point guard. He's no Rondo, Westbrook, or Nash, but he will definitely be able to hold his own.
Alongside Lin stands Kevin Martin, one of the most underappreciated players in the league. You can thank Sacramento for his lack of attention. With new faces in Houston, Martin has the potential for a break out year.
Grade: B
No. 15: Sacramento Kings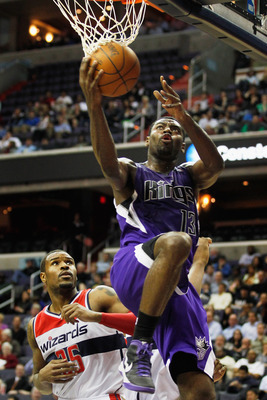 Rob Carr/Getty Images
Tyreke Evans and Marcus Thornton
Ladies and gentlemen, not since Vlade Divac, have the Kings had this much potential. Evans and Thornton are two prolific scorers who will be able to ignite this young team to success. As soon as DeMarcus Cousins matures and realizes that he has the strength to manhandle almost anyone who tries to guard him, the Kings are going to catch fire. On top of that, they drafted Thomas Robinson, another big man who doesn't take no for an answer.
The Evans-Thornton duo will turn some heads in a matter of time. Also, they have the young, energetic Isaiah Thomas Jr. coming off of the bench.
Grade: B+
No. 14: Denver Nuggets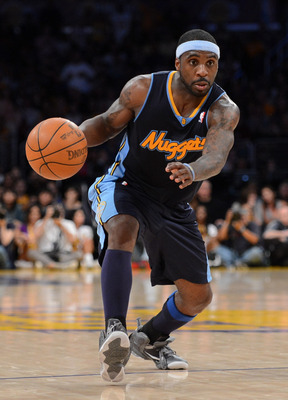 Harry How/Getty Images
Ty Lawson and Arron Afflalo
It's so hard not to be on the Ty Lawson bandwagon. He's just so fun to watch. With his blazing speed and quick crossovers, he is going to evolve into an elite point guard.
Afflalo is a solid role player who can hold his own and fit well into the young energetic charisma that is the Denver Nuggets.
Denver did a superb job sticking around in the post-Melo era. The Nuggets are very young and have an exponential amount of potential. Sorry for the rhyme there, but its true. Both Lawson and Kenneth Faried have such high ceilings and they can evolve into contenders.
Grade: B+
No. 13: Washington Wizards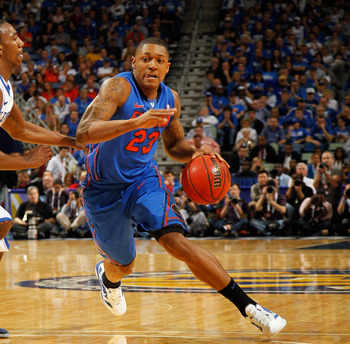 Chris Graythen/Getty Images
John Wall and Bradley Beal
Ever since people stopped doing his stupid dance, John Wall has fallen off the map. But it is not his fault at all. When the most talented player you've been paired with in two years is JaVale McGee, there is no one to blame but the general manager. Finally, with a solid perimeter shooter in Bradley Beal and a decent big man in Nene, John Wall has been given a glimmer of hope and he will do everything he can to gain some attention again.
Grade: B+
No. 12: New Orleans Hornets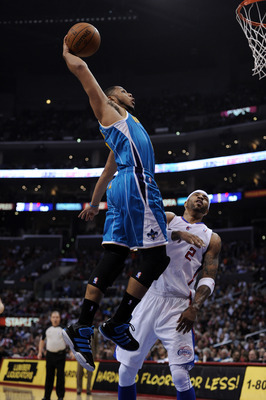 Harry How/Getty Images
Greivis Vasquez and Eric Gordon
Greivis Vasquez will have to play very well if he doesn't want to lose his starting job to Austin Rivers. Which, by the way, is only a matter of time because Vasquez isn't really good...at all.
Luckily for the Hornets, they were able to match the Suns' offer on Eric Gordon and despite his willingness to play in Phoenix, Gordon is back in NOLA. Sidelined by injury last year, Gordon will take the league by storm this year as he will erupt alongside Anthony Davis and Ryan Anderson to lead the Hornets out of the rubble.
Grade: B+
No. 11: Cleveland Cavaliers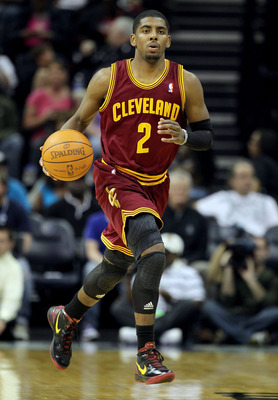 Andy Lyons/Getty Images
Kyrie Irving and Dion Waiters
We all know the potential that Kyrie Irving has, as he is on pace to become a superstar. But what the Cavs also have is another potential star in Dion Waiters.
Cleveland fans, don't be afraid that Waiters was drafted too high. Coming out of Marquette, Dwyane Wade, a very athletic shooting guard who could attack the basket at will, was projected to go mid-first round. Surprisingly, he was drafted fourth overall. Like Wade, Waiters is also an athletic shooting guard who was a mid-first round projection that ended up being drafted....wait for it...fourth overall! And it's only a mere coincidence that they both have the initials D.W.
I'm not saying Waiters is the next D-Wade, but just because he was drafted early does not mean he is going to be a bad fit for this young Cavs team. This will be an exciting and very athletic backcourt. I can only imagine what would happen if they are paired with Bynum.
Grade: B+
No. 10: Minnesota Timberwolves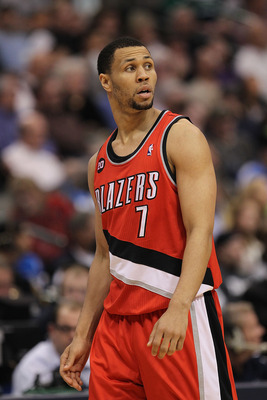 Ronald Martinez/Getty Images
Ricky Rubio and Brandon Roy
This is yet another team faced with grueling uncertainty. The TWolves can get anywhere from the Brandon Roy that was lighting it up with LaMarcus Aldridge to the angry Brandon Roy that had to retire because he had bum ankles. Most likely he'll turn out to be right in the middle, which is not a bad deal at all.
Then you have Ricky Rubio. Rubio is one of those "holy crap this guy is going to be good so let's buy all of his rookie cards now" guys. He has the hands and the ability to move this franchise in the right direction.
Rubio and Kevin Love can evolve into one of those dream duos that never win a championship because there are too many other good teams. Think Stockton and Malone. But hey, I doubt Wolves fans are upset with being compared to Stockton and Malone.
Grade: A-
No. 9: Indiana Pacers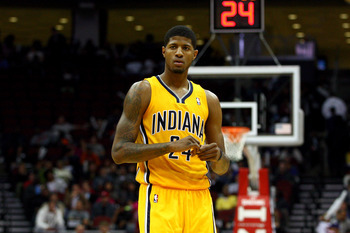 Chris Chambers/Getty Images
George Hill and Paul George
The two Georges have high potential in Indiana. They are young, talented, and willing to let Danny Granger take the spotlight. They played very well against the Heat in the playoffs as they had everybody taking notice when they were up 2 games to 1.
With George Hill only being 26 and Paul George a young 22, they have plenty of room to develop and make Indiana into a title contender in a few years.
Grade: A-
No.8: Miami Heat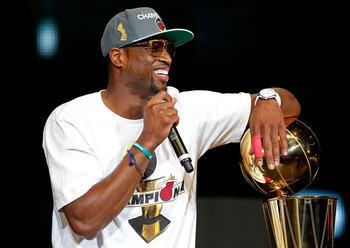 Mike Ehrmann/Getty Images
Mario Chalmers and Dwyane Wade
Chalmers is the perfect fit for the Heat at point guard. He is one of those few guys that is okay with winning and won't throw a fit if Lebron takes the ball up for the entire game. That's as for as it goes. Don't be fooled by Chalmer's 25-point game against the Thunder in Game 4 of the Finals and think he's going to evolve into a star point guard. He's average. The only reason he's even famous is because he hit that game-winning shot in the National Championship for Kansas.
But none of that matters because the Heat are insanely talented. I know it. You know it. Next.
Grade: A-
No. 7: Milwaukee Bucks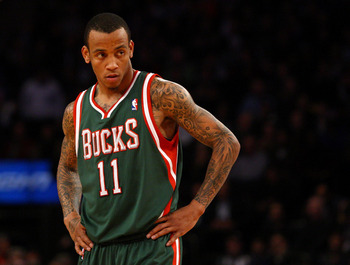 Chris Chambers/Getty Images
Monta Ellis and Brandon Jennings
Two very talented basketball players. Two aggressive athletes that are reluctant to give up the ball.
The Bucks made an interesting management move trading a very valuable big man, Andrew Bogut, for Monta Ellis. I say interesting because Ellis and Jennings have almost identical styles of play. They are attack-the-basket guards who look to pass as their last option. Trading away Bogut was a step back for the Bucks as they will need to restructure if they want to even make the playoffs.
Grade: A-
No. 6: San Antonio Spurs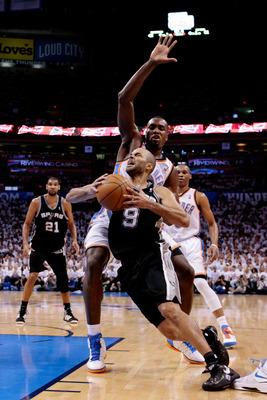 Brett Deering/Getty Images
Tony Parker and Manu Ginobili
Parker and Ginobili have been doing it for years and they still have one or two good ones left in them. However, barring some crazy new addition, this team does not have the strength to win a championship. They will still remain atop the Western Conference standings, but beyond that there are too many other talented teams.
Grade: A
No. 5: Boston Celtics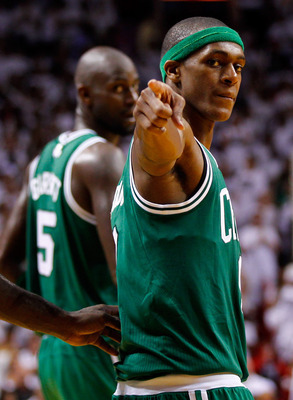 Mike Ehrmann/Getty Images
Rajon Rondo and Jason Terry (until Avery Bradley is healthy)
Terry and Bradley are solid role players to play alongside Rondo in Boston. I've said this before, and i'll say it again: Rondo is a jump shot away from being THE best point guard in the league. The show he put on against the Heat in the Eastern Conference Finals was unfathomable, as he led an extremely old Celtics team to seven games against the best team in the league. He still has some maturity issues, as many people believe his attitude is one of the reasons that Ray Allen is in Miami.
Grade: A
No.4: Los Angeles Clippers
Patrick Smith/Getty Images
Chris Paul and Jamal Crawford
The clippers back court: where youth and talent meets age and experience. Last year this duo was cut short because Chauncey Billups ruptured his Achilles early in the season. CP3 is one of the best point guards in the league, while Billups is an expert at winning.
Grade: A
No. 3: Oklahoma City Thunder
Mike Ehrmann/Getty Images
Russell Westbrook and James Harden
It's no secret how good these guys are. We saw what they are capable of pushing their way through the playoffs before falling short to the Heat in the finals.
The only bad thing they have to worry about is that they have themselves a new threat. The Lakers. This year they not only to they have to outmatch the Spurs again, but they they are going to have to go up against a very experienced, and extremely talented Lakers team as well.
Grade: A+
No. 2: Los Angeles Lakers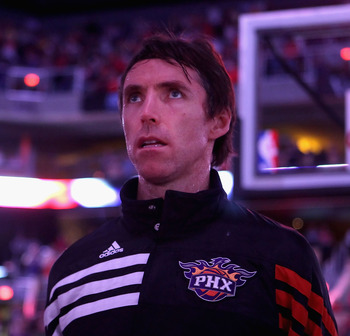 Christian Petersen/Getty Images
Steve Nash and Kobe Bryant
Any backcourt that has three combined MVP awards is probably going to be ranked toward the top of the league.
While it seemed certain Nash would make his way to New York, he caught everyone by surprise and signed with the Lakers. If Nash and Kobe were paired up two or three years ago, it would not have been fair. Luckily for the rest of the league, Kobe and Nash have passed their respective primes. Having said that, both of these players are still not only all-star caliber, but championship caliber. Both of these players were expected to have drop-off seasons last year, however both Nash and Kobe pretty much put up a middle finger to that thought. Kobe took a sober second in the league in scoring while Nash averaged over 10 assists a game.
Grade: A++
No.1: Brooklyn Nets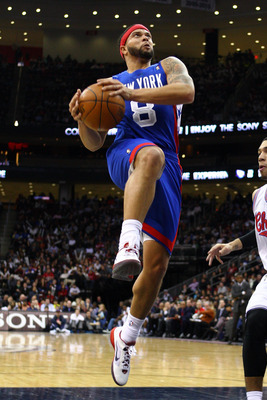 Chris Chambers/Getty Images
Deron Williams and Joe Johnson
The Nets earned the No.1 spot, but not by much. Reason being, Nash will be facilitating the ball to the front court when Kobe isn't chucking up shots, while the entire focus in Brooklyn will be on Williams and Johnson.
This is by far one of the most athletic backcourts the NBA has ever seen. Joe Johnson made the right move by leaving Atlanta for Brooklyn because he simply isn't good enough to be the centerpiece of a franchise. Playing with Deron Williams takes much of the pressure off, allowing Joe Johnson to play at his own comfort level.
With a healthy Brook Lopez and Gerald Wallace, the Nets will be very dangerous.
Grade: A++
Keep Reading