2012 NBA Offseason: Winners and Losers of Failed Dwight-Howard-to-Brooklyn Trade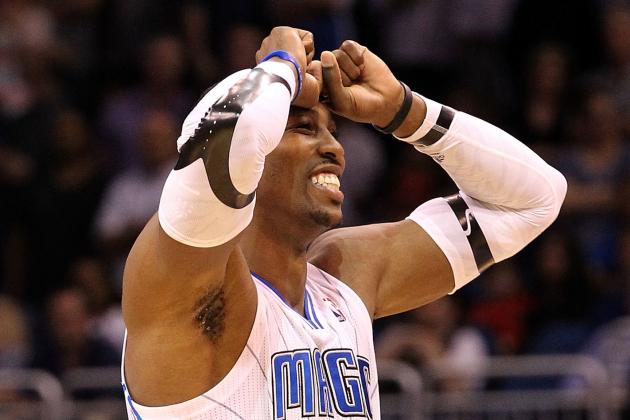 Sam Greenwood/Getty Images

Even with all of the offers on the table, the Brooklyn Nets were unable to acquire center Dwight Howard from the Orlando Magic.
Whether it was unloading Quentin Richardson or finding a third team to take on Kris Humphries, things didn't work out.
This failed deal could have large implications in the Eastern Conference and around the league: Here are eight winners and losers of the failed trade.
Begin Slideshow

»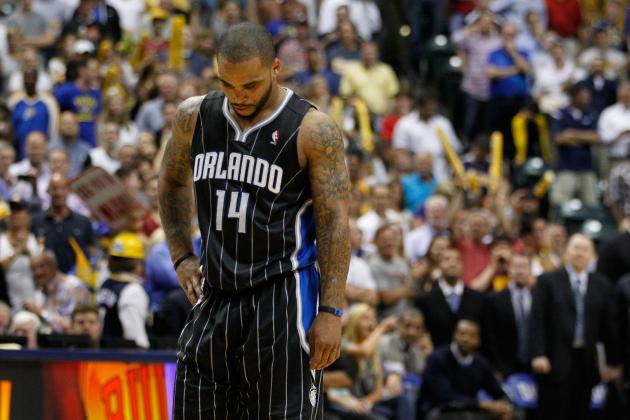 Gregory Shamus/Getty Images

Howard has gotten his GM and coach fired, he's been dubbed as the "Dwightmare" by Magic fans, he's not going to return in 2013-2014 and yet he's still in Orlando.
The worst-case scenario for Orlando was not finishing a deal, because getting anything in return is better than losing Howard to free agency.
The front office had possible deals in place with Brooklyn and Los Angeles, along with a couple of other interested teams, yet they couldn't manage to pull the trigger on a deal because of their ridiculous demands.
Asking for four first-round picks and Brook Lopez from the Nets, as Ric Bucher of ESPN New York reported, was obviously pushing the envelope, but the team was too stubborn to see their requests were in vain.
In addition to unloading both Richardsons, Chris Duhon and Earl Clark, they were unwilling to take on double-double machine Kris Humphries. Orlando's line of sight was simply too narrow for a Nets team that would be foolish to mortgage their future for one player.
But now, instead of fixing a future that looks bleak because of Howard, the Orlando front office is stuck with a disgruntled center who'll be gone in 82 (plus postseason) games.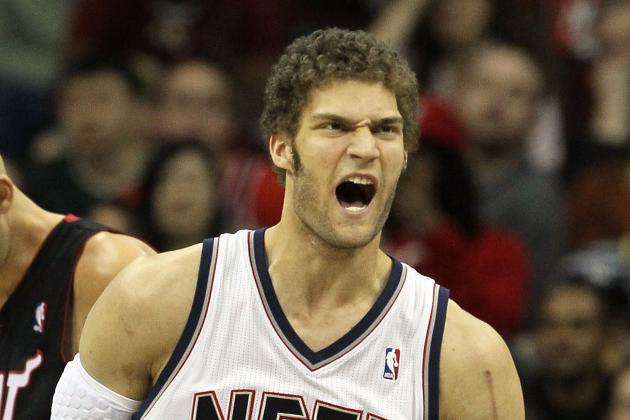 Jim McIsaac/Getty Images

Brook Lopez couldn't have asked for a better scenario: Not only does he get to stay on a team with one of the best point guard/shooting guard/small forward trios, but he got one of the bigger paydays in recent history.
He will be receiving $60 million over the course of his four-year contract, which under the new CBA also doesn't allow the Nets to trade him until January 15th. This makes him one of the highest-paid centers in the league, and he's still only 24 years old.
Whether or not Lopez pans out, he'll still be making a hefty load of coin and playing on a contender nearly every single year. He can control his own destiny; if he plays well, this team has very few limits in terms of a ceiling. That's all a player can ask for, especially one who just got paid like a superstar.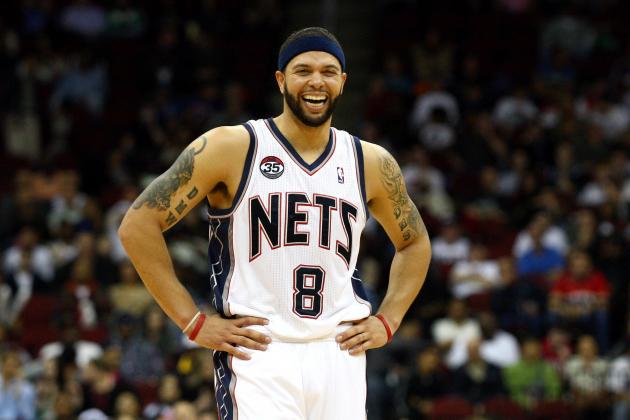 Chris Chambers/Getty Images
Williams isn't laughing at the moment.
Deron Williams signed a five-year, $98 million extension with the intention of playing with three other "superstars." He got exactly that, but not in the way he wanted.
Instead of having the league's most feared big man anchoring the paint, Williams will have to work with the up-and-coming Brook Lopez. With Howard, the Nets would be immediate contenders and Williams would finally get his chance to chase an NBA championship.
With Lopez, they're a very good team that's one year away from being championship-caliber.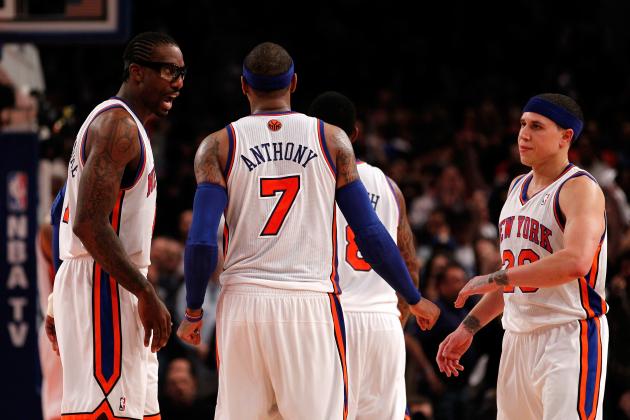 Jeff Zelevansky/Getty Images
New York can remain the big brother for at least one more year.
The New York Knicks have been the luckiest New York team of the last couple decades.
In every other major sport there are two New York-based teams: the NFL has the Giants and Jets, the MLB has the Yankees and Mets, and the NHL has the Islanders and Rangers. Loyalties have always been divided, whether it is between boroughs or even within them.
But in terms of basketball, New York has always been unified around one team that plays in one of the most historic arenas of all time.
Now, however, things are changing in the Big Apple. Brooklyn, which hasn't had its own pro team since 1957, is being taken over by an energetic team with a brilliant new arena, a super-rich owner and several superstars. The Knicks may lose some of their fanbase, and the other boroughs might consider making the switch slowly as well.
That's why this failed deal was so key in keeping the Knicks in the driver's seat. They still have more of the headlines, featuring guys like Carmelo Anthony, Amar'e Stoudemire, Tyson Chandler and Jason Kidd.
Without Dwight Howard, the Nets' star power doesn't even compare to their crosstown rivals which means that MSG will be the focal point of New York basketball for at least a couple more years than it would've been otherwise.
And who knows? This failed deal, if it leads to zero championships for the current Nets core, could lead to the Knicks dominating the Nets like the Rangers dominate the Islanders in hockey.
Mike Stobe/Getty Images
Mikhail Prokhorov, the new owner.
For the same reasons I just mentioned in the previous slide, the Nets are reeling.
They burst onto the New York scene this offseason, signing one of the league's best point guards and trading for one of the league's best scorers. Now, however, their momentum has come to a grinding halt even with the blockbuster deal they gave to center Brook Lopez.
Even though this team has built a pretty nice squad around their new acquisitions, not getting the league's premier center will definitely affect their ability to put butts in the seats in 2012-2013.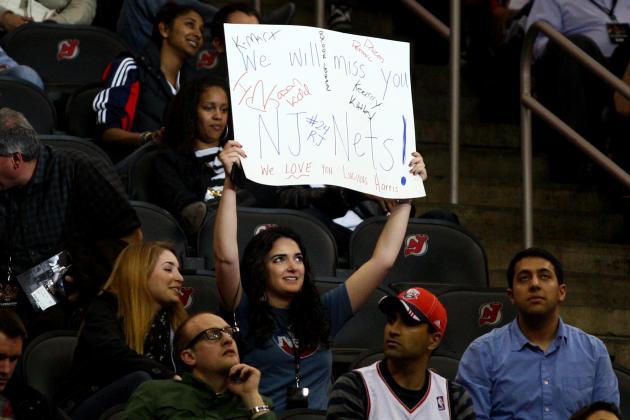 Chris Chambers/Getty Images

Whether they know it or not, I think the Nets might definitely benefit in the long run from not acquiring the self-centered diva known publicly as Dwight Howard.
Instead of mortgaging the future for one player who has been shown to ruin franchises, the Nets re-signed their homegrown talent Brook Lopez and bolstered the power forward position with both European star Mirza Teletovic and banger Reggie Evans.
If they manage to re-sign Kris Humphries to a four-year deal, they could have one of the strongest frontcourts in the NBA for the foreseeable future.
If they had pulled the trigger on any deal with the Magic, they would've given up at least four first-round picks, Lopez and possibly even young shooting guard MarShon Brooks for Howard and a couple of veterans who'd provide nothing more than organizational depth.
It may not look like the best thing for a team that's changing cities, but keeping all the pieces in place will benefit general manager Billy King in the future.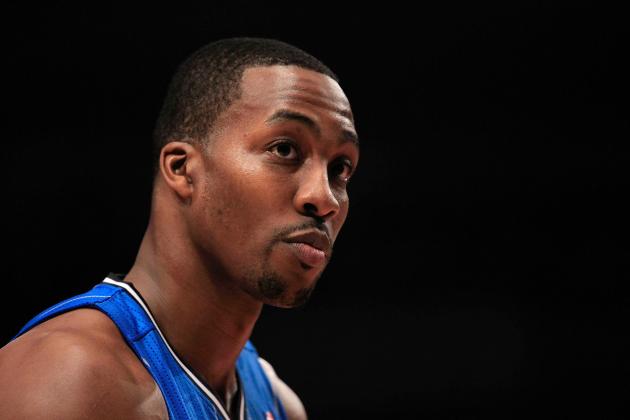 Chris Trotman/Getty Images

The "Dwightmare" is the only person on this list labeled as a "Loser" that I don't feel bad for. He deserved it.
Not only did he get both his coach and general manager fired (both of which were uncalled for), but he's been as ungrateful as any NBA superstar except for maybe LeBron James with Cleveland.
Orlando has tried to build a contender around D12, getting guys like Jameer Nelson, Hedo Turkoglu, Ryan Anderson, Glen Davis, Rashard Lewis and Jason Richardson to feed him the ball and spread the floor. It's understandable for Howard to be frustrated with his situation, but unlike LeBron in Cleveland, it was clear that the Magic were trying to create a championship-caliber roster.
Now, instead of being on a team with Deron Williams and Joe Johnson, Howard will have to face the embarrassment of playing in a city where he's hated. Tough luck for a person who deserved nothing better than what he got.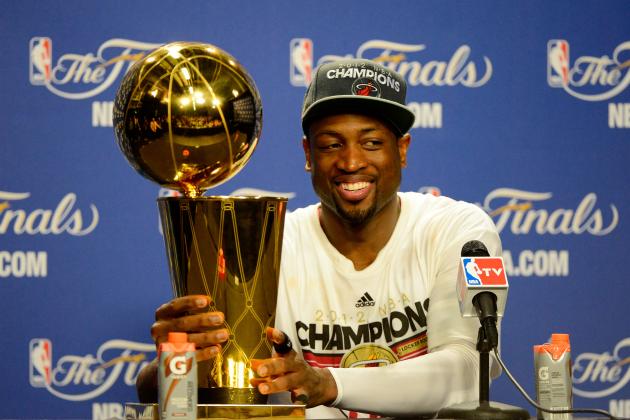 Ronald Martinez/Getty Images

As much as they hate to admit it, the Miami Heat and Boston Celtics have championship windows that are closing fast. The Heat probably have three or four more years, especially if Dwayne Wade continues to deteriorate quickly, and the Celtics have two or three.
Having an immediate contender in Brooklyn would spell D-O-O-M for these two teams who will be trying to get their second championships with their current cores.
Now, as the Nets develop and jell—for one or two years, most likely—these teams can continue to knife through the postseason and contend for the O'Brien Trophy year after year.
Neither team has a dominant center who can defend Howard in the low post, which is okay when the next best player on his team is Jameer Nelson (but not when it is Deron Williams or Joe Johnson). A Nets team with Dwight Howard is probably one that could stand to dethrone King James and the Heat.
As it is, however, Miami's status as the class of the Eastern Conference seems safe for the time being.