New York Knicks: Why Jeremy Lin Will Continue to Dominate in Big Apple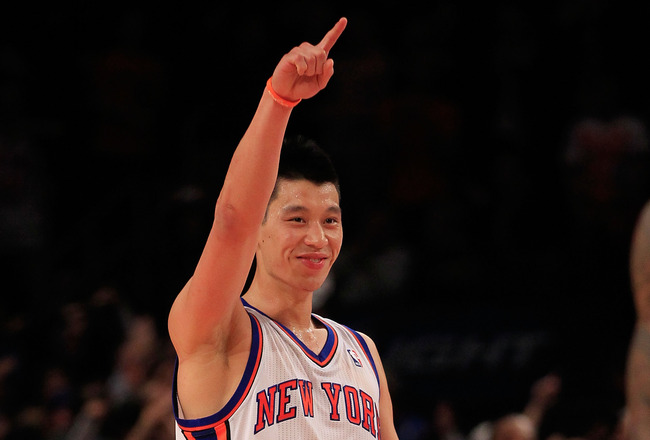 Chris Trotman/Getty Images
The New York Knicks are all-in for the 2012-13 NBA season.
Jeremy Lin needs to re-sign, Carmelo Anthony and Amar'e Stoudemire need to work together, and coach Mike Woodson needs to prove that he can bring his team to the promised land.
Linsanity swept the nation last year as an injury-plagued Knicks squad prayed for someone to step up and carry them into the playoffs.
Little did they know they would find their fearless leader in the form of Jeremy Lin.
A disappointing knee injury ended his season before the playoffs ever began, but a healthy Lin will be returning this year to show the NBA what could have been.
Here's a look at why New York City is going to be "Lin's City" in 2012-13.
Devoted Fanbase
Drew Hallowell/Getty Images
He won the heart of Knicks fans everywhere as he pumped out clutch performances night after night last season.
His face was all over the Internet, t-shirts, subways, and billboards.
Jeremy Lin became more than a man, he was a Knicks fan's gift from God.
Expect a full fledged advertising initiative to start the day he signs on the dotted line and agrees to come back to New York, whether it be for one season or multiple.
The fans, much like his teammates, rally behind his hard work and leadership.
He is going to have to be the spark that fuels the fire for both the players and fans alike this season.
Better Team Chemistry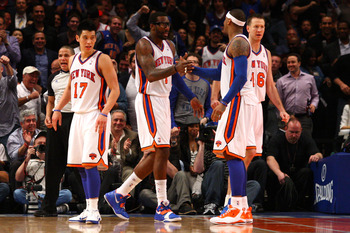 Chris Chambers/Getty Images
It seemed as though every time the New York Knicks would get healthy last year, another key player would be forced to miss some time.
Assuming this team comes back in good health and intact, they should be primed to make a serious run at an NBA Championship.
Sure, as of right now they are missing a key role player or two, and recent reports of Landry Fields' departure won't help the team's depth.
However, this New York Knicks squad has a very talented core, and if Carmelo Anthony and Amar'e Stoudemire can somehow cohesively exist, then the rest of the NBA has something to worry about.
Jeremy Lin will have to be the catalyst and the orchestrator who makes it all work next season.
With a few superstars surrounding him, it will be up to Lin to properly distribute the ball and control the flow of the game.
His every move will be under a microscopic lens, and each decision he makes will be critical to the team's performance.
In 2012-13, Jeremy Lin holds the key to the Knicks' success.
Full Offseason with Mike Woodson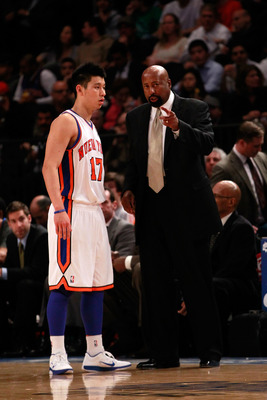 Chris Trotman/Getty Images
Last year's lockout did not help most teams as they had little time to prepare for the NBA season.
With a shortened offseason and fewer games, it was tough for players to mentally and physically be ready to play at their highest level.
The New York Knicks enter this offseason under new leadership and with a recent found confidence in their ability to win.
Coach Mike Woodson is at the helm, and for him it all starts with defense.
Once Mike D'Antoni was given the boot last season the Knicks' defense went from being just good to great.
You can bank on this team coming out next year with a brand new intensity, and Jeremy Lin is going to be right at the heart of it.
With a full offseason to work with, Lin's defensive skill set will most certainly improve, and his ability to distribute while minimizing turnovers should get better as he becomes more comfortable with his surrounding cast.
It's going to be up to Lin to put in the time and effort to become a more polished point guard this year if he hopes to lead this team to a championship.
Luckily for the Knicks, Jeremy Lin is no stranger to hard work.
He knows that he has room to improve, and as the saying goes, "practice makes perfect."
Keep Reading

New York Knicks: Like this team?