NBA Trade Rumors: Nets and Magic Reportedly Discussing Deal for Dwight Howard
July 3, 2012

When the Brooklyn Nets made a deal for Atlanta Hawks shooting guard Joe Johnson on Monday, it appeared as though their pursuit of Orlando Magic superstar center Dwight Howard had come to an end.
However, that may not be the case.
According to ESPN's Chris Broussard, the Nets and Magic are currently having discussions, and Brooklyn may have enough to land the dominant big man. Sources are reporting to Broussard that the Nets are offering Brook Lopez, Kris Humphries, MarShon Brooks and first-round picks in 2013, 2015 and 2017.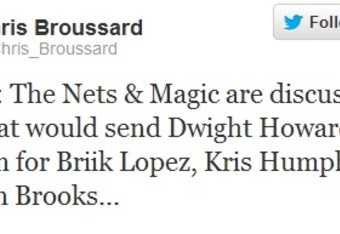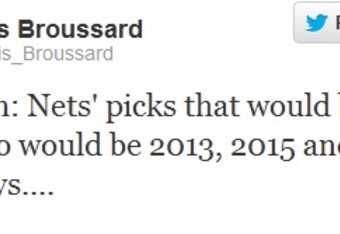 The deal may actually be a bit more complicated than that, however. Adrian Wojnarowski of Yahoo! Sports is reporting that a third team willing to take on Humphries in a sign-and-trade would have to be included.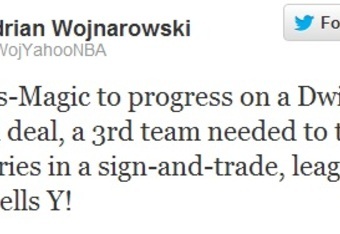 The Miami Heat solidified the notion that creating a super team is the new way to win in the NBA, as they were led by LeBron James, Dwyane Wade and Chris Bosh. It looks like Brooklyn is hoping to copy that formula with Johnson, Howard and point guard Deron Williams.
Such a trade would give the Nets an incredible inside-out game with Williams distributing the ball to Howard in the paint or to a sharpshooter like Johnson beyond the arc. It would immediately make Brooklyn one of the favorites in the Eastern Conference, along with the likes of Miami, the Boston Celtics, the New York Knicks and a couple of other squads.
The biggest issue that a deal for Howard would present is the fact that depth would be nonexistent for the Nets.
They already are dealing away Anthony Morrow, Jordan Farmar, Johan Petro, Jordan Williams and DeShawn Stevenson to the Hawks, and they would be losing the rest of their complementary players in a Howard trade if Broussard's sources are accurate.
Miami certainly didn't have the greatest depth this past season, but a supporting cast including Mario Chalmers, Shane Battier, Mike Miller, Udonis Haslem and others was good enough to support the superstar core.
The Nets would be left with re-signed swingman Gerald Wallace, rookie guard Tyshawn Taylor and quite literally nothing else on the roster if this deal comes to fruition. That would mean that they would have to use their free-agent exception to bring in several guys at minimum salary.
Brooklyn can certainly become an elite team if it goes this route, but it won't be as easy as many may think.
Also, the Nets may now be in direct competition for Howard with the team that they just granted salary cap relief to in the form of the Hawks. Atlanta took on several expiring contracts in the Johnson deal and is poised to ship Marvin Williams to the Utah Jazz as well (per the Atlanta Journal-Constitution, via BostonHerald.com).
The Hawks would have plenty of cap room to re-sign Howard and still chase other free agents next offseason. Plus, they could create a tantalizing package that would include big man Al Horford and promising point guard Jeff Teague.
Perhaps that would give the Hawks a leg up, but it remains to be seen.
The sentiment that the Hawks and perhaps other teams could put together a better offer than the Nets may be one that the Magic share. According to Wojnarowski, Orlando isn't convinced that Brooklyn will be able to offer a sufficient amount for Howard compared to the rest of the league.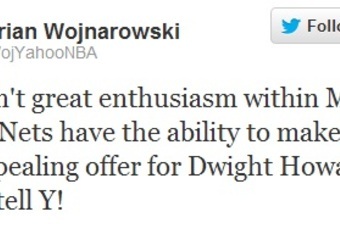 Neither Brooklyn nor any other team has made an offer to Orlando that it would seriously consider yet, according to Wojnarowski, so if Broussard's possible trade was actually submitted to the Magic, then considerable reworking may need to be done in order to make it viable.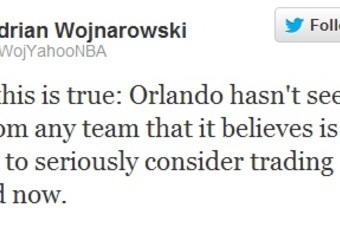 There are very few dominant centers in the NBA today, and Howard is unquestionably the best. Acquiring him would give Brooklyn an advantage over every other team in the league, since there are very few players who can match him on either end of the floor.
The Nets will have a lot of work to do in terms of shaping the rest of the team if a trade for Howard is completed, but it would be worth it based on how much the center brings to the table.
Follow @MikeChiari on Twitter