NBA Free Agency 2012: Top 5 Landing Spots for Jason Terry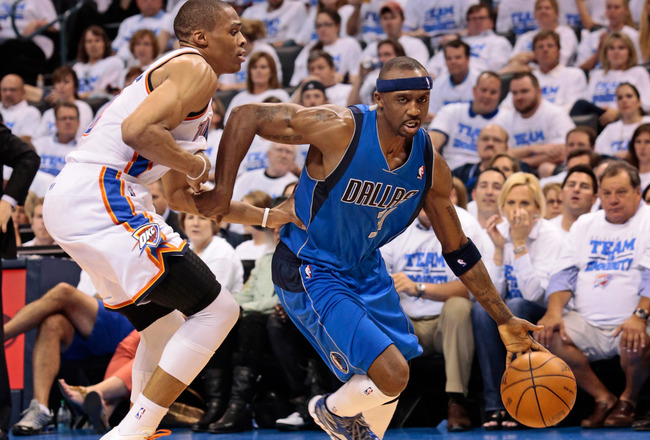 Brett Deering/Getty Images
There usually isn't a big market for a 34-year-old shooting guard coming off the bench, unless of course your name is Jason Terry.
The former sixth man of the year is a free agent and is getting plenty of attention on the open market for his unabashed gun slinging scoring ability. "Jet" averaged starters minutes with Dallas this last year, 31.7 MPG, and put up 15.1 PPG to go along with 3.6 assists on 43 percent shooting (37.8 percent from three).
It's incredible that Terry is still able to play at such a level.
Even with Dallas exiting the playoffs in the first round this year, many still remember the Terry's clutch plays throughout the 2011 playoffs that helped Dallas defeat the Miami Heat.
Which teams could most use his three point shooting edge this next season?
Miami Heat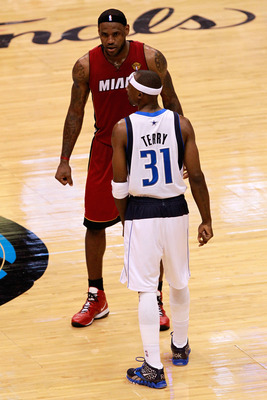 A Dallas/Heat rematch would look a lot different with Terry in red
Tom Pennington/Getty Images
Pat Riley has assured the rest of the NBA world that no one will be amnestied this off season. That leaves them in quite a bind since two of their biggest free season targets are Ray Allen and Jason Terry.
The Heat would perhaps be the best fit for Terry. They could use a sixth man that can handle the ball, set up the big three, and drain wide open looks as LeBron James dominates the paint. From an on the court perspective, no team would be more dangerous with the addition of Terry.
The most the Heat have done, however, is offer Terry their three million dollar exception. That's probably not going to get it done. Pat Riley will surely give him the "come here and we'll throw in a couple more rings" pitch. It may not sound great on paper, but it's a lot more persuasive coming from Riley.
Memphis Grizzlies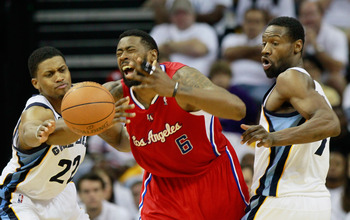 Tony Allen's terrific defense is nice for Memphis, but his .308 shooting from three is a liability.
Kevin C. Cox/Getty Images
The Grizzlies have the look of a championship team. They have one of the most intimidating frontcourts in basketball, featuring Zach Randolph and Marc Gasol, and two high quality players in Rudy Gay and Mike Conley to round out their backcourt.
But they've struggled shooting the ball, especially from three-point land, and could use a two guard to take advantage of the spacing on the floor.
O.J. Mayo has filled a large part of that role. His off the bench scoring was inconsistent, but was often the difference in the Grizzlies offense. Terry could immediately change that. For a team that shot only 32.6% from three this year, Terry would provide a valuable offensive spark and up this team's efficiency in a major way.
L.A. Clippers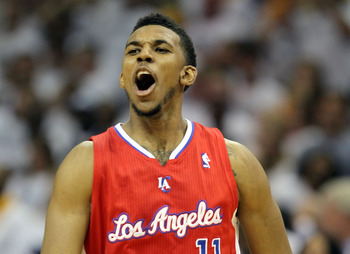 Andy Lyons/Getty Images
The Clippers went from being a laughingstock to be being one of the most feared teams on the rise in the NBA season. That happens when you trade for the best true point guard in the NBA in Chris Paul.
The loss of veteran Chauncey Billups to an Achilles injury was a tremendous hit to the Clippers. His savvy play, uncanny ability to get to the free throw line and three point range were a tremendous value to a team capable of dominating inside with Blake Griffin.
It is already being reported that the Clippers will make no effort to resign Billups. That leaves a gaping hole at shooting guard, unless they really expect Nick Young (a free agent) to take the next step. You didn't think so either?
Boston Celtics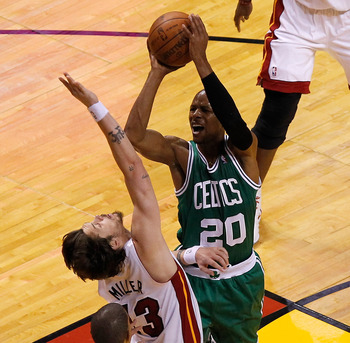 J. Meric/Getty Images
The writing isn't quite on the wall for Ray Allen as a Celtic, yet. The Celtics have reportedly offered him $6 million a year, quite the bounty for what may be a hobbled vet.
But Ray Allen still does what he does best, straight up knocks down shots. One of the best pure shooters the game has ever seen, Allen shot 45 percent from three last year.
The Celtics have a problem though. They know their aging roster is going to have trouble contending unless something changes. They seem set to start Avery Bradley and have Allen coming off the bench, something that Allen may not be comfortable with in Boston.
Enter Jason Terry.
If Allen decides to leave, Boston should be considered one of the leading candidates to pony up. The Celtics desperately need a high energy scorer off the bench, as anyone could see in the Eastern Conference Championship against the Heat.
Is O.J. Mayo really the answer? Maybe, but Terry seems like a far better alternative.
Dallas Mavericks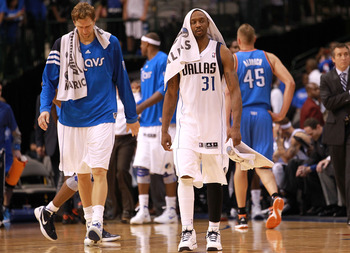 Ronald Martinez/Getty Images
While Terry could decide to bolt for more money, Dallas ultimately holds all the cards.
It will come down to the approach Dallas wants to take in rebuilding. If they can land Derron Williams, then Terry's days in Dallas may be done. If they can't, it will be interesting to see what method the Mavs employ to rebuild their team. Most teams don't rebuild with 34-year-old sixth men.
This team is Dirk Nowitzki's, and he's the only constant that is guaranteed.
Sources indicate that Terry will give the Mavericks the opportunity to match whatever offer he receives on the open market. The ball is in their court. Terry will likely command $5 million a year for three years, and if he does then that may not be the direction the Mavericks choose to go. Only time will tell.
Keep Reading