NBA Rumors: Teams Who Would Become Instant Contenders with Pau Gasol
June 29, 2012

Harry How/Getty Images
One of the most intriguing, yet annoying, storylines in the NBA this past calendar year has undoubtedly been Pau Gasol's trade speculation.
Despite being one of the most skilled big men in the league and being a key contributor in a multiple championship run with the Los Angeles Lakers, they've repeatedly marked him as an expendable player and have made no secret of shopping him around.
Gasol has to be gassed over the whole process, but he still managed to put up impressive numbers for being the No. 2 option in his own frontcourt behind Andrew Bynum. Sure, 17.4 points per game is his lowest since 2004-05, but it's still 17.4 points per game (coupled with a menacing 10.4 rebounds, by the way). And without head coach Mike Brown diminishing his role in the offense, it would've been much higher.
The 11-year veteran's time with the Lakers is inevitably coming to a close. But are there plenty of teams in the league who could bring in Gasol as their best player? Absolutely.
Let's take a look at teams who would instantly become playoff contenders with Gasol.
The Rockets were definitely the most active team prior to Thursday night's draft, loading up picks for a potential move to acquire Gasol, or even Dwight Howard.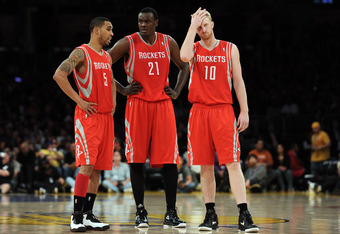 Harry How/Getty Images
They didn't end up making such a move before picking with their 12th, 16th and 18th picks in the draft, which they used to pick up UConn guard Jeremy Lamb, Iowa State's Royce White and Kentucky's Terrence Jones.
While none of these players are set to become franchise players, and the Rockets' past few days could turn out to be a disastrous stretch of decisions, Lamb and Jones are dripping with potential that could make them very effective players in this league.
With L.A.'s team changing heavily, they could look at any three of these draft picks as solid assets to improve their bench and enter in as starters in the near future. 
Houston still has valuable players like Luis Scola and Kyle Lowry that the Lakers could be interested in, and if the Rockets are willing to give up enough to make Mitch Kupchak salivate, then Gasol could likely become a Houston Rocket very soon.
The Grizzlies are much more ahead of the fray than their company on this list as they've slowly become perennial playoff contenders and have a solid nucleus of players.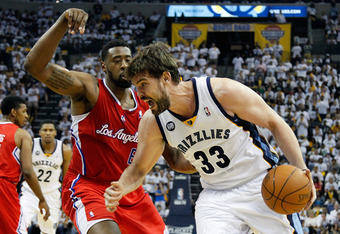 Kevin C. Cox/Getty Images
Memphis is the only other NBA team Gasol has played for, and he played a vital role in the team's growth in the Tennessee market. He'd join his younger brother, Marc, to create arguably the most intriguing frontcourt in the league. 
Zach Randolph could be involved in a Lakers-Grizzlies trade as well, according to Peter Vecsey of the New York Post, via Twitter.
While Randolph has arguably had a similar impact on the city of Memphis, Gasol is absolutely the better player and would instantly give the Grizzlies a formula to compete in the West.
Gasol's toughness and hunger has been put into question multiple times during his tenure with L.A., but a chance to win a title with his brother in the city where it all began would light a fire and torch any lack of motivation in his mind. 
With the Oklahoma City Thunder and San Antonio Spurs dominating the Western Conference, a solid group of forwards is at a premium. It's hard to argue that the Gasol brothers wouldn't make the most formidable frontcourt duo in the conference.
Don't look now, but what used to be the worst team in the NBA could be making a deep playoff run very soon if they can add Gasol.
A report from the Associated Press (via SportsIllustrated.com) outlines interest from the Wolves to acquire the four-time All Star and two-time NBA champion for former No. 2 overall pick Derrick Williams.
Williams was and still is expected to become a dominant post player alongside Kevin Love, but he showed flashes of both good and bad in his inaugural season in Minnesota. He averaged just 8.8 points and 4.7 rebounds per game, but is still just 21 years old and is an immensely valuable asset.
With the team that Minnesota has quietly but quickly built, Gasol could put them over the top with his leadership and an unbridled work ethic paired with daunting post skills that has made him one of the best post scorers in the NBA.
Throw in a highly-skilled point who loves to pass and set up his teammates in Ricky Rubio, and you have yourself a suddenly dangerous team.