NBA Draft 2012: 10 NBA Veterans Now on the Trading Block After the Draft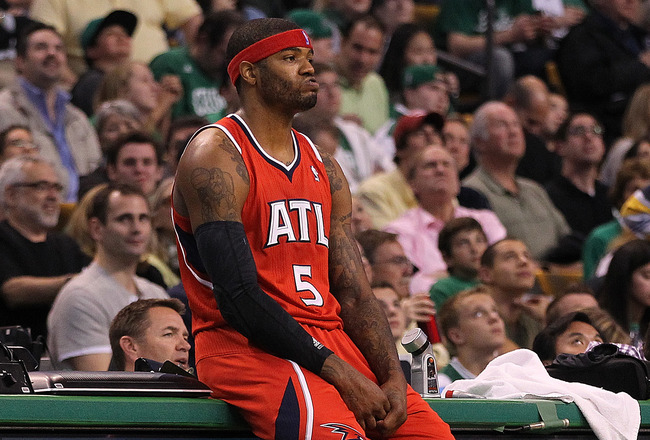 Josh Smith has been on his way out of Atlanta for years.
Jim Rogash/Getty Images
With the 2012 NBA draft now in the rear-view, it is time to observe the trade market with fresh eyes. Lamar Odom apparently was finally shipped out during the draft to the Clippers, and players like Samuel Dalembert, Ben Gordon and Corey Maggette were moved in advance of the event.
What remains now is trying to figure out which NBA players will find themselves on the trading block the morning after the draft?
The influx of talent in this very deep draft has made numerous spots shaky amongst NBA veterans. Some teams have shiny new toys and—like Woody when Buzz arrived—the veteran toys may need to be shipped out.
Of course, there are the obvious players like Dwight Howard, but some lesser-known entities may also be moved in the very near future. So, who will be taking the walk of shame to their GM's office in the aftermath of the 2012 NBA draft?
Luol Deng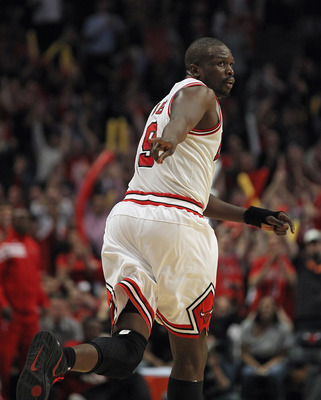 Luol Deng is on the block in Chicago.
Jonathan Daniel/Getty Images
With no selections in the first round of the NBA draft, the Chicago Bulls had little opportunity to improve their team. With question marks surrounding Derrick Rose's availability next season—and his risky future—the Bulls need to look down other avenues.
Luol Deng is one of the more attractive options to be placed on the trading block. He is only slightly overpaid at $14 million over the next two years. However, he recently showed that he was incapable of leading the Bulls out of the first round after Rose went down.
Deng could fetch Chicago a very good return on the market right now as many teams could use that type of complementary player. While a lot of the rumors surrounding Deng involved lottery picks, Chicago should not shut the door on this option to bring in young talent.
Josh Smith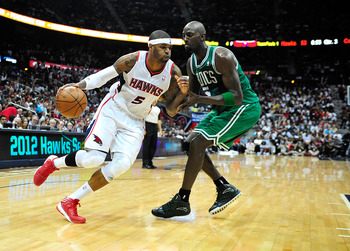 Josh Smith has been asking out of Atlanta for a long time.
Grant Halverson/Getty Images
Josh Smith is probably the top player on the trading block not named Dwight Howard. Smith has not stopped improving during his NBA career, and just submitted his most impressive season yet.
He is a hair's breadth away from averaging a 20-and-10, but he makes up for that with more than a steal and block per game as well. Smith has long made it known that he would like to move on from Atlanta, and right now may be the best time.
The Hawks have been stuck in the middle of the Eastern Conference for years now, and they need to shake things up. Smith has only one year remaining on his contract worth $13 million. He is very attractive and would bring in a fortune in return.
Rudy Gay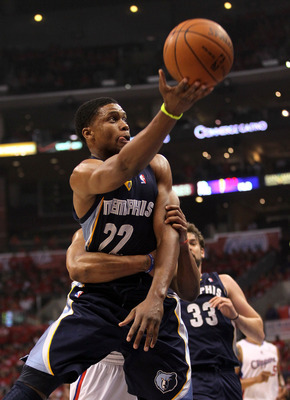 Rudy Gay has a lot of suitors this summer.
Stephen Dunn/Getty Images
The Memphis Grizzlies are in a tough cap situation right now, and their most valuable trade chip is Rudy Gay. Gay will make big money over the next three seasons as his contract is back loaded. While he will only earn $16 million next season, that balloons to $19 million in 2014.
If they want to make some changes to their team in any way, they will have to make a move to get Gay or O.J. Mayo off the books. Both players will be on the trading blocks, but Gay would bring back exponentially more talent in return.
Memphis is sort of void of young, inexpensive talent. All of their best players are paid handsomely, and in the NBA you need a mixture.
Dwight Howard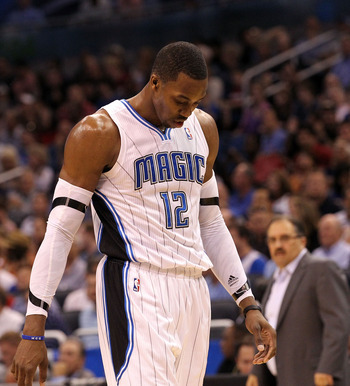 Will Dwight Howard make it to opening day with the Magic.
Sam Greenwood/Getty Images
The world did not stop Thursday night, as no team made a serious play for Dwight Howard during the NBA draft.
This does not mean Howard will be wearing pinstripes next season, though. He is still very much on the trading block. With one year and $19.5 million on the books, Howard is still a prized target for numerous teams.
The issue is giving Orlando enough in return. Houston appeared to be interested in making a play for him by stockpiling first rounders, but silently took each pick for themselves.
Howard is still the most dominant center in the NBA, despite all of his recent attitude troubles.
Pau Gasol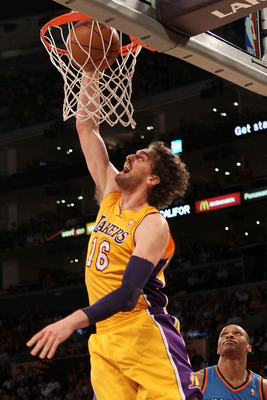 Pau Gasol has a big contract that the Lakers would like to unload.
Stephen Dunn/Getty Images
The Lakers have been looking to free up cap space for a while now, and Pau Gasol is the common target. He still has two years left on his contract at a mammoth $19 million per.
Gasol has been linked to many teams and is currently being shopped by Los Angeles.
Possibilities that match up both money and talent-wise are Atlanta in a deal involving Josh Smith, perhaps. Also, there is the possibility that he would team up with his brother Marc in Memphis.
Anderson Varejao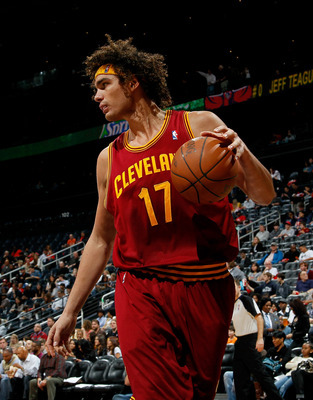 Anderson Varejao could be dealt out of Cleveland.
Kevin C. Cox/Getty Images
The Cleveland Cavaliers gave up three draft picks for the rights to UNC big man Tyler Zeller. That is too steep of a price for something else not to be in the works.
The acquisition of Zeller makes Anderson Varejao and his contract fairly expendable. Varejao is set to make around $9 million the next two seasons with a club option for 2014.
Zeller is a quality center who the Cavaliers would like to play next to Tristan Thompson as they continue with a youth movement that will be very watchable this season. He averaged 16 points and 10 rebounds per game last season and should be able to replicate what Varejao gave to Cleveland for a fraction of the cost.
Andre Iguodala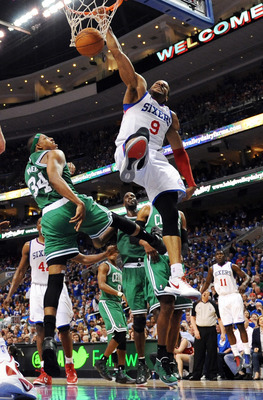 Andre Iquodala was a grizzled veteran on a young Philadelphia team.
Drew Hallowell/Getty Images
The 76ers leading scorer came off the bench last season. He also only averaged 15 points per game and is now an unrestricted free agent. What does this have to do with Andre Iguodala? Well he is being paid $15 million dollars to be a star, and he really isn't.
With the 15th pick in the NBA draft, Philadelphia took Maurice Harkless from St. Johns. This was one of the nails in the Iguodala coffin in the city of brotherly love.
Harkless plays a similar position as Iguodala, but has much better offensive upside. The 76ers struggled offensively last season and this was a stride in the direction of correcting that. The next step is moving Iguodala to clear up some cap space.
O.J. Mayo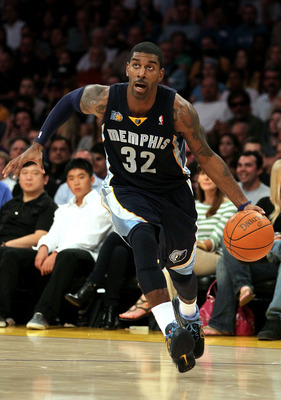 Rudy Gay is very highly paid for the next three years.
Jeff Gross/Getty Images
O.J. Mayo has been tossed about in trade rumors for the past couple seasons. At one point this past year, he was all but on a plane to Boston in exchange for Ray Allen.
It appears as though Memphis has not halted in their quest to move Mayo. They drafted Tony Wroten Jr. in the first round of the NBA draft. He is similar to Mayo, and averaged 17 points per game for Washington last season.
Mayo has soured in Memphis after two solid seasons—fans saw his scoring production fall to just 12 points per game the past two years. Mayo needs a change of scenery and the Grizzlies need to inject new blood into their team. Wroten Jr. will do that for Memphis.
Mayo stands to make $7 million with a qualifying offer in 2012.
Andris Biedrins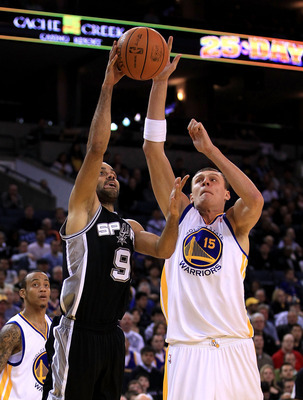 Oh, how long ago 2008 seems.
Ezra Shaw/Getty Images
Andris Biedrins has been on the bad side of Warriors fans for the past few years. His contract still stands at $9 million for one more season. This is an obscene amount for a player who last season averaged less than two points and four rebounds a game.
Biedrins has been shopped with no takers for at least the past year. The difference is, now his contract will mercifully expire in one year, barring a 2013 player option.
I'm not sure if a change of scenery would do enough for the former 11 and 11 man in 2008. The Warriors restocked their team with some solid draft picks like Harrison Barnes and Festus Ezeli—the latter of which is a center. Ezeli will almost immediately scoop up Biedrins' minutes and be a defensive helper for Andrew Bogut and David Lee.
Kevin Martin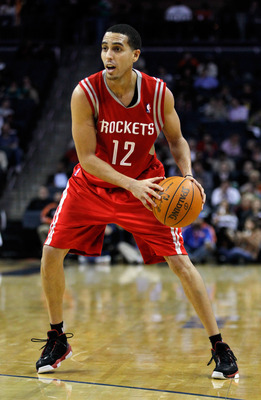 Houston may have just drafted Kevin Marin's replacement.
Streeter Lecka/Getty Images
With the 12th pick in the 2012 NBA draft, the Houston Rockets grabbed Connecticut star Jeremy Lamb.
Lamb is remarkably similar to current Rocket Kevin Martin. Martin is a valuable trade chip, as he only has one year remaining on his contract at roughly $12 million.
He can still play though, averaging 23 points per game just one year ago. He fell off slightly during the shortened season, dropping to 17 points. For a player with that scoring potential, the price tag is still attractive. However, Martin never developed a secondary skill in the NBA and has averaged just three rebounds and two assists through his career.
The Rockets took three picks in the first round and are going through a massive franchise shift. It is clear that the time has come to cut ties with Martin—who never developed into more than a volume scorer.
Keep Reading