Luol Deng Trade Rumors: Latest Word on Warriors, Raptors and More
June 28, 2012

Jonathan Daniel/Getty Images
One of the premiere players on this year's trade circuit might end up being Luol Deng, and no matter how vehemently the Chicago Bulls try to deny that they're shopping him, the rumors just won't die. 
Already, the Bulls star has been linked to Golden State and Toronto. 
Some sources have said that the Warriors rumor is bogus. Others have said that Deng being traded at all is a long shot. Others have said that the star could be moved if either Brandon Roy or 2012 draft pick Harrison Barnes looks like a legitimate possibility.
Even Deng himself seems to be resigned to the possibility of moving on from Chicago in 2012-13. He told ESPNChicago.com's Ian Whittell:
As much as I want to stay on the team—I love Chicago, I love the Bulls—at the same time, I know the business part of it. Sooner or later, all the rumors are going to come up.
As the rumor mill continues to circulate, check back here for all of the latest news on Deng's future.
Update: Wednesday, July 4 —Ethan Norof

The trade winds have very much quieted around Deng, and there was never really a strong chance that he was going to be traded on draft night.
An ESPN Chicago report from June 27 states a Deng trade as "unlikely," and barring something completely unforeseen, it sounds like Deng will be playing in a Bulls uniform next season.

Update: Monday, July 2 -- Joel C. Cordes
Luol Deng trade rumors have quieted down significantly since a flurry of chatter preceding Draft night. While all the talk apparently unnerved Deng, the Chicago Bulls have done their best to smooth things over:
The Bulls have privately assured Luol Deng that there's "no chance" of a deal sending him to the Warriors, league source tells Y!

— Adrian Wojnarowski (@WojYahooNBA) June 25, 2012
It remains to be seen whether this change in the winds is due to lack of logical trade scenarios, or was actually hot air all along.
Bulls Are Entertaining Offers But Aren't Serious About Them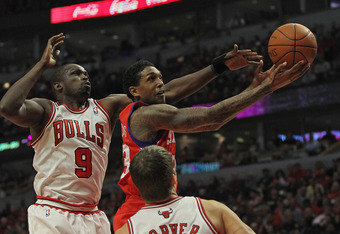 Jonathan Daniel/Getty Images
HoopsWorld's Steve Kyler believes that there is some truth to the rumors that the Bulls are entertaining trade offers for Deng, especially from the likes of Toronto and Golden State, both of whom have expressed interest.
Because Deng is due to make over $27 million in the final two years of his current deal, the Bulls could be tempted to take his contract off the books.
Kyler also writes that Deng does plan to have surgery on a bothersome wrist ligament—he's just putting it off until after the Olympics. If this is true, it could compromise his trade value, particularly if it means he won't be available until December.
Still, Kyler doesn't believe the Bulls are seriously considering trading such a significant cog in the Bulls' machine, especially if Derrick Rose is going to miss so much of the upcoming season.
Deng is a key piece of a team that's been among the best in the NBA over the last two years, and the Bulls are likely to give this group at least one more run before totally disbanding it.

Bulls Will Do Nothing and Will Keep Luol Deng
The Chicago Sun-Times' Neil Hayes reports that the Bulls are interested in Brandon Roy and have had discussions with other teams about trading up in this year's draft for the opportunity to select Harrison Barnes.
In the end, though, he believes Chicago won't end up making a trade because Deng's wrist injury is only a short-term ailment that is unlikely to seriously compromise his effectiveness next season.
Hayes also points out that the Bulls, a defensive-minded team, are unlikely to trade their biggest defensive asset, or a player head coach Tom Thibodeau has referred to as the "glue" of the team.

Bulls Tell Deng There's No Truth to Golden State Rumors
Despite the fact that the Warriors have popped up as one of the likeliest trade destinations for Deng, Yahoo! Sports' Adrian Wojnarowski reports that the team has assured its small forward that the Golden State rumors are false:
The Bulls have privately assured Luol Deng that there's "no chance" of a deal sending him to the Warriors, league source tells Y!

— Adrian Wojnarowski (@WojYahooNBA) June 25, 2012
There's Tension Between Deng and the Bulls Because of the Olympics
According to ESPNChicago.com's Ian Whittell, there is "unease" between Deng and his team because of Deng's insistence upon representing Britain in London at the Olympics.
Because Deng has struggled with a wrist ligament injury throughout much of the season, the team wants him to skip the Olympics and have surgery.
Deng insists on representing the country that granted his family political asylum from Sudan and has steadfastly refused Bulls management's request to bow out.
In an exit interview Whittell called "tense," Deng told the Bulls he might not even need surgery before the beginning of next season.
Is this tension the reason the Bulls are shopping him? Deng doesn't think so. But it might make someone like Harrison Barnes or Brandon Roy look a little more attractive to them.