Lamar Odom Trade Rumors: Latest Word on the Clippers, Lakers, Knicks and More
June 28, 2012

Kevork Djansezian/Getty Images
After what can only be described as a tumultuous lost season with the Dallas Mavericks in 2011-12, forward Lamar Odom can't get out of Texas soon enough.
His Mavs tenure ended with a deactivation after a heated confrontation with owner Mark Cuban during halftime of Dallas' April 7 game against the Memphis Grizzlies.  
While it's no secret that Odom won't be back with the team next season, there's a question as to how he'll be on the move.  
A June 29 deadline looms on the Mavericks $2.4 million buyout option on Odom's contract, though the team and Odom's agent have talked about pushing that deadline back so that the Mavs can find a trade.  
Regardless, the power forward's market will be fluid over the coming days and weeks.  
Since our goal here at B/R is to keep you ahead of the curve on all the latest rumors and buzz, we've created a tracker specifically for Odom and will be updating it with up-to-the-minute news as it breaks. 
Update: Monday, July 2 -- Joel C. Cordes
The long-rumored Lamar Odom trade has been completed, with the recently disgruntled forward leaving the Dallas Mavericks for the Los Angeles Clippers.
As expected, the Clippers sent Mo Williams to the Utah Jazz after he picked up his $8.5 million player option to facilitate the deal. 
This deal not only helps the Clippers and Jazz address shallow portions of their roster, but it also creates a large trade exception for the Mavericks as they pursue Deron Williams and other big-name free agents.
The only surprise here is that the Houston Rockets found a way to piggy-back onto this deal, essentially throwing in some cash to acquire the draft rights to quantity rebounder, Furkan Aledmir of Turkey.
Utah Jazz Willing Facilitating Lamar Odom to Clippers Deal, Awaits Mo Williams -- Joel C. Cordes
Marc Stein and Chad Ford of ESPN.com are reporting that the Utah Jazz have expressed interest in bringing Mo Williams back to Salt Lake City as part of a three-team Lamar Odom trade.
Williams is the financial key to the Clippers being able to acquire Lamar Odom from theDallas Mavericks, as their salaries are both in the $8 million range.
The Dallas Morning News reports this is a done deal. It now appears Mo Williams is opting in to the final year of his contract. 
AP is reporting that Mo Williams will pick up his option, making the Odom to the Clippers deal a reality.

— Kurt Helin (@basketballtalk) June 29, 2012
However, the L.A. Times later refuted that notion. In essence, he has a one-team "no trade" clause. There's no way he'd make $8 million per year again on the free market, but taking the money means he's going back to Utah. 
For the Clippers, they're in a strange situation of trying to play nice to Mo Williams... so that they can trade him for someone else. The Dallas Mavericks have to be hoping this all works out just fine.
Clippers Are Interested in Odom, Lakers May Facilitate Deal by Acquiring Guard Mo Williams
According to ESPN.com's Marc Stein, the Clippers, in recent days, have expressed strong interest bringing Odom back to the team that drafted him, but almost any deal hinges on a team picking up Williams' $8.5 million price tag for next season. 
With Williams coming off one of his best career seasons, sources tell Stein that multiple teams have inquired about the Clippers' sixth man.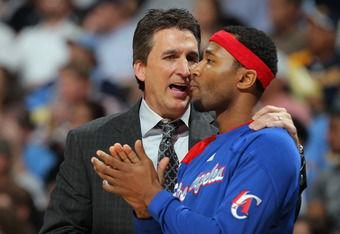 Doug Pensinger/Getty Images
One of those teams is the Los Angeles Lakers, and, ironically enough, they would be using the trade exemption, which they gained in dealing Odom to Dallas, for Williams.  
For the Clippers, they feel that a return to a comfortable environment is all Odom needs to regain his pre-Dallas form.  And if that's the case, the other Los Angeles team could get a massive steal here. 
Lakers Unlikely to Be a Part of the Odom Sweepstakes
With the NBA unwilling to waive the new "one-year" return rule for traded players, the Lakers would have to wait until Dec. 11 to acquire their former sixth man.  
And according to the Los Angeles Times, both sides seem unlikely to wait the six weeks necessary in order for Odom to make his return.  
New York Is at the Top of Odom's Wishlist
According to a source who spoke to ESPNNewYork.com's Ian Begley, Odom's first choice is to become a Knick:  
"It definitely won't be the fiasco that it was last year," the Odom source said of the 13-year veteran's approach to 2012-13. "He wants to find a place where he can end his career, and New York is ideal. He's won championships in the past and he wants to win another. And to do it there would be great." 
Despite his love for the beach, Odom is a Queens native and has spent time in New York filming reality shows with his wife Khloe Kardashian in recent years.  
Odom-to-New York is probably only possible in a buy-out situation, and that's looking less likely by the minute.