2012 NBA Mock Draft: Highlighting the Best and Brightest of Round 1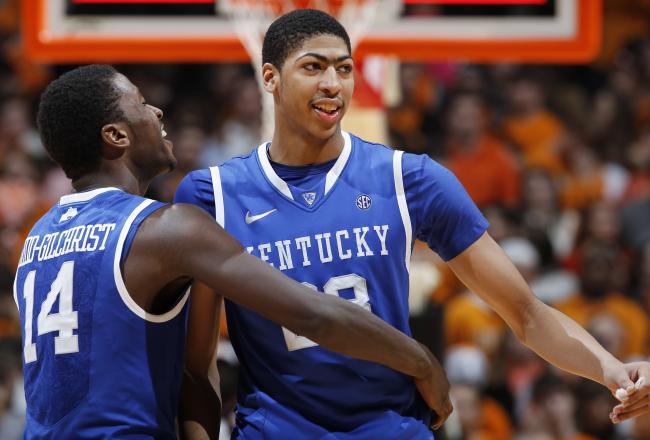 Joe Robbins/Getty Images
Believe the hype.
The 2012 NBA draft class is being labeled the best class since 2003 because of its unbelievable depth. Here is a first-round mock highlighting the top players in the potentially historic group of prospects.
1. New Orleans Hornets: Anthony Davis (PF, Kentucky)
The Unibrow will be a hit from day one in New Orleans. Anthony Davis has the highest ceiling in the entire draft and will be a special defender in the NBA.
Davis denied 4.7 shots per game in his lone year with the Wildcats. His freakish combination of length and athleticism will translate to him being a Dikembe Mutombo-like presence in the paint. Don't expect much on offense right away, though—well, besides countless alley-oops.
2. Charlotte Bobcats: Thomas Robinson (PF, Kansas)
Thomas Robinson boasts Blake Griffin-like athleticism. Even more impressive than his physical ability, though, is his work ethic, leadership and motor.
Robinson was the best player in college basketball last season. He averaged 17.7 points and 11.9 boards per game, almost single-handedly leading the Jayhawks to a national championship berth. Defensively, he isn't the help defender that Davis is, but he'll be able to shut down bigs in the low post.
3. Washington Wizards: Bradley Beal (SG, Florida)
There isn't a better shooter in the draft than Bradley Beal. But while most elite shooters are one-trick ponies, Beal is nothing of the sort.
Beal is drawing comparisons to Ray Allen...a better Ray Allen. While he's a sniper from downtown, Beal is a phenomenal rebounder for his size. He's also a top-notch ball-handler for a 2 and is capable of finishing at the rim more effectively than Allen ever could.
4. Cleveland Cavaliers: Michael Kidd-Gilchrist (SF, Kentucky)
Michael Kidd-Gilchrist is a winner. That's the best way to describe the best prospect in the 2012 class not named Anthony Davis.
MKG won't light an opponent up offensively, but he does all the little things that'll help whoever drafts him rack up tallies in the win-column. He's an elite defender, rebounder and finisher at the rim—the best in the nation this past season. And you'll be hard-pressed to find a better motor that comes along in the next decade.
5. Sacramento Kings: Harrison Barnes (SF, North Carolina)
Tyreke Evans is playing out of position at small forward, and his name has been surfacing in trade rumors.
6. Portland Trail Blazers: Andre Drummond (C, Connecticut)
J.J. Hickson is a free agent, and the Trail Blazers should find an upgrade in the draft even if he plans to re-sign.
Will Golden State end up trading down?
7. Golden State Warriors: Meyers Leonard (C, Illinois)
With no small forward worthy of being taken, Golden State must shift its attention to injecting much-needed athleticism into its frontcourt.
8. Toronto Raptors: Dion Waiters (SG, Syracuse)
Finding an upgrade on the wing should be effortless for the Raptors because DeMar Derozan is the only respectable starter that they have.
9. Detroit Pistons: John Henson (PF, North Carolina)
Jason Maxiell is a free agent and is nothing more than solid depth anyway.
10. New Orleans Hornets: Damian Lillard (PG, Weber St.)
Jarrett Jack will become a free agent next summer, so the Hornets need a long-term solution at point guard.
11. Portland Trail Blazers: Austin Rivers (SG, Duke)
Jamal Crawford has an option to opt out of his current contract, and if he does, Portland better have a capable scorer ready to produce.
12. Milwaukee Bucks: Tyler Zeller (C, North Carolina)
Milwaukee needs a seven-footer to make up for starting two undersized guards in Brandon Jennings and Monta Ellis.
13. Phoenix Suns: Terrence Ross (SG, Washington)
Shannon Brown is a free agent and isn't a starting-caliber shooting guard in the first place.
Will Houston package its picks to move up into the top 10?
14. Houston Rockets: Jeremy Lamb (SG, Connecticut)
Houston must find Kevin Martin's successor, because he's scheduled to become a free agent next offseason.
15. Philadelphia 76ers: Perry Jones (PF, Baylor)
Elton Brand has an expiring contract and Andre Iguodala is always on the trade block—Jones is capable of playing both forward spots.
16. Houston Rockets: Terrence Jones (PF, Kentucky)
Luis Scola is one of many Rockets who are aging, declining and must be eventually replaced.
17. Dallas Mavericks: Kendall Marshall (PG, North Carolina)
Jason Kidd is a free agent, and the Mavs need insurance in case they don't land Deron Williams.
18. Houston Rockets: Moe Harkless (SF, St. John's)
Houston traded Chase Budinger to the Minnesota Timberwolves for the 18th overall pick, so naturally, they'd select an upgrade at the position.
19. Orlando Magic: Arnett Moultrie (PF, Mississippi St.)
Dwight Howard's days in Orlando are numbered, so the Magic must add quality length to their rotation.
20. Denver Nuggets: Tony Wroten Jr. (PG, Washington)
Andre Miller played a huge role on the Nuggets last season. But he's a free agent, so replacing him becomes the Nuggets' greatest need.
21. Boston Celtics: Jared Sullinger (PF, Ohio St.)
Despite the medical red flags, Boston is too intelligent to pass on Sullinger with Kevin Garnett headed to free agency/retirement.
22. Boston Celtics: Royce White (SF, Iowa St.)
Believe it or not, it's only a matter of time before the Paul Pierce era ends in Boston.
23: Atlanta Hawks: Quincy Miller (SF, Baylor)
Marvin Williams is the weakest link in the Hawks lineup. Replacing him is their highest priority.
24. Cleveland Cavaliers: Fab Melo (C, Syracuse)
Anderson Varejao is better suited at power forward, but he's forced to play the 5 because the Cavs don't have a true center.
25. Memphis Grizzlies: Andrew Nicholson (PF, St. Bonaventure)
Marreese Speights is the only capable backup big on the Grizzlies roster.
26. Indiana Pacers: Draymond Green (SF, Michigan St.)
According to Chad Ford of ESPN, Indiana is in love with Green.
27. Miami Heat: Will Barton (SG, Memphis)
Pat Riley can't be dumb enough to keep Mike Miller because of one good game.
28. Oklahoma City Thunder: Marquis Teague (PG, Kentucky)
Even if Derek Fisher wanted to re-sign for one more season, he's ancient and should be easily upgraded.
29. Chicago Bulls: Evan Fournier (SG, France)
Richard Hamilton isn't the long-term answer at the 2, and Kyle Korver/Ronnie Brewer are nothing but solid depth.
30. Golden State Warriors: Jeff Taylor (SF, Vanderbilt)
Golden State's greatest weakness in its starting lineup is at the small forward position.
David Daniels is a featured columnist at Bleacher Report and a syndicated writer.
This article is
What is the duplicate article?
Why is this article offensive?
Where is this article plagiarized from?
Why is this article poorly edited?