Now that the NBA season is over and Miami's LeBron James has his first ring, there's something still missing from the NBA today.
That's the absence of a real rivalry, and NBA fans may have seen one ignited during the NBA Finals between LeBron and Oklahoma City's Kevin Durant.
The entire framework for a Magic Johnson-Larry Bird type rivalry is there, and LBJ's dominance over Durant in the finals is one way to really spark what could be a great rivalry.
What else do we need to set it off?
They are the NBA's two best players on the two best teams in the league, but James being so dominant in the finals could be just the trick.
Durant is going to come back in 2013 with one player and one goal in mind, and that's getting the better of LeBron and winning a ring next year.
The Heat and Thunder will play twice in the regular season next year and then won't meet again until a potential NBA Finals matchup, but these two superstars will give each other their best shot, and then some.
How will LBJ vs. KD play out as a rivalry?
Yet because they are the two best teams in basketball, the opportunity to meet again in the finals is great, thus the potential for the next great rivalry in sports.
Would Magic and Bird have meant anything without the Larry O'Brien trophy on the line?
Probably not.
How about Ali-Frazier, McEnroe-Connors or Nicklaus-Palmer? These were great rivalries because when they met, it was for all the marbles.
Why hasn't Kobe Bryant had a real NBA rival? That's because he's won five championships over five different foes.
The Thunder and Heat have the opportunity to meet more than once for the NBA championship.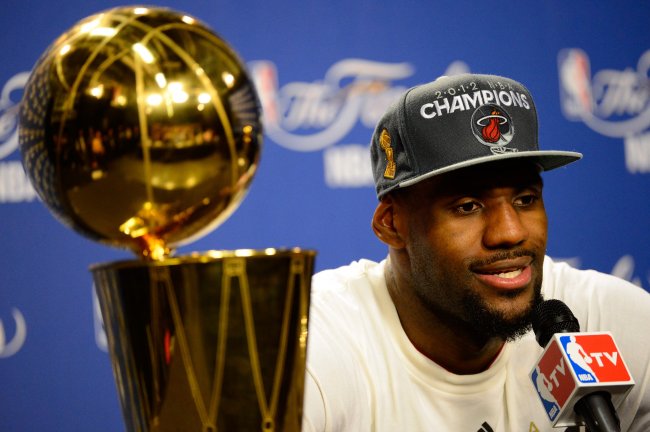 Ronald Martinez/Getty Images
Rivalries are built because of the playoffs. The Thunder and Heat figure to be conference favorites going into next season. If they make the Finals again, or better yet, several times over the next decade, we're looking at a classic NBA rivalry that we haven't seen since the 1980's.
.
LeBron won Round 1 with an early knockout, and while Durant was very good in the finals, LBJ was that much better.
While there's no general hate between the two, that doesn't make Durant watching James celebrate a championship any easier.
There will be a fuel that drives Durant next season, and James won't be happy with just one championship. If both can make it back to the finals next year, then the best sports rivalry in the past couple decades will be as good as anything basketball fans have seen in a very long time.
To quote San Antonio Spurs head coach Gregg Popovich, "I want some nasty."
That's exactly what this personal rivalry has the chance to produce.
LeBron vs. Durant. I like the sound of that, and hopefully, it produces some classic moments over the next decade.
Follow Matt Shetler on Twitter for news, reaction and analysis from around the NBA.