Power Ranking the 10 Best Role Players in the NBA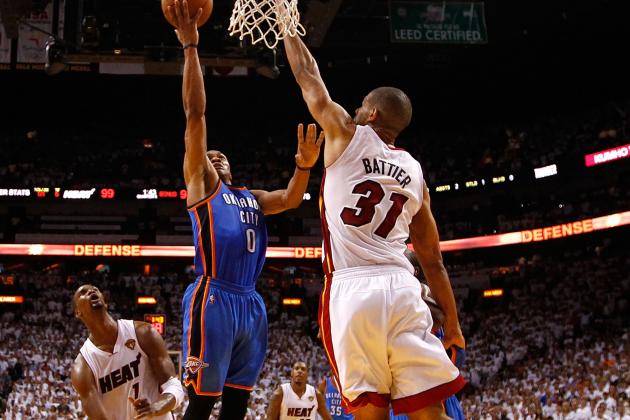 Mike Ehrmann/Getty Images

From a media perspective, role players are not considered as important or press-worthy as superstars.
However, role players are essential toward winning games. The very best role players in the league are pivotal toward building a championship NBA squad.
Here are the top 10 role players in the league, their principal specialties and some complementary skill sets they provide their teams on a nightly basis.
Begin Slideshow

»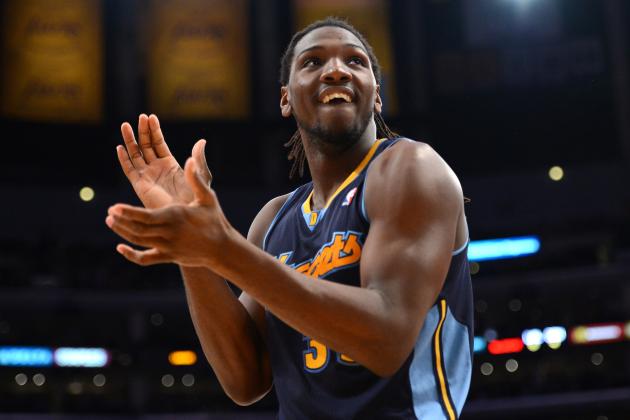 Harry How/Getty Images

Specialty
The undersized 6'8" power forward from the Denver Nuggets is one of the most athletic and physical rebounders in the NBA. Faried just completed an impressive rookie season, averaging eight rebounds a game, three of which were offensive boards.
Complementary Skills
Faried gave the Nuggets a little bit of everything in the 2011-12 season: He averaged one blocked shot a game and shot 59 percent from the floor.
An excellent open-floor runner, Faried will account for several explosive fast break points next year. Faried is also a classic high-energy player who will hound opposing frontcourts on defense.
As Faried's game develops, he will be a consummate double-double machine and a necessary acquisition for championship-aspiring squads.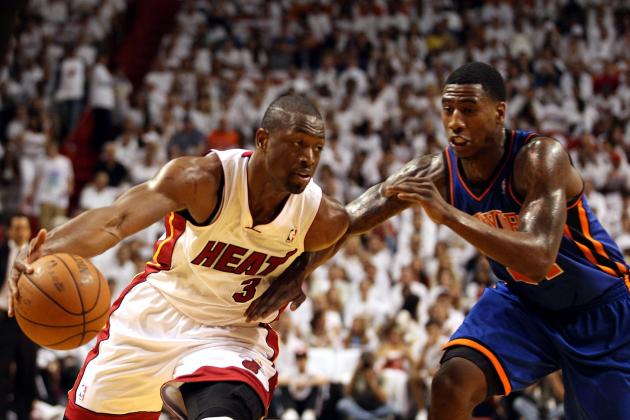 Marc Serota/Getty Images

Speciality
Shumpert not only proved that he is one of the most active perimeter defenders in the league but that he has the explosiveness to turn backcourt defensive stops into fast-break opportunities.
In his rookie campaign, Shumpert was a league leader in steals (1.7 per game, seventh in the league). Shumpert received four votes to the NBA All-Defensive First Team.
Complementary Skills
While by no means a strong shooter, Shumpert has an explosive first step and will establish himself as one of the better above-the-rim scorers in the league.
As his game improves, Shumpert's physical offensive game will draw its fair share of free-throw opportunities and will help break down zone defenses.
Shumpert is also another high-energy player, whose fiery demeanor can be infectious both to fans at Madison Square Garden and his Knick teammates.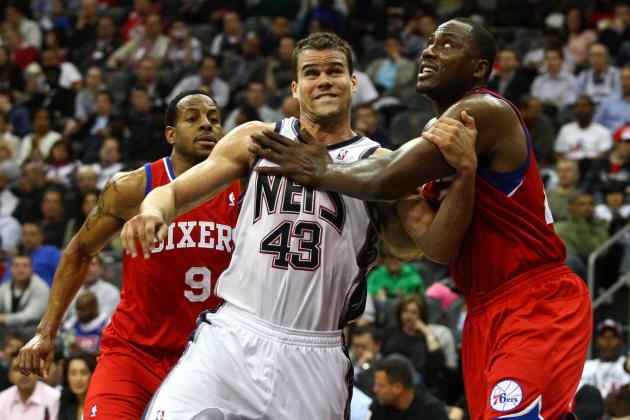 Chris Chambers/Getty Images

Specialty
Once all the C-list celebrity scuttlebutt surrounding Humphries' failed marriage with Kim Kardasian is discarded...what you have left is one of the best role players in the league.
Humphries is a low-digits double-double guy. He'll give you 30 minutes a night of effective around-the-rim dirty work.
In the 2011-12 season, the Nets power forward averaged 14 points per game on 11 shots a night. He also grabbed 11 rebounds a game, four of which were offensive.
Complementary Skills
Humphries doesn't really have or need any other significant skills to justify his ranking as one of the top role players in the league. The 2012 free agent is a classic frontcourt workhorse, whom—at around $8 million a year—any team would want to have.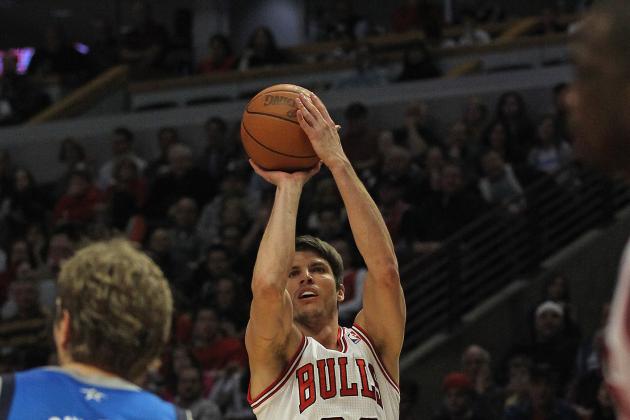 Jonathan Daniel/Getty Images

Specialty
Kyle Korver doesn't have the same array of skills as the younger, less-established players ranked below him.
However, at thirty-one-years old, Korver has already solidified his reputation as one of the best pure three-point shooters in NBA history.
A career 41 percent shooter from three, Korver is an absolutely essential wing and corner three-point shooter on an aspiring championship contender. In the late stages of tightly knit playoff games, Korver is the prototypical three-point specialist who hits key shots to close out wins.
Complementary Skills
Korver is a competent player across the board. Coming off the bench, he's a well-reputed wing defender who rarely turns the ball over on offense (0.7 turnovers a game in the 2011-12 season).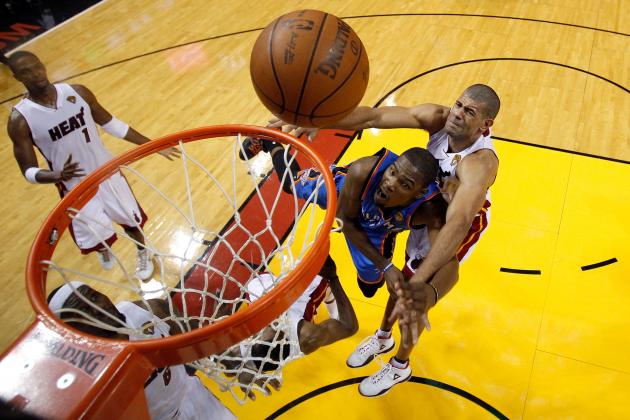 Pool/Getty Images

Specialty
An elite perimeter defender, Battier is routinely assigned to defend the best offensive players on opposing teams.
Battier is also a 38 percent career three-point shooter. He proved in the 2012 NBA Finals that he's an ice-blooded sharpshooter under pressure, shooting 15-for-26 from the three-point line.
Saving his best three-point shooting for the NBA Finals, Battier forced the Oklahoma City Thunder to spread the floor on defense. That gave Heat stars LeBron James and Dwyane Wade all sorts of opportunities to slash to the rim for high-percentage shots.
Complementary Skills
Aside from being a terrifically intelligent and even-keeled presence on the court, Battier protects the ball well (career 1.1 turnovers a game) and averages a respectable number of rebounds at the small forward position (career 5.1 rebounds a game).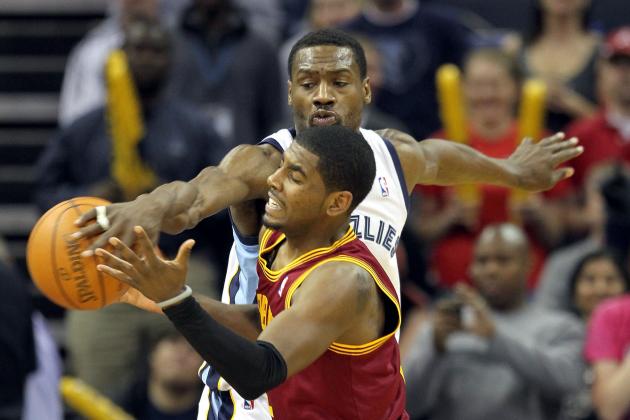 Andy Lyons/Getty Images

Specialty
The NBA All-Defensive First Team player is currently considered the best perimeter defender in the game.
Allen—who is the starting 2-guard and defensive anchor of the Memphis Grizzles—was the leading vote-getter among guards for the 2012 NBA Defensive Player of the Year.
Allen's defensive game ranks a little higher than Battier's due to former's relative youth (Allen is 30-years-old while Battier is 33) and superior athleticism. In 2012, Allen averaged 1.8 steals a game, good for fifth in the NBA.
As Allen's reputation on defense develops during the tail end of his prime, expect him to win an NBA Defensive Player of the Year award.
Complementary Skills
A strong slasher, Allen averaged 9.8 PPG in just under 27 minutes a game during the 2011-12 season.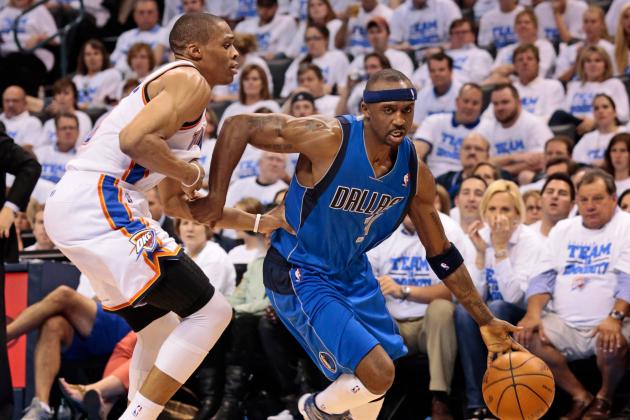 Brett Deering/Getty Images

Specialty
Jason Terry is one of the best off-the-bench scorers of his generation.
The 34-year-old free agent has posted career numbers of 16 PPG and 38 percent three-point shooting. Terry is also a sure thing from the charity stripe; he is a career 84 percent free-throw shooter.
Terry also has a history of stepping up in the clutch. During the Dallas Mavericks' 2011 NBA championship season, he was one of the best fourth-quarter scorers during the regular year.
Terry's advanced age keeps him from being ranked higher on this list.
Complementary Skills
Positivity, guts and confidence. At the onset of the Mavericks championship season, Terry had the confidence get a tattoo of the Larry O'Brien trophy on his bicep.
In the series-clinching Game 6 of the NBA Finals, Terry lead the Mavericks with 27 points on 11-for-16 shooting to help Dallas defeat the Miami Heat.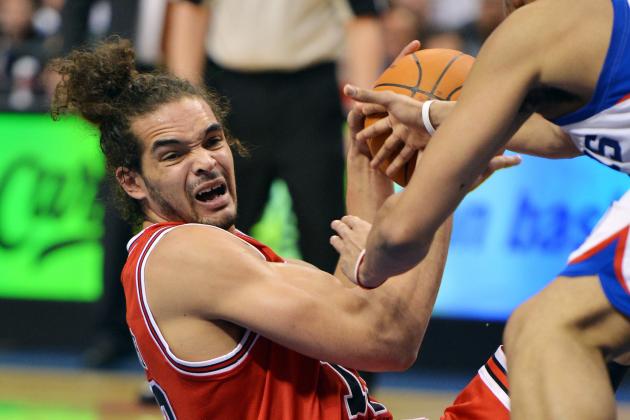 Drew Hallowell/Getty Images

Specialty
The youthful Noah is the classic all-around defensive anchor.
In the 2011-12 season, Noah averaged 9.8 rebounds, nearly four a game on the offensive glass. He also averaged 1.4 blocked shots per game.
But Noah's defensive reputation extends beyond rejecting shots.
He's considered one of the best stretch defenders in the league. Although technically a center, Noah can effectively defend both the high post and wings against opposing team forwards.
Due in large part to Noah's defensive tenacity, the Bulls gave up the fewest number of points (88 PPG) in the NBA last year.
Complementary Skills
Joakim Noah is one of those rare players who has an unbridled love for physical, tenacious defense. Just like Iman Shumpert, Noah's ardor on the defensive end is infectious.
Noah's offense needs improvement. However, this summer, the 27-year-old will be working with NBA legend Kareem Abdul-Jabbar (via www.NBCsports.com) to improve his low-post offensive game.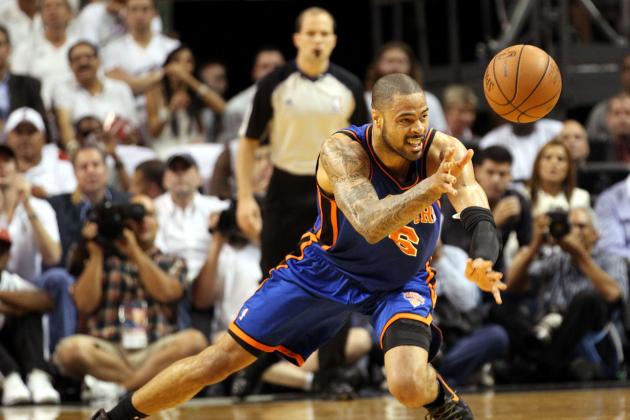 Marc Serota/Getty Images

Specialty
The NBA's Defensive Player of the Year for 2011-12 "changed the culture" of the New York Knicks from that of a laughable team on defense to one of the more respected units in the league.
The Knicks center averaged 10 rebounds (3.4 offensive) and 1.4 blocked shots a game.
Chandler also extends his massive yet agile 7'1", 235-pound frame to the high post and across the baseline, causing havoc for opposing forwards.
Perhaps Chandler's greatest value is his personality. Chandler is one of the most inspiring vocal leaders and best locker-room mentors in the league.
Complementary Skills
Offensive intangibles. Chandler is one of the best players in the league off the pick-and-roll. Last season, he lead the NBA in field goal percentage at 68 percent.
What statistics don't show is that Chandler's screen-setting provided easy scoring opportunities for Carmelo Anthony and the rest of the Knicks' slashing offense.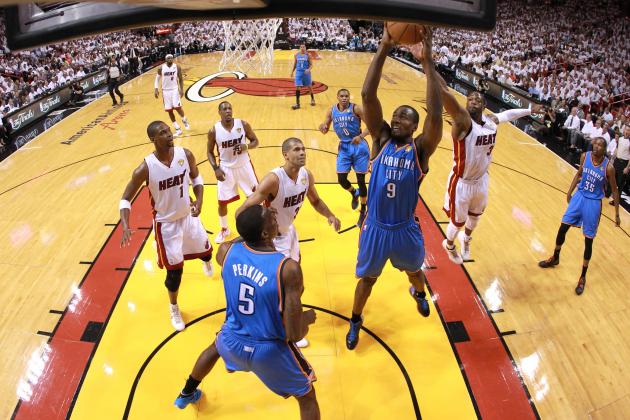 Ronald Martinez/Getty Images

Specialty
The NBA All-Defensive First Team performer gets the top slot because, at the ripe age of 22, Ibaka's already formidable skill set is still flourishing.
Ibaka is one of the 10 most athletic players in the league. He led the NBA in blocked shots with a monstrous 3.7 a game. If Ibaka continues blocking shots at this clip, he could conclude his career as one of the five leading NBA shot blockers of all time.
Ibaka also grabbed 7.5 rebounds a game (2.8 offensive). That number looks a little low at first glimpse, but Ibaka played only 27 minutes a night on a very deep Oklahoma City Thunder team.
Expand Ibaka's playing time to 36 minutes a night (say, on a new team during the 2013-14 season), and Ibaka would be averaging 10 rebounds and 4.8 blocked shots a night.
Mind you, Ibaka is still raw. While he only averaged nine points a night (albeit on 53 percent shooting), his scoring was minimized thanks to the Thunder's jump-shot focused offense, led by Kevin Durant, Russell Westbrook and James Harden.
Just as a taste of what Ibaka can do when given the ball more, he shot 11-for-11 in OKC's pivotal Game 4 win over the San Antonio Spurs in the Western Conference finals.
Ibaka could transcend into one of the best all-around players in the NBA in the right kind of offense. As for now, he's the best role player in the NBA on a championship-contending squad.
Perhaps the big question for Ibaka is which role would he prefer?