David Stern Gives Shocking Response to Simple Question on 'The Jim Rome Show'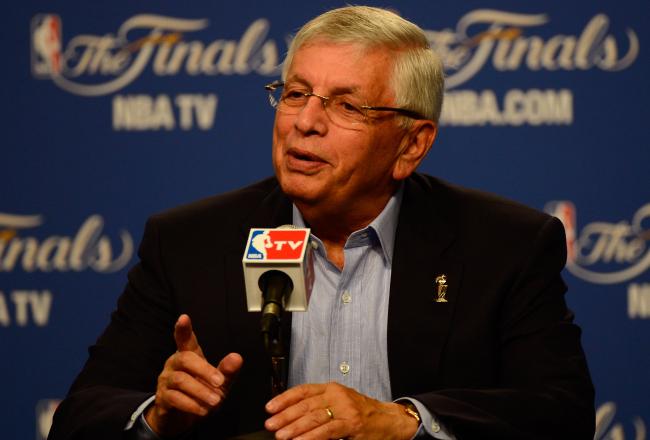 Ronald Martinez/Getty Images
After the New Orleans Hornets jumped up from the No. 4 slot in the NBA draft lottery to grab the No. 1 overall pick and the right to select Kentucky forward Anthony Davis, there were whispers regarding whether or not the lottery might have been fixed.
Obviously commissioner David Stern doesn't take too kindly to that theory, though.
In an interview on The Jim Rome Show, Rome asked Stern about the possibility of whether or not the lottery was weighted in the Hornets' favor. Viewing it as an attack on his credibility, Stern replied with an even icier question, according to audio provided by Deadspin:
The Jim Rome Show turned awkward today as NBA commissioner David Stern lashed out at the show's host for asking whether the league's draft lottery was fixed, asking at one point "Have you stopped beating your wife yet?"
Obviously Stern was trying to rattle Rome's cage since he didn't like his question, but there is no question that he crossed the line.
Some may say that suggesting Stern fixed the lottery could hurt his reputation, but that thought is out in the open and many people believe it to be true.
Saying that Rome beats his wife, on the other hand, is something that was pulled out of thin air.
Rome has never been a stranger to controversy, but there was nothing wrong with what he did or said. Stern was way out of line with his comment, but Rome essentially brushed it off and tried to remain on topic.
You can't blame Rome for asking the question because it is something that many of his listeners are interested in.
Some have a hard time believing that the Hornets legitimately jumped up to get the top pick as they were in the process of being sold from league control to Tom Benson, particularly after the commissioner was under fire for disallowing a trade of Chris Paul to the Los Angeles Lakers this past offseason.
Perhaps it was all a coincidence, but you can't blame people for being suspicious.
Rome went on to explain the reasoning behind his question well, but that wasn't satisfactory to Stern as he criticized Rome's interviewing style and techniques and said that Rome had made a nice career for himself out of "cheap tricks" such as asking about whether the lottery was fixed.
Rather than letting things end there, Stern continued to poke and prod Rome as he suggested that Rome was "pouting" over Stern's criticisms.
The interview ended soon after because Rome said that they were running out of time, but Stern made sure he got one last shot in by saying that he had to call someone important in the form of ESPN's Stephen A. Smith.
There is no doubt that both men were put in a tough position since Rome realized he was asking a sensitive question, but as a journalist it was his responsibility to ask it.
I wouldn't argue against the contention that Rome is a bit of a sensationalist, but I view his questioning of Stern as legitimate as it certainly had merit.
I also have no problem with Stern being offended by the question, but saying anything about Rome beating his wife was the only "ridiculous" question that was asked. People who are guilty tend to act crazy and irrational and those would be two good words to describe Stern in that interview.
While I can't and won't say with certainty that the lottery was fixed, there are signs that point to that being the case and Stern's antics won't help his cause in the least.
Follow @MikeChiari on Twitter
This article is
What is the duplicate article?
Why is this article offensive?
Where is this article plagiarized from?
Why is this article poorly edited?