All season long, the Miami Heat have been scrutinized in the clutch, mostly due to their lack of making big shots with the game on the line.
Based on 82games.com's definition of clutch as "Fourth quarter or overtime, less than five minutes left, neither team ahead by more than 5 points," the Heat aren't the only team that struggles in the clutch.
Looking at Per 48 minutes of clutch time production, LeBron James only ranked 17th in the NBA during the regular season with an average of 33.2 points per that time frame. Yet, while I will buy the fact that James is a natural facilitator, who then is the shot maker for the Heat in clutch situations?
Dwyane Wade? No, I don't think so as there are 29 players in the league that statistically produce more in those situations as Wade's clutch time scoring Per 48 minutes is only 27.9.
Part of Miami's problems have been the lack of other people able to make shots.
With the game on the line, you need that go-to-guy who can knock down shots in those clutch situations, which is the reason I take individual statistics into account in those situations as well, as the ball will usually find its way into only one or two guys' hands with the game on the line.
Not every team has those guys, though.
Here's a look at the worst crunch time teams in the NBA this season.
There's a reason that the Raptors were only 1-7 in games decided by three points or less and that is the fact that they have no one to go to with the game on the line.
According to 82games.com's stats, the best clutch time performer is Jose Calderon, who ranked only 69th in the league in such situations.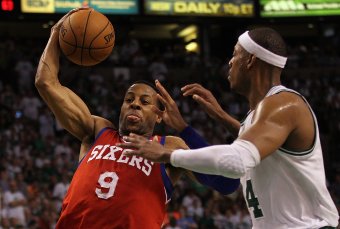 Jim Rogash/Getty Images
The Sixers were only 1-4 in games decided by three points or less, and as they demonstrated in the postseason, they don't have a guy to go to in the clutch.
Having guys like Lou Williams, Jrue Holiday and Andre Iguodala are nice, and they will come through from time to time, but the Sixers need a guy to go to in the fourth quarter.
Amidst all the Dwight Howard drama, the Magic weren't very good with the game on the line, going only 2-5 in tight games.
Part of that is because Howard is a liability in the fourth quarter because he's such a lousy free-throw shooter, but the other reason is that they don't have that perimeter guy to go to when they need to do so.
Hedo Turkoglu and J.J. Reddick have hit big shots in clutch spots during the year, but they don't have a consistent option.
Is it a must for a team to have a go-to-guy to win close games?
Who do the Blazers go to in the clutch?
They don't know either because they were a whopping 3-11 in games decided by three points or fewer. The bottom line is that they needed someone to step up and hit big shots and that didn't happen.
Here's another team that had problems executing with the game on the line.
Mark Jackson's squad competed, but couldn't make plays in the clutch, going only 5-12 in three-point games or less.
Golden State has good young talent, but they won't become a good team until they find a guy that they can rely on in the clutch.
There were other teams that didn't have good records in close games. That list includes the Charlotte Bobcats (2-4), Cleveland Cavaliers (5-6), Milwaukee Bucks (4-6), Sacramento Kings (6-7), Dallas Mavericks (7-8) and New Orleans Hornets (4-9).