Basketball Hall of Fame: 10 Names That Need to Be in the Mix in 2014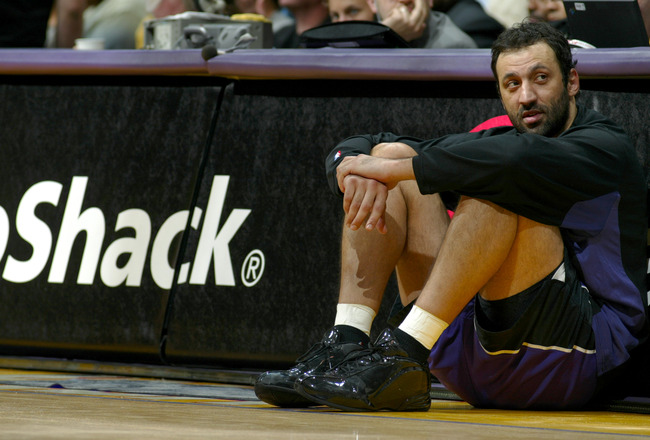 Lisa Blumenfeld/Getty Images
Recently, the 2013 Hall of Fame class was announced, with Gary Payton and Rick Pitino headlining the class. Now seems the perfect time to look at who didn't get in in 2013 that should get in in 2014, and perhaps who wasn't even considered this year but should receive consideration the next time the Hall of Fame committee votes.
Here are six players, two coaches, and two contributors who should be considered for 2014. Each has a repertoire similar to a Hall of Famer's and was eligible for a previous Hall of Fame induction.
Who's Eligible in 2014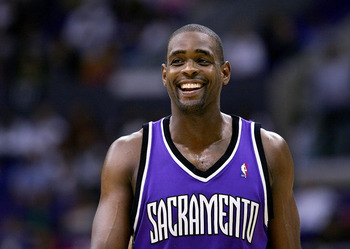 Lisa Blumenfeld/Getty Images
Of course, there are a number of players who retired in 2008 that will be eligible in 2014. The three most likely to get in on their first try are Chris Webber, Alonzo Mourning and Penny Hardaway.
This article does not focus on those players. This article focuses on players who retired prior to 2008 and have already been passed over.
Player: Spencer Haywood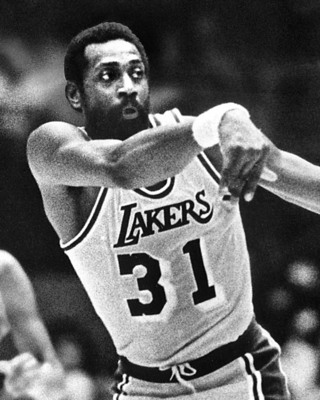 Once again, Spencer Haywood has been snubbed by the NBA Hall of Fame committee.
Haywood is the only person who won an ABA Most Valuable Player Award outright who isn't in the Hall of Fame (George McGinnis shared it with Julius Erving), leading the ABA in scoring, rebounding and PER. After jumping to the NBA, Haywood made two All-NBA First Teams and played in four All-Star Games. He almost single-handedly won the gold medal for the USA at the 1968 Olympics.
So why hasn't Haywood gotten in? Well, seems as though anybody who played a significant amount of time in the ABA has a tougher road to hoe. Also, Haywood once sued the NBA.
Player: Max Zaslofsky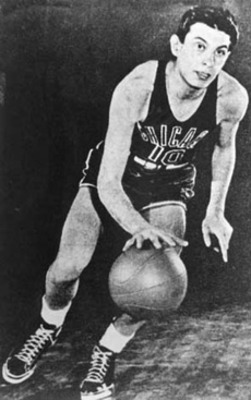 With Bernard King getting in this year, only one man who won a scoring crown isn't in the Hall of Fame. That would be Max Zaslofsky, who scored more points than anyone else in the 1947-48 season. He was also the youngest scoring champion in NBA history until Kevin Durant in 2010.
The lack of Zaslofsky in the Hall highlights the underrepresentation of players who played in the BAA/NBA's first two seasons...Joe Fulks is the only enshrined player from 1946-47; Fulks and Buddy Jeannette are the only ones from 1947-48. By contrast, most other NBA seasons have 10 or more players.
Zaslofsky is also the only player who has made four All-NBA First Teams (the first four) and not be in the Hall of Fame. Though he never won a ring, he played in five NBA finals with three different teams.
Zaslofsky was also the first head coach of the franchise that is now the Brooklyn Nets. And an interesting fact: The closest player to him in similarity score is Rajon Rondo.
Player: Sidney Moncrief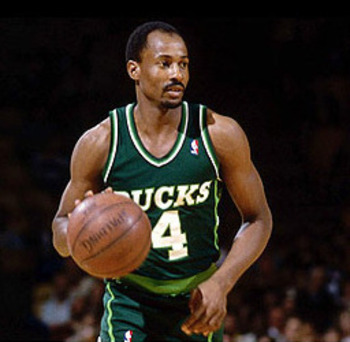 Combo guard Sidney Moncrief played ten distinguished seasons for the Milwaukee Bucks in the 1980s.
He is one of only a very few players to be All-NBA five times, including an All-NBA First Team selection in 1983, and not be enshrined in the Naismith Hall of Fame. He finished in the top eight in MVP voting each of those years, which is good enough for .695 career award shares...more than anyone else who isn't in Hall of Fame.
Moncrief also won two Defensive Player of the Year Awards and was selected to the All-Defensive team four times. Furthermore, he's one of the 30 most efficient in win shares per 48 minutes.
Moncrief's omission from the Hall is commentary on the fact that the Hall privileges offensive talent (only a career scoring average of 15.6 PPG) over defensive talent. His comparatively short career also may have hurt his chances.
Player: Kevin Johnson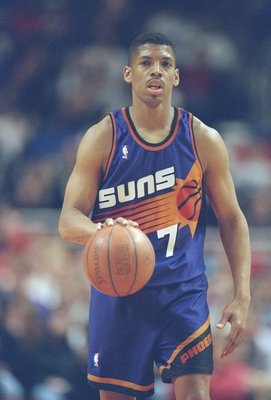 Jonathan Daniel/Getty Images
Before he begged the NBA to keep the Kings in Sacramento, Kevin Johnson was a halfway decent ballplayer with the Phoenix Suns.
Johnson ranks in the top 20 all-time in assists, and is sixth all-time in assists per game. Four of the men ahead of him are Hall of Famers, and the fifth (Chris Paul) is still dishing.
KJ made five All-NBA teams and finished in the top 10 of MVP voting twice. He skippered the Suns to ten straight playoff berths, and has 935 dishes in the playoffs, the 13th-highest all-time (nine of the men ahead of him are Hall of Famers, the remaining three are still active)
Johnson is also in the top 100 all-time in Win Shares and top 50 all-time in Player Efficiency Rating. Why he hasn't gotten any love from the Hall of Fame committee, I don't know.
Player: Mitch Richmond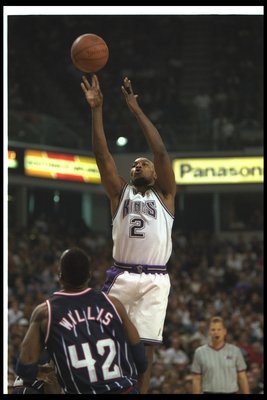 Otto Greule Jr/Getty Images
The greatest shooting guard of the 1990s was Michael Jordan. There's an argument to be made that the next-greatest was Mitch Richmond, who was again snubbed by the Hall this week.
Richmond averaged 20 points or more in each of his first ten seasons. He was MVP of the 1994-95 All-Star Game, and is one of only a handful of players to win an All-Star Game MVP and not make it into the Hall of Fame. He played in six All-Star Games, and made All-NBA five times.
There are a few drawbacks to Richmond, though. He never made an All-NBA First Team. He only won a single NBA title, as a reserve (after the Wizards left him adrift to make room for his perennial foe MJ). His PER and win shares numbers aren't earth-shattering. He only played in 23 playoff games in his entire career. And he never cracked the top 10 of MVP voting.
Player: Vlade Divac
Lisa Blumenfeld/Getty Images
Many people view Divac's continued omission from the Hall as perfectly acceptable; I'm not one of them. The Serbian-born center for the Lakers and Kings only had a single All-Star selection, and his career scoring average was only 12 points a game.
However, Divac is in the top 50 NBA players in career rebounds and career defensive win shares, and the top 25 in career blocks. All other players with better total numbers in all of the "big five" categories of points, rebounds, assists, steals and blocks are already in the Hall of Fame, or are pretty much guaranteed to be.
Divac is also one of two foreign-born and foreign-trained players (Dirk Nowitzki is the other) who have played at least 1,000 NBA games.
Furthermore, you have to remember that there is a different bar for European players. Lithuanian center Arvydas Sabonis is in, despite having a much shorter NBA career than Divac. The two are arguably the two best European-born players of the 1990s, certainly the two best big men. If you put Sabonis in, you should put in Divac as well.
Coach: Rudy Tomjanovich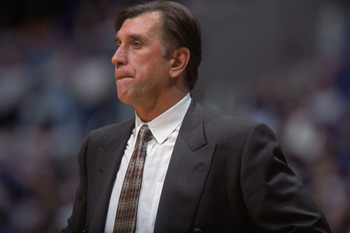 Robert Laberge/Getty Images
Off the top of your head, can you tell me how many HOF-eligible coaches (coach's eligibility is 25 years in or five years out) have won multiple championships but haven't been inducted into the Hall as either a coach, contributor or player?
Rudy T. is the only one on that list, and one of a handful of coaches who've won a single championship and aren't so enshrined (the others are Larry Costello, Bill Fitch, Dick Motta, George Senesky and Paul Westhead).
Tomjanovich is also the only skipper of Team USA Olympic basketball since 1956 to not be in the Hall. This includes the 1980 Olympics; the coach we would have had in 1980, Dave Gavitt, is enshrined on the strength of his college career.
Tomjanovich has respectable career stats: in eleven and a half seasons with the Rockets and half of one with the Lakers, he has over 500 victories, a .559 regular season winning percentage, and a .567 playoff winning percentage.
Coach: Bill Fitch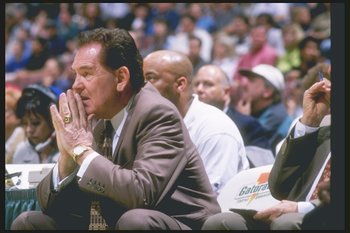 Elsa/Getty Images
In 1996, the NBA came out with its Ten Greatest Coaches list. Nine of those men (Red Auerbach, Chuck Daly, Red Holzman, Phil Jackson, John Kundla, Don Nelson, Jack Ramsay, Pat Riley and Lenny Wilkens) are in the Hall of Fame.
The tenth is Bill Fitch.
Fitch has more victories (944) than any non-active coach who isn't in the Hall of Fame. He coached the Celtics to a championship in 1981, and won six division titles (with three different teams) and two Red Auerbach trophies.
He's also in the top five in games coached.
Contributor: Red Klotz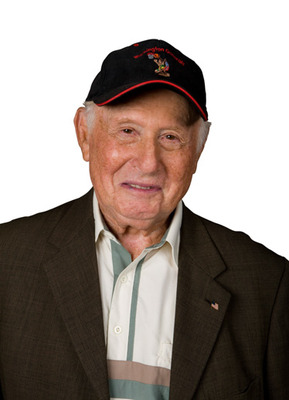 You probably haven't heard of Red Klotz. And if I told you Klotz was the losingest coach in the history of basketball (losing 13,000 games), you'd wonder why I'm suggesting him.
If you hadn't guessed, Klotz was the longtime coach of the Washington Generals, an organization that to this day operates independently of their perennial foes, the Harlem Globetrotters. He also owned the team, originally an All-Jewish team named the Philadelphia Sphas, for over six decades, and played on the Sphas and Generals until age 62.
But, despite the ignominity, Klotz still holds several distinctions. He has played in and coached thousands of games, and as such, is also one of the most-watched players and coaches in basketball history (because they always play the most-watched team in the history of basketball, the Gens are the second most-watched team in the history of basketball).
Klotz is the only General to have his jersey retired, and the first non-Globetrotter to receive their legend award. He has also been the player or coach to beat the 'Trotters on the most occasions (either with the Sphas, Gens, or the Gen's eponymous alter ego, the New Jersey Reds), including in 1971 when he personally hit a buzzer-beater as a 51-year-old player-coach.
He also played in the BAA/NBA for one season, winning a championship with the Baltimore Bullets. At only 5'7", Klotz is one of the shortest players with a ring.
Contributor: Jerry West (as an Executive)
Lisa Blumenfeld/Getty Images
Three players (John Wooden, Lenny Wilkens and Bill Sharman) are in the Hall as both players and coaches. Jerry West should be the first to be in the Hall as a player and an exec.
He is one of nine players to have won multiple Executive of the Year Awards. Of those nine, West is the only one who was the GM behind both the Showtime Lakers and the Lakers' threepeat under Phil Jackson.
West has been a GM for well over two decades, and has also worked with the Grizzlies' and Warriors' organizations. There's a pretty strong argument that West is one of the two most successful GMs not in the Hall of Fame, with perhaps the other being the Bulls' Jerry Krause.
Keep Reading