Pau Gasol Shoots Down Report Saying He's Interested in Playing for Chicago Bulls
May 30, 2012

Pau Gasol has no interest in being a member of any franchise other than the Los Angeles Lakers. Or at least that is what he told Mark Medina of the Los Angeles Times on Tuesday.  
My position is still the same. I still would love to be a part of the Lakers and continue to be here to help the team win more championships as soon as possible. It's out of my control and it's out of my hands, no matter what.
This contradicts a report released on Monday by Bulls.com journalist Sam Smith stating that sources close to the Lakers believed Gasol was interested in playing for Chicago.
The big man certainly knows quite a bit about being the subject of trade rumors. He's been involved in plenty of speculation over the past year and was nearly dealt during the 2011 offseason.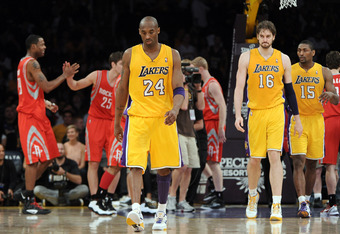 Harry How/Getty Images
Gasol was on the verge of becoming the latest addition to the Houston Rockets—as part of the Lakers' blockbuster offer for Chris Paul—but David Stern prevented the deal from going through. 
With L.A. performing miserably in the playoffs for a second straight season, there is little doubt that trade rumors will continue to swirl around the Spaniard.
General manager Mitch Kupchak didn't help the issue during exit interviews last week when he hinted that Pau and his two-year, $38 million contract could be the key piece behind a major move this summer, per ESPNLosAngeles.com.
The GM said he felt Gasol handled the near-trade to Houston and subsequent drama with "consummate professionalism" but also acknowledged it made an impact on his personal psyche and trust of the organization.
Overall, Kupchak did not sound confident that the power forward who helped his team win two titles would be back. 
Pau is reportedly trying not to let the latest whispers about a move to the Bulls bother him, as he knows many more rumors are just going to pop up once this one dies down. As he said, per The Times:
I don't know where that came from. It's pointless to really worry about it. I'm totally cool with it, whatever they say. The stories will appear and then disappear on something that does or doesn't happen again. It sucks to be in that position, but it is what it is.
Gasol is clearly aware of his uncertain fate and what he will be forced to deal with during the offseason.
"There's a lot of rumors," Gasol said. "Different rumors, all kinds of rumors. Once the [NBA] draft gets closer [on June 28], all kinds of stuff still again will come up."
With the Lakers desperate to win another title in the twilight of the Kobe Bryant era, they will not be shy to pull the trigger on any transaction involving Gasol that they feel will improve the makeup of the franchise.
If Gasol is lucky, they will be merciful and do the job quickly and quietly.