Shaquille O'Neal Is an Insane Option for Vacant Orlando Magic GM Job
May 24, 2012

Christian Petersen/Getty Images
The Orlando Magic are a desperate franchise hanging onto the edge of a cliff with approximately three fingers. Do we really believe that Shaquille O'Neal, aka the Hobo Master, is going extend them a legitimate helping hand back up?
Is it remotely possible that Shaq Fu knows anything about the workings of a front office? According to ESPN's Chris Broussard, the Magic will at least listen to what the Big Shaqtus has to say.
UPDATE: Thursday, May 24—3:22 PM ET
Alas, the Magic's interest in Shaq is not mutual. According to sources, ESPN Boston's Jackie MacMullan reports that O'Neal has declined the invitation to interview for the job.
His official statement on the situation, courtesy of Sekou Smith of NBA.com's "Hang Time Blog," reads:
"When I first heard about the vacancy for the Orlando Magic general manager position, I was clearly intrigued." he said in a statement. "I was drafted by the Magic, I have a great love for the franchise, and I have made the city of Orlando my home.  Additionally, I have great admiration and respect for the DeVos family.  However, this is not a job I have an interest in pursuing.  I feel very fortunate to be with TNT and to have the best job in sports.  I look forward to many more years with Charles, Kenny and E.J.  I wish the best for the Magic and I am confident that they will select a great GM and coach."
This is the best thing for the Magic who, at this point, could've done something as insane as hiring Neon Boudeaux from Blue Chips to run the franchise.
We look forward to seeing Shaq back on the TNT desk and hearing what he has to say about the sorry sap they end up hiring to fix the Dwight Howard debacle.
Unless the Magic's memory has gone foggy (which, to be honest, really wouldn't be all that surprising), this is the very same Big Daddy who single-handedly devastated the franchise.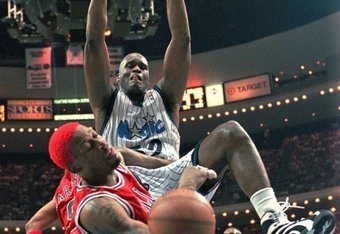 Do they really want to put the Big Aristotle in the ear of their confused and overwhelmed superstar center? It was The Diesel himself who laid the groundwork for Dwight Howard's potential departure by leaving Orlando all those years ago.
Putting the first Man of Steel in power, with access to Howard, is dangerous.
ESPN reports that Howard has a good relationship with the original Superman, and that the two "often send text messages to one another." The last Magic employee who was regularly chatting up Howard on the phone, former CEO Bob Vander Weide, wound up allegedly drunk-dialing the star center and retiring.
Shaq still lives in Orlando and has made it no secret he believes he can handle the rigorous duty of running a franchise. ESPN believes, if the Magic were to somehow hire him, they'd bring in a more experienced basketball mind to help with matters.
Which, in essence, means that The Big Galactus would be little more than a publicity stunt with a fancy title. Trusting Shaq to find superstars to team up around Howard, or to find a trade worthy of Howard, is as insane as hoping for a Kazaam sequel.
The Magic would truly have to lose their minds—which, again, is entirely plausible at this point—to allow The Big Agave into their front office. The 7'1", 40-year-old superstar is not the answer to the near-catastrophic situation Orlando has on its hands.
The 2012 season was an absolute disaster for the Magic, but they'd only complicate matters by hiring someone who was once called "Wilt Chamberneezy."
One day Shaquille O'Neal might be ready to take over as a general manager of an NBA organization, but only after he's had a bit more experience than just recruiting aging veterans to join him in the hunt for one more ring.
There are other options out there for the Magic, and once they're done with the charade of interviewing John Henry Irons, aka Steel, they can get down to actual business.