NBA Playoffs 2012: The Return of the Caveman Offense in the Eastern Conference
May 16, 2012

Mike Ehrmann/Getty Images
The ghost of Riley's Knicks are haunting the NBA Eastern Conference Semifinals. There are several possible reasons for the terrible offense seen so far out East.
Charles Oakley has taken up voodoo.
John Starks is secretly coaching the guards on shot selection.
Or the Eastern Conference has regressed back to its old defensive muddle.
How else can you explain the putrid offense taking place on the Atlantic seaboard? While the Western Conference games feature gunners, alley-oops, and scores that frequently reach in the 100s, NBA fans in Miami, Philadelphia, Boston, and Indianapolis have had to suffer through one of the most baffling excuses for offense in recent history. And if this continues it won't matter who gets to the finals because they will get obliterated by any of the teams out West. 
Are there reasons for this? Of course. Derrick Rose and Dwight Howard were injured, thus depriving the Eastern Conference of two of its biggest stars. Still, there was plenty of opportunities for other superstars to take over (ahem, Miami and Boston). Instead it seems like everyone is standing around just trying to keep things close until the final 4 minutes.
Despite what color commentators would have you believe, this is NOT great basketball or defense. It is inept offense masked by 43 minutes of hacking, and 240 seconds of desperation.
The four remaining teams in the east fall into two categories: the young and the injured.
From the young column is Philadelphia and Indiana. Both teams are bereft of star power and shooters who can create their own shot. They rely on smart, defensive-minded coaches who practice old school ethics: hack 'em if they get in the lane. This has turned the game into a mosh pit of limbs and falling bodies. It's smart on the coaches' parts.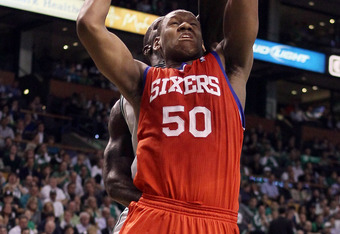 Elsa/Getty Images
Usually the playoffs are a time for a young star to separate himself from the rest just a bit: a coming-out party. But no one on the Pacers or Sixers looks ready for star status.
Pacers Coach Frank Vogel deserves a raise. No matter what happens from here on out in these playoffs he's been the hardest working man out on the court. He's working with a team that is stocked deep with average, athletic, blue-collar players.They have everything that a classic Larry Bird team wants except the Larry Bird talent leading them to victory.
Sixers Coach Doug Collins has already established his ability to make chicken salad out of -shall we say- not the best aspects of chicken. The Sixers have a good shot against the Celtics as long as they continue to jab and weave with the depleted Celtics.   
On the other side are the injured teams who can't seem to hit anything: Celtics and the Heat. Both are dealing with a key component out and with cautious injuries. To compensate, they have stepped up their defensive intensity. But both Doc Rivers and Erik Spoelstra know that this is ugly-looking old man basketball.
The Celtics have an excuse: they ARE old. They're seasoned prize fighters who try to lean on an opponent for several rounds to wear them out. If Kevin Garnett says he gets motivated when people call him 'old,' then Celtic fans should be throwing AARP coupons at him every time he comes on the floor. These Celtics may get past the Sixers but there's no chance of this being a championship team.
On the Heat side of reality, the bench is beyond terrible. In the first two games against the Pacers they have shot 1-22 from three-point land. That's less than five percent shooting percentage. That's end-of-quarter-heave-ball-at-basket percentages.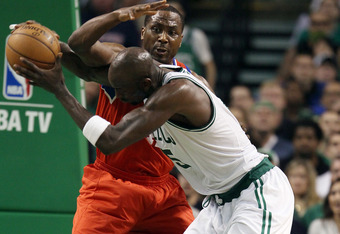 Elsa/Getty Images
James and Wade are shooting in the low 40% range this playoffs but that's with several dunks a game. Their real shooting percentage is more like the low 30% for jump shots.
Never have two superstars had such a combined miserable slump together at a worse time, now that Bosh is out. And nothing appears to be changing about it. For some reason the 'arc' to their shots have flattened out. The balls clang and thud against the backboard like they're being thrown in a straight-line.
Yes, in the playoffs defenses tighten up. But that's still no excuse. In the West, it's a candy store of offense. Even in losing efforts, the two LA teams effortlessly get into the 90-pt range. And that's with bad shooting, terrible shot selection, and huge mental lapses.
The winning teams—Oklahoma City and San Antonio—are running their offenses with precise beauty while stepping up defensive intensity.  Both teams stand a good chance of getting into the finals and crushing whomever comes out of the East.
The one hope for the Eastern teams is that the Celtics get healthier, Miami gets Bosh back, or Indiana and the Sixers discover their star. But for now it looks like we've returned to the dark ages of offense in the Eastern time zone.
Somewhere in the forest of Queens, Patrick Ewing is cackling over a cauldron with his other Eastern Conference witches as they work their voodoo. For the NBA Eastern Conference, we might have to call in a priest: an exorcism from this terrible offense is needed.