NBA Free Agency 2012: 25 Best Free Agents Under 25 Years Old
Doug Pensinger/Getty Images
When a franchise goes shopping for new talent, there are two major factors at which each scout and general manager looks: What can you bring to my team and how long can you bring it for? Due to the second half of that statement, age suddenly becomes one of the most important factors of this conversation.
Fortunately for the front offices of all 30 NBA teams, there are quite a few franchise-altering players who are under 25 years of age. So many that after making a list of 25, for wordplay of course, I still feel some have been left off.
Respective mention to James Anderson, Jodie Meeks and Terrence Williams.
Now on to the list that will change the landscape of the NBA forever! Potentially...
25. Omer Asik, UFA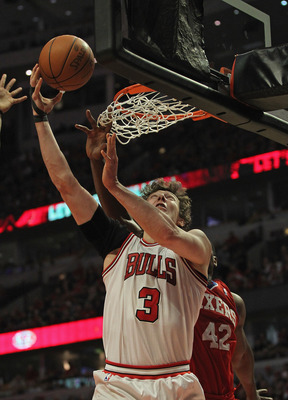 Jonathan Daniel/Getty Images
Player Traits: Center—25—7'0"—255 pounds
Omer Asik is yet another product of the Chicago Bulls' big-energy, big-contribution system. His pairing with Taj Gibson has given the Bulls one of the best defensive second units in the NBA, combining dominant interior defense with all-out effort no matter where the ball is.
In an ideal world, Asik would continue to develop chemistry with Gibson and help re-affirm the Bulls' status as title contenders in 2013. As we all know, though, the NBA is a business and money is often the motive for major decisions.
As for what Asik could bring a team, in terms of specifics, the greatest contribution would be his rebounding and shot-blocking abilities. He boasts an unreal 20.1 rebound rate, blocks 1.0 shots per game in just 14.7 minutes of playing time and will flush home anything he's given.
As soon as he improves his decision-making and interior offense, he could be a legitimate starter.
Season Averages: 14.7 MPG—3.1 PPG—5.3 RPG—1.0 BPG—51% FG
24. Daniel Green, UFA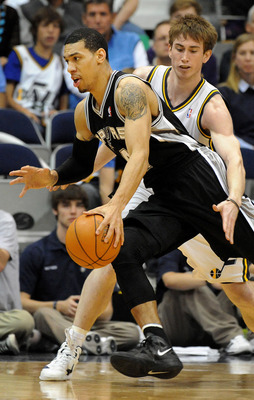 Steve Dykes/Getty Images
Player Traits: Shooting Guard—24—6'6"—210 pounds
It's taken a while, but the former star of the North Carolina Tar Heels has finally begun to find definition as an NBA player. With free agency approaching, the timing couldn't be better.
Green shot an unbelievable 44 percent from distance this season, utilizing his size and a much-improved form to find consistency as a scorer. He also became a more mature defender, going for the stop rather than gambling for the steal.
As for who would be the best fit, it would behoove Green to stay in San Antonio. The system works for him and the minutes could increase as he becomes a more permanent 2 alongside Manu Ginobili. Patience is key with Green, but production will come early.
Season Averages: 23.1 MPG—9.1 PPG—3.5 RPG—1.3 APG—0.9 SPG—44% 3PT
23. Jason Thompson, RFA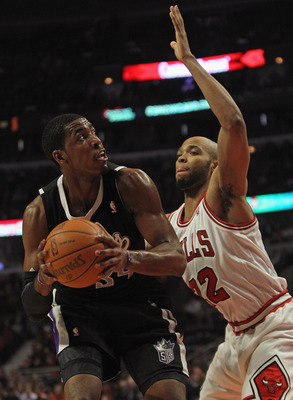 Jonathan Daniel/Getty Images
Player Traits: Power Forward/Center—25—6'11"—250 pounds
Jason Thompson came into the league in 2008 as a highly-touted prospect who the Kings selected with the 12th overall draft choice. Four years later, Thompson is finding his niche as one of the more complete defensive players at his position.
Thompson has really fit the bill as the guy who does a little bit of everything, but not enough of everything to warrant stardom. He'll likely put up 10 and eight if given the opportunity to start in the proper system, even tallying a block and a steal while shooting a high percentage. What he won't do, however, is blow you away with one particular aspect of his game.
Thompson has the makings of a player whose career could last a very long time. For whoever picks him up, the money will have been well spent.
Season Averages: 25.9 MPG—16.41 PER—9.1 PPG—6.9 RPG—0.7 BPG—0.7 SPG—53.5% FG
22. Jerryd Bayless, RFA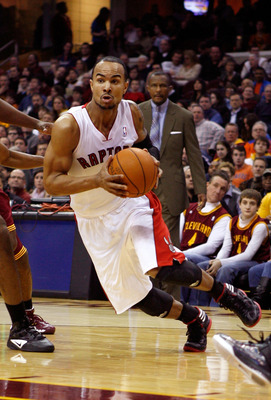 Mike Lawrie/Getty Images
Player Traits: Point Guard—23—6'3"—208 pounds
Jerryd Bayless has had quite the strange career, going from future point guard of the upstart Portland Trail Blazers to a reserve on the lowly Toronto Raptors. The main reason for this has been Bayless' history of injuries, which continued to plague him in 2012.
Should Bayless overcome the injuries, his talent will be on full display and the NBA will understand why scouts have always been so high on him. He's begun to abandon his score-first mentality and become a much better facilitator in Toronto, all the while continuing to throw caution to the wind and attack the basket with ferocity.
Bayless may be best fit for a return to Toronto, but a change of scenery may not be a bad idea. He could potentially create a point guard tandem for a contender similar to that of Darren Collison and George Hill in Indiana.
Season Averages: 22.7 MPG—17.80 PER—11.4 PPG—3.8 APG—0.8 SPG—42% 3PT
21. Alonzo Gee, UFA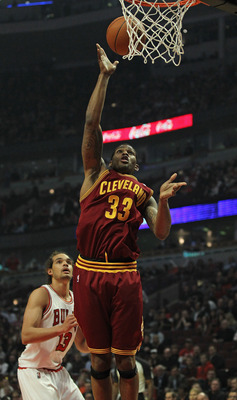 Jonathan Daniel/Getty Images
Player Traits: Guard/Forward—24—6'6"—219 pounds
Alonzo Gee was a revelation for the Cleveland Cavaliers, offering a strong presence on the perimeter. His strength and physicality were exactly what the Cavs needed to balance Kyrie Irving's finesse style of play, which is something scouts and general managers will be certain to look at as they hope to bolster their depth on the wing.
While Gee struggles with his jump shot, most of those problems can be accredited to his form. With the right coaching staff and continuation of his solid work ethic, those issues should be gone before you know it and Alonzo Gee will continue to see starter minutes regardless of where he travels to.
A low-risk, high-reward addition.
Season Averages: 29.0 MPG—13.23 PER—10.6 PPG—5.1 RPG—1.8 APG—1.3 SPG
20. Anthony Randolph, RFA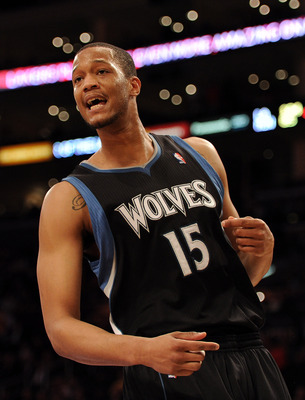 Harry How/Getty Images
Player Traits: Power Forward—6'11"—225 pounds
Anthony Randolph is one of the true enigmas in the NBA, as his talent suggests superstar production but production suggests he rides the pine. With that being said, a strong reason for his inconsistent play has been the sporadic nature of his minutes.
In two of the final three games of the regular season, Minnesota finally unleashed Anthony Randolph. He responded by averaging 14.5 points, 8.5 rebounds, 4.0 blocks and shooting 13-of-14 from the charity stripe.
For the team willing to put the big-time money into Anthony Randolph, making sure he receives significant playing time is key. If he does, he could be a true star at the NBA level.
Season Averages: 15.2 MPG—17.60 PER—7.4 PPG—3.6 RPG—1.0 BPG—47% FG
19. Jonny Flynn, UFA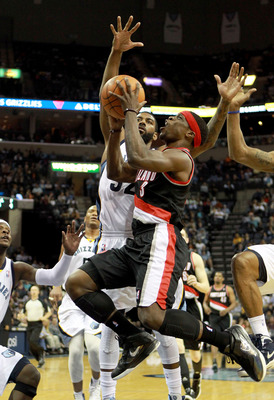 Andy Lyons/Getty Images
Player Traits: Point Guard—23—6'0"—185 pounds
Jonny Flynn has underachieved for the past two seasons, failing to build off of the success he found as a rookie. Nevertheless, his talent, youth and upside cannot and will not be overlooked as free agency approaches.
Flynn has long struggled with the fact that he is a score-first player that's relatively one-dimensional in his pursuit of points. He's far from the greatest shooter and struggles in the paint due to his size. Flynn also rarely gets out in transition due to his limited playing time and the systems he's played in.
For those who believe in momentum, however, there is reason to believe. Jonny Flynn closed out the season with an 18-point, 11-assist and five-rebound performance against the Utah Jazz. Could it be time for Flynn to finally come into his own as a player?
Someone will take a chance and could be handsomely rewarded.
Season Averages: 14.3 MPG—11.20 PER—4.5 PPG—3.3 APG—1.3 RPG
18. Chase Budinger, Team Option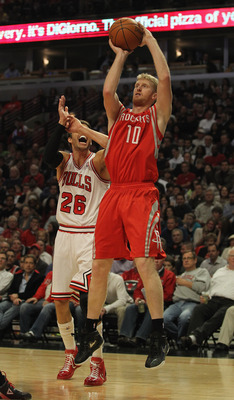 Jonathan Daniel/Getty Images
Player Traits: Small Forward—23—6'7"—218 pounds
Rather than evaluating Chase Budinger's dunk over Diddy, try taking a gander at his overall game. What you'll find is a player with one of the brightest futures of any young 3 in the NBA.
Budinger is excellent in the open court, utilizing his well above-average athleticism and prowess around the rim to pick up points in bunches. He's also a solid three-point shooter who thrives off of movement without the basketball. He's as good as any at his position at scoring off of a screen.
The biggest steps ahead for Budinger will be his ability to shoot off of the catch and finally put out a concerted effort on D. Between his length, athleticism and solid work ethic, it doesn't seem long before he corrects his woes.
Season Averages: 22.4 MPG—14.92 PER—9.6 PPG—3.7 RPG—1.3 APG—40% 3PT
17. Landry Fields, UFA
Jonathan Daniel/Getty Images
Player Traits: Shooting Guard—23—6'7"—215 pounds
Label him a lucky charm or believe that the fact is irrelevant, just note that Landry Fields has been a part of the Knicks' only two playoff appearances since 2004. Fields also contributed to the Knicks' first postseason victory in 11 years.
While Fields has certainly had some talented surroundings, his value to the team cannot be overlooked. He's an excellent perimeter defender, solid three-point shooter and a consistent threat in the open court to throw down an energizing dunk.
Ideal fits for Fields would be teams who rely on depth and near-religious following of a system, such as the San Antonio Spurs or Boston Celtics. Considering who the Celtics are to Knicks fans, however, I'd count that out as a possibility.
Season Averages: 28.7 MPG—12.07 PER—8.8 PPG—4.2 RPG—2.6 APG—1.2 SPG
16. D.J. Augustin, RFA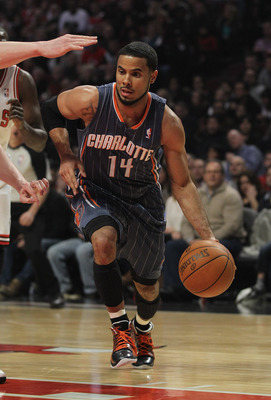 Jonathan Daniel/Getty Images
Player Traits: Point Guard—24—6'0"—180 pounds
Although undersized, D.J. Augustin is one of the better scorer/facilitator combination guards in the NBA. The reason for this is Augustin's perimeter shooting and much-improved bounce and push passing.
As Augustin gets older and wiser as a player, he will continue to display what was on full display in 2012: a raised level of on-court intelligence. His assist-to-turnover ratio of 2.79 ranked 10th out of all players averaging at least 25.0 minutes per game, a statistic that has seen a steady rise in each of Augustin's four consecutive seasons.
Augustin could be a major factor for a playoff contender should one take a chance on the former Texas Longhorn.
Season Averages: 29.3 MPG—14.17 PER—11.1 PPG—6.4 APG—2.3 RPG—0.8 SPG
15. Marreese Speights, RFA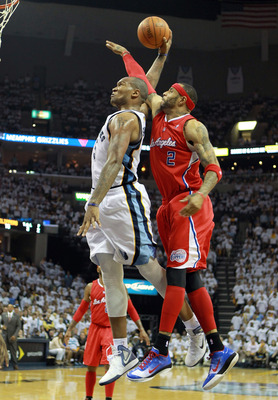 Andy Lyons/Getty Images
Player Traits: Power Forward/Center—24—6'10"—255 pounds
Marreese Speights is a very physical, very strong player with an excellent mid-range game and a drastically improved motor. While he has much work to do on the defensive end, his steady improvements since entering the league in 2008 are a promising sign of Speights becoming a legitimate starter on a contender.
As for where Speights would fit, re-signing in Memphis may be his best bet. Zach Randolph is of a similar build and could teach Speights valuable lessons in the sense of fundamentals. This could make Speights into an elite player at his position.
Season Averages: 22.4 MPG—14.12 PER—8.8 PPG—6.2 RPG—45% FG
14. Jordan Hill, UFA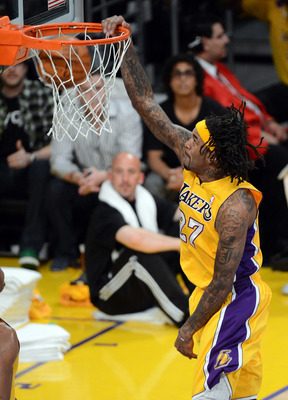 Kevork Djansezian/Getty Images
Player Traits: Center—24—6'10"—235 pounds
Rivaling JaVale McGee's meteoric rise in free-agent stock is Jordan Hill, who has overcome the distraction of a court case to consistently put up double-digit rebounds. His two double-doubles in one seven-game series, including another double-figure rebounding performance, provide the evidence for such a claim.
In a series in which Pau Gasol and Andrew Bynum often underwhelmed, Jordan Hill proved worthy of the lofty amount L.A. gave up to acquire him. His rebounds and defensive stops were not only impressive statistically, but also timely enough to impact the outcome of the Lakers' games.
In fact, the Lakers won all three games that saw Hill post double-figure rebounds. An interesting piece of information to note as the Lakers debate whether or not they will re-sign the unrestricted free agent.
Season Averages: 14.1 MPG—15.80 PER—5.0 PPG—4.7 RPG—0.8 BPG—49.7% FG
13. J.J. Hickson, RFA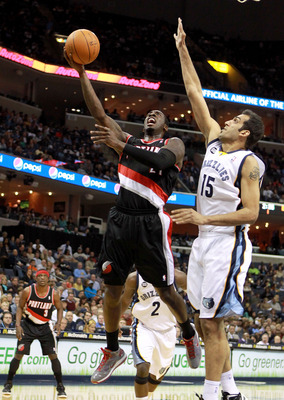 Andy Lyons/Getty Images
Player Traits: Power Forward—23—6'9"—242 pounds
After a disastrous first half of the season in Sacramento, J.J. Hickson played like a star in Portland. He averaged 15.1 points per game since the trade deadline, as well as averaging 8.3 rebounds. Over his final nine games of the season, however, Hickson took it to another level.
Hickson posted averages of 16.7 points, 10.6 rebounds and 1.2 blocks per contest over the final nine outings. That alone has reminded scouts league-wide of his limitless potential and why the Cleveland Cavaliers were so high on him in the first place.
Come the offseason, it will be interesting to see whether Hickson will remain in his comfort zone by re-signing with Portland or testing the waters. Whichever he chooses will have an undeniable effect on his future.
Season Averages: 23.0 MPG—14.91 PER—8.4 PPG—6.2 RPG—0.6 BPG—47% FG
12. Jeff Green, RFA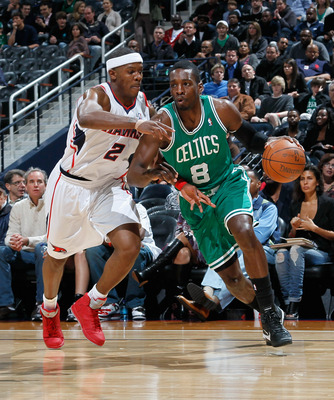 Kevin C. Cox/Getty Images
Player Traits: Forward—25—6'9"—235 pounds
Prior to Jeff Green's shocking diagnosis of a necessary heart surgery, he was one of the fastest-rising forwards in the game due to his size and versatility. He is also a former Big East Player of the Year and was once referred to as the "smartest player I've ever coached" by storied leader John Thompson III.
Whether he remains in Boston or ends up in a new location, the former Georgetown Hoya is certain to contribute in a well-rounded manner. He's an elite passer, possesses a solid mid-range game, crashes the boards well and has no qualms about knocking down a three.
The situation at hand, however, is whether he's truly a 4 or better fit for the 3.
I'd bet the latter.
2011 Season Averages: 32.3 MPG—12.92 PER—13.3 PPG—4.8 RPG—1.4 APG—45% FG
11. Jeremy Lin, UFA
Al Bello/Getty Images
Player Traits: Point Guard—23—6'3"—200 pounds
This statement is far from an attempt to undermine what Jeremy Lin can do on a basketball court. It is solely a factual statement that will play a major in the decision-making of each respective team's general manager.
Jeremy Lin is the best-for-business guy on this list and there isn't even a close No. 2.
Linsanity is far from dead, as stores all over the world still place the infamous "Lin - 17" t-shirts and jerseys at the front of every rack and pile. While leaving New York may be a bad idea for his global stardom, his talent is enough to bring him success elsewhere. He just needs to cut down the turnovers and apply himself more on defense.
Too often was Lin caught in ball screens. It's time for the Harvard graduate to mature as a player.
Season Averages: 26.9 MPG—19.97 PER—14.6 PPG—6.2 APG—3.1 RPG—1.6 SPG
10. Lou Williams, ETO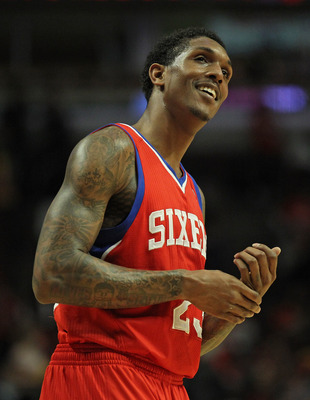 Jonathan Daniel/Getty Images
Player Traits: Point Guard—25—6'1"—175 pounds
For one reason or another, perennial Sixth Man of the Year candidate Lou Williams has fallen under the radar. He has the talent to take over games with his shooting, penetrating and ball-hawking abilities. He also has the leadership qualities that stretch well-beyond his years of age.
And this summer, he'll have the option to terminate his contract and test free agency.
Williams has taken a back seat to Jrue Holiday in terms of his role as the starting point guard, but truthfully, he's just as important to the team's success. His ball-handling and passing keep the second unit flowing and his scoring keeps the defense on their heels.
A hidden gem in this batch of players.
Season Averages: 26.3 MPG—20.22 PER—14.9 PPG—3.5 APG—2.4 RPG—0.8 SPG
9. Ryan Anderson, RFA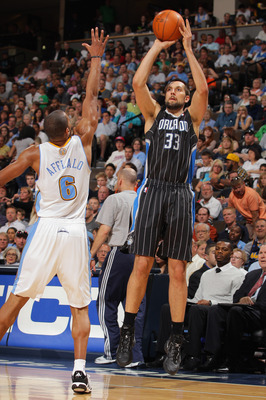 Doug Pensinger/Getty Images
Player Traits: Power Forward—24—6'10"—240 pounds
The recently-named Most Improved Player of the Year has been inconsistent since Dwight Howard went down with a season-ending back injury, causing some to question his future as a self-providing scorer. Nevertheless, the talent is there and the upside is limitless.
After starting the Dwight Howard-less stretch weak, Anderson responded with four 20-plus point outings in five games. Upon hitting the postseason, however, Anderson shot just 34 percent from the floor and averaged a disappointing 9.6 points per game.
The question for scouts and general mangers will focus on which player they expect to receive. Due to his age, as well as his unique blend of size and style of play, it's hard to imagine Anderson remaining on the market for very long.
Season Averages: 32.2 MPG—16.1 PPG—7.7 RPG—2.7 3PM/PG—39.3% 3PT
8. Ersan Ilyasova, UFA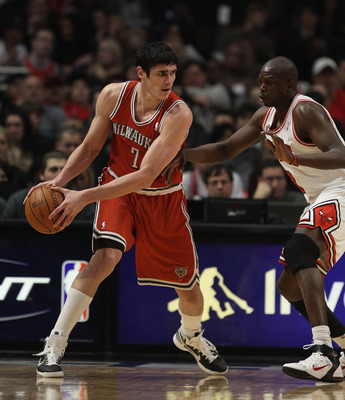 Jonathan Daniel/Getty Images
Player Traits: Power Forward—24—6'10"—235 pounds
One of my favorite players on this list has to be Ersan Ilyasova, who has turned into an absolute monster on the glass. He's also one of the better three-point shooters in the NBA, making 46 percent from beyond the arc in 2012.
The most important aspect of Ilyasova's development has been his ability to add muscle to his frame. While he could still use a bit more weight to throw around, he's added enough to where his physical play doesn't result in failed attempt at intimidation or efficiency.
Ilyasova has big-time potential due to his pick-and-pop offensive game and smother-the-boards defensive approach. While he isn't an elite athlete, he is a potentially elite 4. Milwaukee will do all they can to re-sign their former second-round draft choice, but they'll be far from alone.
Season Averages: 27.6 MPG—20.55 PER—13.0 PPG—8.8 RPG—1.2 APG—46% 3PT
7. JaVale McGee, RFA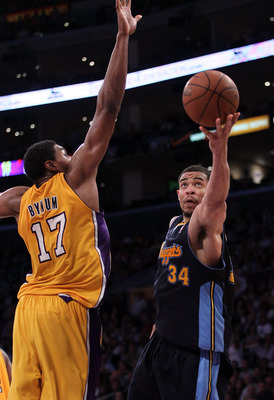 Jeff Gross/Getty Images
Player Traits: Center—24—7'0"—252 pounds
No one has raised their stock quite like JaVale McGee, who tallied five games with multiple blocks and three times with double-digit rebounds. He was the best player on the Nuggets that didn't play the point guard position and proved that the Nuggets have a serious frontcourt powerhouse in he and Kenneth Faried.
Unfortunately for Denver fans, McGee has the option to sign elsewhere as he is a restricted free agent come summer.
Prior to his move to Denver, McGee was a player considered for his athleticism and very little else. After his display of improved basketball IQ and a much more well-rounded offensive attack, he could be the top target of quite a few teams.
And rightfully so.
Season Averages: 25.2 MPG—19.90 PER—11.3 PPG—7.8 RPG—2.2 BPG—56% FG
6. Nicolas Batum, RFA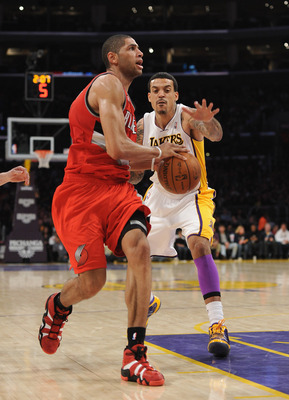 Harry How/Getty Images
Player Traits: Small Forward—23—6'8"—200 pounds
Nicolas Batum has become quite the popular name in the Bleacher Report circles, pairing his unbelievable length and athleticism with lights-out shooting. He's also one of the few players on this list with a combination of both youth and experience.
The main question marks for Batum have to do with his ability to score off of the dribble and history of shoulder injuries. Both can be improved over time, as can his inability to translate defensive ability into defensive production.
Batum may not turn into the star that some have predicted, but his size and versatility will enable him to remain a starter in this league for quite some time.
Season Averages: 30.4 MPG—17.32 PER—13.9 PPG—4.6 RPG—1.4 APG—1.0 SPG—1.0 BPG
5. Brook Lopez, RFA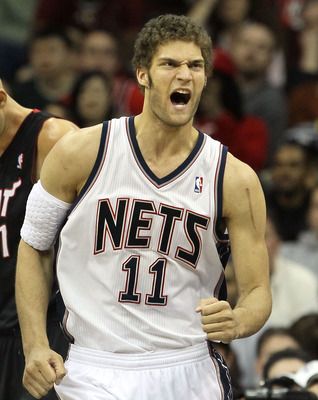 Jim McIsaac/Getty Images
Player Traits: Center—24—7'0"—265 pounds
Brook Lopez has expressed his intent to make the move to Brooklyn. Based upon the fact that Lopez was present at the unveiling of the Nets' new logos, it seems as if the feelings are mutual.
With that being said, anything is possible and the dotted line has yet to be signed.
Lopez is an elite scorer at the center position who combines a solid mid-range game with low-post savvy. While his production on the defensive end and the boards leave much to be desired, he is only 24 and has more than enough time to improve upon those negative aspects.
Expect Lopez to re-sign, but remember: Anything is possible.
2011 Season Averages: 35.2 MPG—19.33 PER—20.4 PPG—5.9 RPG—1.5 BPG
4. O.J. Mayo, RFA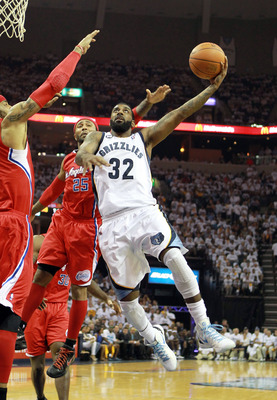 Andy Lyons/Getty Images
Player Traits: Shooting Guard—24—6'4"—210 pounds
Entering the league, O.J. Mayo was yet another pure scorer who thrived off of his ability to make a jump shot. In 2012, Mayo has become a solid perimeter defender, second-option ball-handler and true transition threat.
Mayo has become quite the popular face around the league, as well, as many had him pegged as a Sixth Man of the Year candidate behind James Harden. With the opportunity to play starter's minutes for the first time since 2010, when he averaged 17.5 points per game, expect the conversation to shift from Sixth Man to All-Star in just a matter of years.
Mayo's versatility to handle the temporary point guard role is the separating factor here.
Season Averages: 26.8 MPG—14.76 PER—12.6 PPG—3.2 RPG—2.6 APG—1.1 SPG
3. Michael Beasley, RFA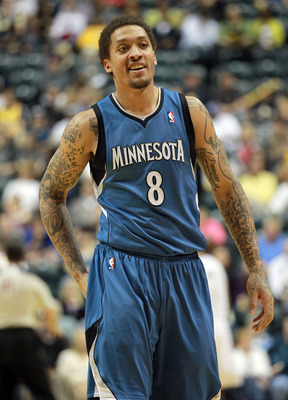 Andy Lyons/Getty Images
Player Traits: Forward—23—6'10"—235 pounds
Michael Beasley has had quite the up-and-down career throughout his four years in the league, but his talent cannot be denied. Neither that he dominated the 2011 NBA regular season by putting up 19.2 points per game as a 22-year-old on the heels of a high-profile trade.
In 2012, Beasley's biggest problem has been finding playing time under new coach Rick Adelman. While he hasn't performed that admirably when he's received the blessing, he hasn't failed to remind us from time to time why he was once the second overall draft choice.
It's hard to imagine the Timberwolves will match many offers for Beasley, as they've made it clear he's in their doghouse. They've also made it clear that they've planned for the future by drafting Derrick Williams last June.
Wherever Beasley goes, expect it to be a franchise-altering move.
Season Averages: 23.1 MPG—13.11 PER—11.5 PPG—4.4 RPG—38% 3PT
2. Eric Gordon, RFA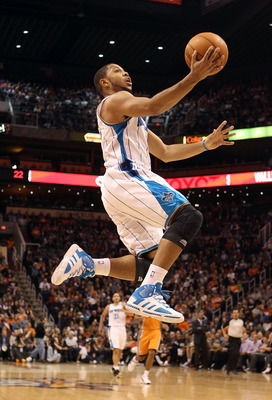 Christian Petersen/Getty Images
Player Traits: Shooting Guard—23—6'3"—215 pounds
If you're one of the readers who doesn't quite understand the hype surrounding Eric Gordon, don't worry, as you're not alone. The fact of the matter is, this kid can flat-out ball and does so at a level that most shooting guards simply cannot match.
And he's only 23.
The major red flag for Gordon would be the fact that he's missed a combined 107 games due to injury through just four years in the league. That's an average of nearly 27 games per season, with 103 of those games coming over the past three seasons.
Nevertheless, Gordon is one of the rare prospects who can attack the basket, score from mid-range and defend the ball-handler. While his height is certainly an issue, his strength makes up for that deficiency. Gordon is the real deal.
2011 Season Averages: 37.7 MPG—18.56 PER—22.3 PPG—4.4 APG—2.9 RPG—1.3 SPG—45% FG
1. Roy Hibbert, RFA
Marc Serota/Getty Images
Player Traits: Center—25—7'2"—260 pounds
Of all the centers in the NBA, Roy Hibbert is the most fundamentally sound. Of all the All-Star-caliber centers in the NBA, Hibbert is also the tallest. Combine that with his elite shot-blocking and low-post scoring abilities and it's fair to say Hibbert is one of the best at his position.
Although the Indiana Pacers are likely to do anything necessary to keep Hibbert on the roster, he is a free agent and will be the target of many big-market teams. A team such as the Boston Celtics, who are set to see a major increase in cap space as both Kevin Garnett and Ray Allen hit free agency, are certainly a contender.
As for what sets Hibbert apart, it's far beyond his size and skills. Hibbert now has two years of playoff experience and has been the leader of a Pacers team that's set to give the Miami Heat a run for their money.
Hibbert is a can't-miss guy who will be on every team's radar.
Season Averages: 29.8 MPG—19.35 PER—12.8 PPG—8.8 RPG—1.7 APG—2.0 BPG
Keep Reading