NBA Playoffs: Tony Allen and 5 Worst Memphis Grizzlies 1st-Round Performances
May 4, 2012

Andy Lyons/Getty Images
The Memphis Grizzlies have had a relatively short history.
Their 17-year run includes five playoffs trips, including the current one. Since the Grizzlies were swept in the first round in each of their first three appearances, many of the team and playoff performances were unhappy.
Tony Allen's showing late in Game 1 was a reminder of them. He was off on defense and missed a key opportunity on the offensive end.
The Grizzlies have had quite a few disappointing playoff showings from different players.
The following are the five worst:
5. Chucky Atkins: Game 2, 2006 Round 1 at Dallas Mavericks
Atkins and the word "clutch' generally don't go together.
In this game, that was certainly the case. Atkins bombed in his shooting performance, going 2-of-8 from the field for seven points, finishing with an offensive rating of 85.
Atkins' effect on the team was anything but positive that game, as the Grizzlies were minus-20 when he was on the floor.
4. Pau Gasol: Game 3, 2006 Round 1 at Dallas Mavericks
The Grizzlies dropped a close one in Game 3 of this series, losing by five points.
Their top player didn't help the cause.
While Gasol did score 16 points and pull down seven boards, he shot a dismal 6-of-17 from the field. For a star player on a light scoring team to hit 35 percent of his shots in the playoffs is disappointing.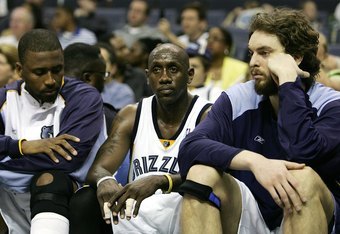 Elsa/Getty Images
He also slowed the team down by committing four turnovers and five fouls. Gasol had a dismal offensive rating of 78 for the game.
3. Tony Allen: Game 1, 2012 Round 1 vs. Los Angeles Clippers
Allen's poor showing was primarily in the fourth quarter, when everything fell apart for Memphis.
He received clearance from Lionel Hollins to guard Chris Paul, but the reigning All-Defensive Second Team member didn't succeed.
Paul ran straight through Allen.
The Clippers guard compiled six of his 11 assists in the game. He fooled Allen, baiting him into making bad attempts on the ball.
The Clippers hit 5-of-6 three-point shots in the fourth quarter and that's primarily a result of Allen's failure to deny passes.
One can't forget his missed tip-in. That miss almost beats Allen's lapses on defense.
2. Jason Williams: Game 3, 2004 Round 1 vs. San Antonio Spurs
The Grizzlies needed Williams to come up with a big shooting performance to overcome the staunch Spurs defense.
Unfortunately, Williams was unable to come through. He shot 5-of-15 from the field en route to 16 points. He was 1-of-4 from three-point range.
Williams fell short in the clutch, missing three shots in the last seven minutes.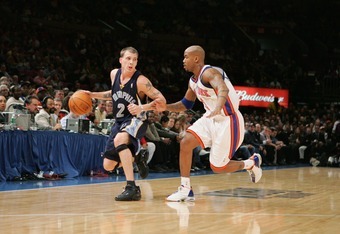 Jim McIsaac/Getty Images
He also failed on defense, giving up 122 points per 100 possessions.
1. Shane Battier: Game 4, 2005 Round 1 vs. Phoenix Suns
One can point to a few different players for blame when a team gets swept in the first round.
In this clincher, the goat was Battier.
Battier was ineffective on both ends of the court. He shot 1-of-7 from the floor, missing both three-point attempts and finishing with two points.
His typically strong defense was unimpressive to say the least.
Battier did have two steals and three defensive rebounds, but that didn't make up for Joe Johnson and Shawn Marion scoring 25 and 23 points, respectively.
Battier's defensive rating for the game was an uncharacteristic 126 points per 100 possessions. Also, the Grizzlies were minus-20 when he was on the floor.
When push came to shove that series, Battier couldn't stop the high-flying Suns offense.