2012 NBA Free Agents: Top Under-the-Radar Steals on the Market
April 26, 2012

Chris Chambers/Getty Images
There's no shortage of big names headed for free agency once the NBA offseason begins. From Steve Nash to Jeremy Lin, plenty of teams will be able to earn PR victories by signing or retaining highly-visible stars for 2012-'13.
Of course, the splashiest additions aren't always the ones that count the most. These three less-heralded free agents could be among the most valuable players to be had in the 2012 offseason:
DeShawn Stevenson
With the New Jersey Nets preparing their usual position for the playoffs—in front of the TV at home—DeShawn Stevenson won't have any opportunity to reprise last year's postseason heroics. In spite of his admittedly dismal offensive performance, though, the three point-per-game scorer would still be a huge addition to a contending team for next season.
The 6'5" Stevenson is only 31, and remains among the toughest perimeter defenders in basketball. After an invisible season in New Jersey, his price will be low, but put him on a playoff roster and he'll be one of the few answers in the league to a Kobe Bryant or a LeBron James.
Randy Foye
Ex-Clipper Eric Gordon will get plenty of interest as a restricted free agent, but current Clipper Randy Foye offers a much more affordable alternative in the backcourt. Foye (who'll be an unrestricted FA) has been a backup much of his career, but he's proven himself to be an effective running mate for Chris Paul this season.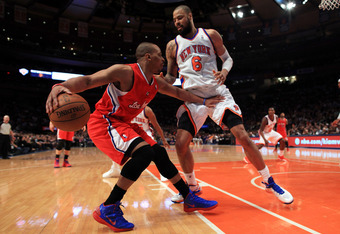 Chris Trotman/Getty Images
Foye is an outstanding three-point shooter (37 percent this season) who has enough quickness to compensate for being a bit undersized at 6'4". As high-scoring, high-priced point guards such as Paul and Kyrie Irving have become more prevalent, the value of role players like Foye to join them in the backcourt has risen right along with theirs.
Omer Asik
The supply of free-agent big men is glutted with veterans well past their expiration dates (see O'Neal, Jermaine). One obvious exception is 25-year-old Chicago reserve Omer Asik.
The 7'0", 255-pound Turkish import is still very raw offensively (3.1 points per game), but he's a terrific rebounder and a skilled defender. The Bulls aren't going to let him go easily, but if they get outbid, another team with the patience to let Asik's offensive game mature will get a potential All-Defensive Team player a few years down the road.