NBA
2012 NBA MVP Award: Miami Heat Star LeBron James Wins 3rd MVP Award

Chris Chambers/Getty Images
May 11, 2012
There was no question who the most valuable player in the 2011-2012 NBA season was.
The NBA has officially named Miami Heat superstar LeBron James it's Most Valuable Player.
James took the podium to accept the KIA NBA MVP award at a press conference held in Miami that was scheduled for 1pm ET. 
Prior to accepting the award at the official press conference, King James took to YouTube to personally thank the fans. 
AP's Tim Reynolds first reported that LeBron James would named the league MVP by the voters after producing one of the most efficient seasons the NBA has ever seen.
AP Source: LeBron James to be named NBA MVP on Saturday.

— Tim Reynolds (@ByTimReynolds) May 11, 2012
This marks the third time in four years that "The King" has won the award.
NBA.com released the official LeBron James 2012 MVP T-Shirt moments after the press conference concluded. NIKE also jumped in and released a new LeBron James 3x MVP celebratory shoe.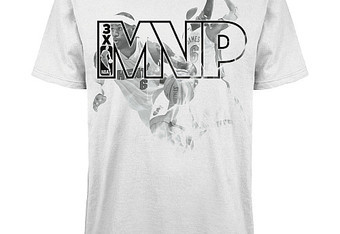 At the official press conference, James thanked his teammates for giving him the opportunity to win the MVP award and brought them on stage (photo courtesy of The Sports Bros):
NBA.com also released the final results for the 2012 NBA MVP voting. 
James led the team in points (27.1), rebounds (7.9), assists (6.2) and steals (1.9), while registering one of the greatest PER's the league has ever seen. At 30.80, his was nearly four points better than Chris Paul's 27.09, which was finished second. We've never seen a gap like that in the league before.
James was far and away the most effective player during this season. 
You could gush about LeBron's season for hours. He shot 53 percent from the floor, played 37.5 minutes per night with the insanely compacted schedule and only missed two games due to injury.
Then there was his defense, which was out-of-this-world stingy.
He clearly put an emphasis on that aspect of his game, and the result was the best individual defensive effort of his career. It seems as if he really understands the angles and routes to take to get around screens more than ever.
But all of the incredible accolades will be meaningless until James is able to get the NBA Finals monkey off his back.
Right now, he is 0-for-2 in that department, with plenty of other ugly exits on the resume as well. Until he's able to overcome his fourth-quarter, crunch-time jitters, the growing trophy case of James will only mean so much.
So congrats on the well-deserved award, but the heavy lifting to fully regain the respect of hoop heads has only just begun. 
Like the new article format? Send us feedback!