Bulls vs. Heat: East's Beasts Leave Much to Be Desired as Playoffs Draw Near
April 19, 2012

Jonathan Daniel/Getty Images
Is it just me, or does it feel like the Chicago Bulls and the Miami Heat meet just about every other week?
The top two teams in the Eastern Conference (and, arguably, the entire NBA) will meet for the fourth and final time of the regular season on Thursday in Miami in what should be yet another exciting showdown with playoff implications.
That is, if their three previous meetings—a 97-93 win by Miami in late January, a 106-102 decision in Chicago's favor in late March and a 96-86 overtime thriller pulled out by the Bulls just last week—are any indication.
The bigger concern, though, is whether either of these two "Beasts of the East" is NBA title material.
Not Bullish on Chicago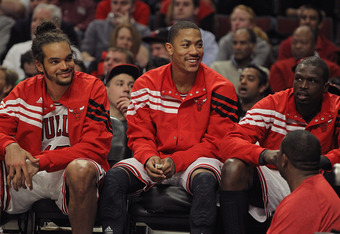 Jonathan Daniel/Getty Images
At this point, both would appear to have plenty of work left to do before that point. The Bulls have sauntered toward securing the best record in the NBA for the second year running, despite the off-and-on absence of Derrick Rose, the reigning MVP, for 25 games.
Rose's availability for Thursday's game is still in doubt on account of a foot injury, though fellow All-Star Luol Deng, the absentee of 11 games this season, could be back in the lineup.
Chicago's hardly a shoo-in to win the East, though, even if Rose and Deng are fit to play. The Bulls will still need some semblance of scoring from the perimeter. Richard Hamilton, whom the Bulls brought in after the lockout to be that guy, has struggled to stay healthy all season, with all of 23 games under his belt.
On the bright side, Rip has begun to play like the Rip of old recently, with back-to-back 22-point games and three 20-point performances in his last five. Whether he can keep that up, at the age of 34, remains to be seen.
Even so, Chicago can't afford to revert back to "hero ball" when Rose returns, lest they wind up watching the NBA Finals from home.
Beat the Heat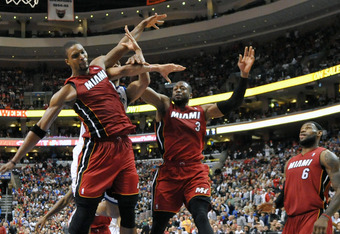 Drew Hallowell/Getty Images
The Heat, on the other hand, seem to have gone backward since coming within two wins of the NBA title last season and scorching The Association prior to the All-Star break. If games only last between 36 and, say, 45 minutes, LeBron James would be the runaway favorite to secure his third NBA MVP honor.
Of course, it's difficult to ignore the fact that 'Bron 'Bron has lived up to his reputation as a choke artist in the clutch on multiple occasions this season—a problem compounded by Dwyane Wade's struggles to stay on the floor and Chris Bosh's inability to play big.
Because, you know, Bosh, at 6'11", is Miami's only semi-reliable option in the paint and still averages fewer than eight rebounds per game.
Even when all three are healthy and on the floor, they've had serious issues putting it all together. At times, they've looked like a group of friends trying to enjoy a single-player video game, taking turns at the controller and appearing wholly engaged when they do but leaving the other two to stew when they're not busy mashing buttons.
Compounding matters is Erik Spoelstra's persistent shuffling of the rotation.
Not that he's at fault or anything. The Heat's supporting cast has ranged from mediocre to horrendous, to say the least. Shane Battier, Mike Miller and Norris Cole have failed to provide much in the way of scoring, while Joel Anthony has played so poorly of late that Spoelstra's been left with little choice but to feed minutes to an out-of-shape Ronny Turiaf.
Prospects for Success
This may all seem somewhat apocalyptic at first glance, but circumstances can (and probably will) change over the next month or so. Rose, Deng and Hamilton could all get healthy (and stay healthy) at around the same time. The Heatles could flip a switch and start playing like they did last spring, especially on defense.
And the East isn't exactly teeming with teams to keep them out from clashing in the conference finals again. The Boston Celtics have been the best team in the NBA since the All-Star break, but their core of stars is old and as prone to injury as any. The Indiana Pacers have come on strong, winning six in a row and 10 of their last 11, but they have yet to so much as win a playoff series with this particular group.
Don't even bring the Orlando Magic into this, with or without the services of an injured and disinterested Dwight Howard.
In the meantime, the Bulls and the Heat, while still the teams to beat in the East, stand on shaky ground. Neither result in their South Beach showdown can or will change that.
Not until the end of April will we know, to any degree, whether either of these squads is prepared to hoist the Larry O'Brien Trophy in June.