NBA Power Rankings: LA Lakers Struggle to Shake Up the Top 10 Teams
April 9, 2012
Harry How/Getty Images
The 2012 NBA season has been a roller coaster ride for the Los Angeles Lakers.
Just when you think everything is good in Lakerland after a four-game win streak, two consecutive losses have brought the Pacific Division back into question, as the Los Angeles Clippers now sit only a half game back in the standings.
Add to that the fact that Kobe Bryant will miss his second consecutive game with a shin injury, and the Lakers could find themselves in trouble.
How will their recent struggles impact our power rankings?
Let's check it out.
1. San Antonio Spurs (40-14)
There's no hotter team in the NBA than the Spurs, who have reeled off 11 consecutive wins, and now hold a slim lead in the Western Conference.
Offense hasn't been a problem for the Spurs during the streak, as they've averaged 108.8 PPG.
2. Oklahoma City Thunder (41-15)
The Thunder have kept it going all season, currently riding another streak of seven wins in their past ten games. However, they did suffer a three-game losing streak in the middle of that.
OKC responded nicely yesterday, getting back on the winning track with a 91-75 win over Toronto, led by 23 points from Kevin Durant.
3. Chicago Bulls (43-14)
It was a tough loss for the Bulls on Sunday at Madison Square Garden.  They've also dropped three of their last four, and with Derrick Rose back in the lineup, they need to get things turned around in a hurry.
4. Miami Heat (40-15)
The Heat have only won six of their past 10 games and now have a banged-up Dwyane Wade to deal with. It doesn't get any easier as Miami faces both Boston and Chicago this week.
5. New York Knicks (29-27)
The Knicks are still trying to hold off the Milwaukee Bucks, but if Carmelo Anthony keeps throwing up 43-point efforts like he did Sunday against the Bulls, this Knicks team, even at half strength, will be a tough out in the playoffs.
6. Boston Celtics (32-24)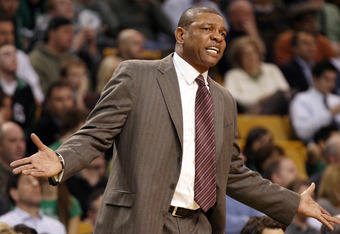 Elsa/Getty Images
Boston's won two straight—and seven of 10—and now they have a three-game lead in the Atlantic Division.
It goes to show what good coaching can do for you. Doc Rivers deserves Coach-of-the-Year recognition, as his decision to move Kevin Garnett to center helped turned the Celtics' season around.
7. Memphis Grizzlies (32-23)
The Grizzlies are dangerous, and no one wants to draw them in the first round of the playoffs. Everyone in a Memphis uniform is playing well, and the Grizzlies have won five of six.
8. Indiana Pacers (34-22)
Speaking of teams that no one wants to play in the first round, the Pacers are playing very well as of late.
Despite losing to Boston on Saturday, the Pacers have won four of five, and have five consecutive games against teams currently out of the playoff picture.
9. Los Angeles Clippers (34-22)
Thanks to the Lakers' struggles, the Clippers have a chance to steal the Pacific Division. They are on a tear in which they've reeled off eight wins in nine games. Up next are road games against Memphis and Oklahoma City, so it may be tough to keep the momentum going.
10. Los Angeles Lakers (35-22)
The Lakers are desperately trying to hold on, but only going 6-4 through their past 10 games may not cut it.
They've been better on the road lately, but are still only 12-16 away from Staples Center. With road tests upcoming against New Orleans and San Antonio, their performance on the road could determine if they win the division or not.
11. Atlanta Hawks (34-23)
Many felt the injury to Al Horford would doom their season, but the Hawks have stayed consistent throughout. They are in the middle of a streak in which they've won four of five games, including three in a row.
Home-court advantage could be huge for them, as they trail Indiana by only 1.5 games for the No. 4 seed in the East.
12. Houston Rockets (31-25)
Three straight wins have bumped Houston all the way up to the No. 6 seed in the West, and with Portland, Utah, and Phoenix upcoming on the schedule, they have an opportunity to open up some breathing room.
13. Dallas Mavericks (31-26)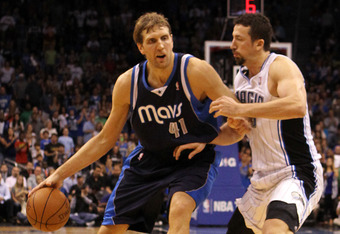 Sam Greenwood/Getty Images
The Mavs picked a bad time to lose three of four as their skid has knocked them all the way down to the No. 7 seed.
The defending champs are holding on for their playoff lives, as only 1.5 games in the standings separate them from missing the postseason altogether.
14. Orlando Magic (33-23)
The Magic broke a five-game skid with a win over Philadelphia on Saturday. That's the only good news to come out of Orlando in a while.
The bad news is that they will have to try and win without Dwight Howard and Hedo Turkoglu, who are both out of the Magic lineup.
15. Philadelphia 76ers (29-27)
Four consecutive losses have not only knocked the Sixers out of the Atlantic Division lead, but have also dropped them all the way down to the No. 8 seed in the Eastern Conference. With Milwaukee playing well, Doug Collins' team now has to worry about even making the playoffs.
16. Denver Nuggets (30-26)
The Nuggets need to put together some wins to open up a little breathing room for the No. 8 seed in the West, but they aren't going to do that getting thumped by the Warriors.
Denver gets a shot at redemption tonight against Golden State, followed by hosting Minnesota.
17. Phoenix Suns (29-27)
The Suns are making a late charge by winning four of their last five, pulling to within one game of the No. 8 Nuggets.
It will be tough, though. After traveling to Minnesota tonight, the Suns will face Memphis, Houston and San Antonio. 
18. Milwaukee Bucks (28-28)
After winning four straight, the Bucks are only a game back of both New York and Philadelphia in the East.
19. Utah Jazz (29-28)
The Jazz have seen their playoff hopes take a hit after dropping five of their last seven games. It won't get any easier as four of Utah's next five come against teams that would currently be in the playoffs.
20. Portland Trail Blazers (27-30)
The Blazers still have an outside chance at the postseason, only 3.5 games behind No. 8 seed Denver. Worse case scenario is that they can play spoiler as four of their next five come against Houston, Dallas, Phoenix, and Utah.
21. Minnesota Timberwolves (25-32)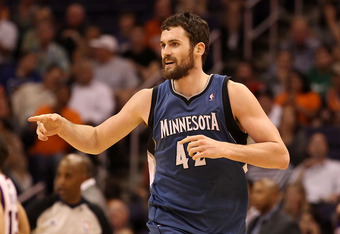 Christian Petersen/Getty Images
The Wolves have been a mess recently, dropping eight of their past 10, ruining a great season by Kevin Love in the process. It makes you wonder where they would be if Ricky Rubio didn't suffer a season-ending knee injury.
22. Golden State Warriors (22-33)
The Warriors have lost seven of nine, partly due to the fact that they can't rebound (39.2 RPG, 29th in the NBA) or stop anyone (100.2 points against, 26th)
23. Detroit Pistons (21-35)
The Pistons have played better as of late, splitting their past 10 games.
24. New Jersey Nets (21-37)
New Jersey has put together their best stretch of the season, winning six of 10. The next stretch won't be as easy, with a pair against Philadelphia—as well as games against Miami, Boston, and New York—on tap.
25. Toronto Raptors (20-37)
The Raptors had won three straight before dropping consecutive games to Oklahoma City and Cleveland. Their next six are all against Eastern Conference playoff teams.
26. New Orleans Hornets (15-41)
The Hornets battle every night and have recent wins over Denver and Minnesota to show for it.
27. Sacramento Kings (19-38)
The Kings can score (98.2 PPG, ninth in NBA) and rebound (43.5 RPG, fifth), but don't do much else well as a team, losers of four straight.
28. Cleveland Cavaliers (18-36)
The Cavs at least competed early in the season. They don't do much of that now as they've lost 13 of 15 games.
29. Washington Wizards (12-44)
Ten losses in 11 games, and the Wizards can't wait until the draft lottery.
30. Charlotte Bobcats (7-47)
Speaking of the draft lottery, the Bobcats are running out of time to get to double-digits in the win column.