Dwight Howard's Behavior Shows He's the NBA's Biggest Punk
April 6, 2012

What is going on in Dwight Howard's mind? What is the Orlando Magic superstar thinking?
That seems to be the question floating around the minds of several observers who have seen the Howard saga play out this season.
Before the season, Howard demanded a trade. It seemed that he had no interest in remaining with the Magic for the long haul, and the team would have no choice but to deal him prior to the deadline.
After months of flip-flopping and constant indecision as to what he wanted to do with his future, Howard agreed to waive his early termination option and remained with the team through the trade deadline.
Now, his head coach, who has done wonders for his development as a player, admitted to reporters that upper management has told him that Howard would like him to be fired.
What a joke.
And you know what it all means?
We're just going to have to go through this charade of garbage once again next season.
This guy is supposed to be a franchise player. He's supposed to be the leader of his team. He's supposed to be a lot of things that he isn't.
Is he a phenomenal player? Absolutely. Is he a force at both ends of the floor? You bet.
Can he lead a team to a championship as the No. 1 option?
It's looking increasingly unlikely.
It's entirely possible that the management source who informed Stan Van Gundy of Howard's desire could be on the chopping block in the offseason, but that doesn't make it any less troubling.
Howard wants to have a say in what the front office does and how the team is built around him, but this is the same guy who advised general manager Otis Smith to bring in the overpriced Glen Davis in free agency.
Has he really earned the right to have such a huge say in personnel decisions? No, he hasn't.
This is a guy who wants to win and seeks so desperately to be the primary option on a contending team, but he hasn't been able to put the Magic on his back and deliver a title.
Why are we supposed to think that is going to change?
As Miami Heat beat writer Ethan J. Skolnick so brilliantly pointed out on Thursday, why does Howard earn cheers when he comes into arenas, while LeBron James is subjected to a consistent course of boos?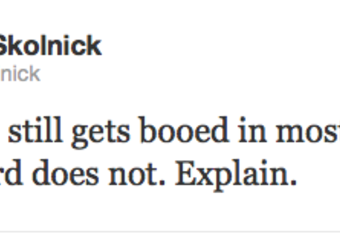 That's a phenomenal question.
It's getting a lot harder to find a reason to cheer for Howard, and there is no reason to think his antics are going to suddenly change in the foreseeable future.
It takes a special player to be considered a franchise star, and Howard just isn't meeting that criteria.