Breaking Down the 10 Most Amazing Plays of the NBA Season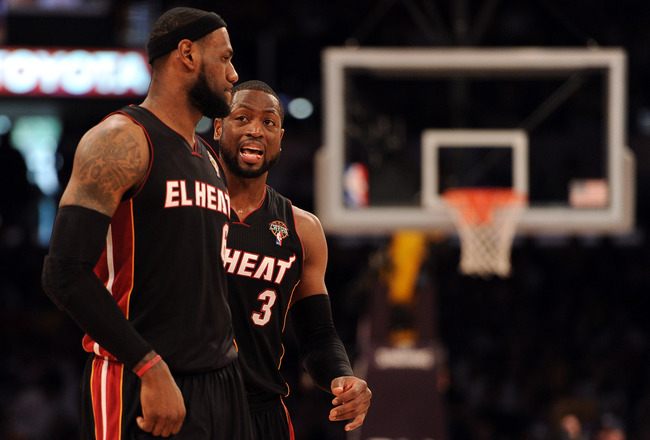 Harry How/Getty Images
So far in the 2011-12 NBA season, there have been some outstanding displays of athleticism and skill.
LeBron James and Dwyane Wade have been involved in more than one of those outstanding plays. Blake Griffin and Kevin Durant are two younger superstars that have also put themselves on the map for extreme displays of ridiculousness.
Here are the 10 most amazing plays from this NBA season.
10. Russell Westbrook Dunks over Omer Asik
Omer Asik is a very big man at 7'0" tall and 255 pounds. Russell Westbrook doesn't care.
The way he posterizes Asik is embarrassing. It looks like Asik should be able to swat him out of the air, and he tries to. But Westbrook wasn't to be denied, as he powered through Asik.
9. DeMarcus Cousins Goes Coast to Coast
In case you didn't know, DeMarcus Cousins is 6'11" and weighs 270 pounds. That should tell you exactly why this play is so impressive.
It takes tremendous skill and ability for a man of that size to make the steal at all, let alone dribble through the defender's legs and drive the length of the court for the layup. If only Cousins could get his head screwed on straight, just think how good he could be.
8. Dwyane Wade Proves He Can Make Any Shot
When I first saw this play, my immediate reaction was, "Wow, that was lucky."
But if you really watch and analyze the play, you'll realize just how much skill is involved. Dwyane Wade has made similar plays before, and it shows. He watches the ball go in the hoop, which isn't something a guy who had just thrown it up there luckily would do.
7. Chris Paul Knows Where Blake Griffin Is at All Times
This is the type of play that infuriates other NBA players. Chris Paul's pass in this play is ridiculous. A behind-the-back pass around a crowd of players to one of the most athletic players in the game who just happens to be streaking toward the basket?
It isn't fair really, but these are the types of plays we expected to see when Paul joined Griffin in LA. We certainly haven't been disappointed.
6. Jeremy Lin Comes out of Nowhere
Hi. My name is Jeremy Lin. I am an undrafted free-agent point guard out of Harvard that has been dumped by two teams already in my short NBA career. I now play for the New York Knicks and am leading them to a season turnaround.
The rise of Lin was about that sudden for most NBA fans. This video shows his game-winning shot in Toronto that aided his fast rise to stardom. While his entire season hasn't played out as many would have liked, no one can deny that he played great for a stretch and that this play defined the NBA conversation for weeks.
5. Russell Westbrook to Kevin Durant Alley-Oop
Anyone who says that Russell Westbrook can't pass needs to watch this play. Few guys in the NBA can make that half-court pass, and Westbrook puts it right where his teammate needs it.
Kevin Durant's contribution to this play is less impressive, but it still shows his tremendous athleticism.
4. LeBron James and Dwyane Wade Can Do Whatever They Want
First off, let me say this: This play is extremely lucky.
Now that that's out of the way, let me tell you more. Even though the play is super lucky, it says something that LeBron James is confident enough to even attempt it. It also says something that it ends up working out for the Heat in a positive way.
Some guys do get all the breaks, I guess.
3. Danilo Gallinari Threads the Needle
This is one of the most amazing passes I have ever seen. Gallinari takes what looks like a bumbled fast-break opportunity and turns it into a play that you have to watch again.
Many players in the NBA would have trouble throwing a chest pass with that kind of accuracy. The fact that Gallinari does it behind the back makes it amazing.
2. Blake Griffin Dunks over Kendrick Perkins
The most amazing thing about this dunk isn't that Blake Griffin dominates Kendrick Perkins; it's that Perkins purposely puts up a good fight and Griffin still lands the dunk. Unlike Timofey Mozgov, Perkins doesn't fold under the strength of Griffin.
He actually throws it in, which is probably even more impressive.
1. Kevin Durant out-Clutches Vinsanity and Sinks the Dallas Mavericks
In a fantastic early season matchup, the Oklahoma City Thunder and Dallas Mavericks played down to the wire.
Vince Carter hit a huge three-point jumper with 1.4 seconds left to put the Mavs ahead by one point when Kevin Durant's defensive snafu left him wide open.
Durant then responded with the most clutch shot of the season—a buzzer-beating three-pointer that sent the Mavericks packing. The jubilance in the arena alone makes this the best play of the season so far.
Keep Reading