NBA Rumors: 5 Teams That Must Break the Bank for Mike D'Antoni
April 3, 2012

Jeff Gross/Getty Images
There will be a ton of quality head coaches on the market this season, led by Phil Jackson, who could possibly be tempted to return to the sidelines.
Jackson's name will certainly be one to keep an eye on, but so will names like Mike D'Antoni, Jerry Sloan, Nate McMillan, Flip Saunders and Jeff Van Gundy.
Of al the big names, D'Antoni's might be the most intriguing.
Say what you want about how it ended for him in the Big Apple, but D'Antoni's done a lot in the form of installing offensive schemes in the NBA. Several teams use elements of his system to this day. 
D'Antoni never really had much of a chance to succeed in New York, but given the right pieces, he could still be a good NBA coach.
It's believed that D'Antoni could take a year off after serving on Mike Krzyzewski's staff for the London Olympics, but if the right offer came through, it could almost certainly sway his decision. 
Several teams may need new head coaches before next season. Here's a look at a few that should aggressively pursue D'Antoni's services.
Los Angeles Clippers
Part of the reason D'Antoni didn't have success in New York was the fact that he never had a real point guard. By the time Jeremy Lin came along, it was pretty much too late for D'Antoni.
In Los Angeles, D'Antoni would have the luxury of having the best point guard in the NBA in Chris Paul, who could form an outstanding pick-and-roll combination with Blake Griffin in his system. D'Antoni's up-tempo attack could take Lob City to new heights.
Current coach Vinny Del Negro has a vote of confidence from owner Donald Sterling, but given past history, Sterling's word has never amounted to much.
Orlando Magic
If the Stan Van Gundy-Dwight Howard marriage ends in a divorce, D'Antoni could be a top option for Orlando.
They already have a good team in place and an athletic big man in Howard who can run the floor. Howard would also give D'Antoni a great interior defender, something else that he's never really had.
Adding a good point guard would be a must, but the Magic are going to have to do that no matter who the head coach is.
Washington Wizards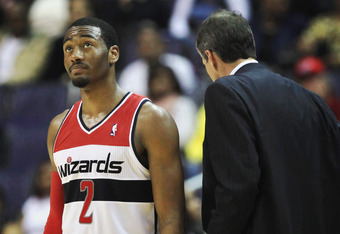 Rob Carr/Getty Images
Speaking of point guards, Washington has a pretty good one in John Wall. With his speed and ability to run the fast break, D'Antoni seems like a perfect match.
With a guaranteed high draft pick come June and a decent amount of payroll to spend, D'Antoni could the Wizards franchise around. 
Portland Trail Blazers
The Blazers are rebuilding, and with likely two lottery picks upcoming, they have the opportunity to get the proper pieces that D'Antoni would need.
With a couple talented players like LaMarcus Aldridge and Nicolas Batum already in place, the Blazers could turn into an up-tempo, talented offensive team overnight.
Los Angeles Lakers
This is an extreme long shot, and D'Antoni may be hesitant to even listen to the Lakers after seeing all the dram that's currently going down in Los Angeles, but current Lakers head coach Mike Brown is probably going to be run out of town sooner rather than later.
Kobe Bryant has always respected D'Antoni, and there have been enough complaints about the Lakers offense this season that picking up the tempo offensively could be exactly what they need.