NBA Power Rankings: How Revamped L.A. Lakers Reshape the Top Rankings
March 27, 2012

Stephen Dunn/Getty Images
Kobe Bryant and the Los Angeles Lakers have had an up-and-down, roller coaster-type of season, but they've been hanging around all year long despite an offense that's been anemic at times.
That may change with the addition of point guard Ramon Sessions, as the Lakers are now poised to make a serious run, not only in the Western Conference, but at another championship as well.
Heading into Tuesday's tilt against the Golden State Warriors, let's take a look at whether our latest power rankings view the Lakers as serious contenders or not.
1. Chicago Bulls (40-11)
Despite a beatdown at the hands of the Denver Nuggets last night, the Bulls still hold the top spot overall. They just need to stay there while Derrick Rose continues to heal, and they will be serious threats en route to an NBA championship.
2. Oklahoma City Thunder (37-12)
Kevin Durant and the Thunder are closing the gap on the Bulls after Sunday's impressive win over the Miami Heat. The Western Conference's best team has been getting it done all season long.
3. San Antonio Spurs (33-14)
The Spurs move up a spot from yesterday and continue to put together a solid season. They now have added depth with Patty Mills and Boris Diaw in the mix, so Greg Popovich can afford to get his older starters the proper rest.
4. Miami Heat (35-13)
A second straight loss, this time in blowout fashion to Indiana, drops Miami down a spot. Not only another loss, but another less-than-spectacular day from the floor for LeBron James, who went only 9-of-21 from the field and turned the ball over six times.
5. Los Angeles Lakers (30-19)
Since they've acquired Sessions, the Lakers have shown the ability to be a more complete offensive team—one that has the potential to be scary good down the stretch.
A starting unit that features Sessions, Bryant, Pau Gasol and Andrew Bynum is scary good. But the Lakers bench is still very bad.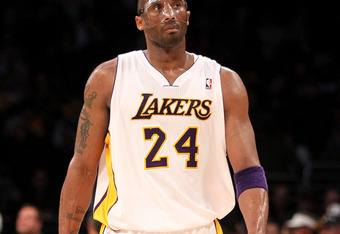 Stephen Dunn/Getty Images
What they have now is a point guard that can create for teammates. Both big guys will get their touches, and Bryant will be getting the ball in positions where he can have success, instead of having to force shots up on a regular basis.
The Lakers have already bought into Mike Brown's defensive ways. Now, if the offense continues to perform, this Lakers team vaults to the position of a serious contender.
6. Orlando Magic (32-18)
The Magic remain contenders in the East, despite all of the Dwight Howard distractions this season. Howard wants a chance to be a leader. We will see if he has it in him.
7. Indiana Pacers (29-19)
The Pacers were impressive last night against Miami and move up two spots in the process. They showed that they are going to be a tough out when the postseason rolls around.
8. Atlanta Hawks (30-20)
The Hawks needed a day off after playing three games in three nights, including a quadruple-overtime win against Utah on Sunday. They've suffered through injuries and keep on winning.
9. New York Knicks (25-25)
The Knicks drop a spot from yesterday despite the win against Milwaukee, and it might not be long before they continue to slide down. They aren't the same team without Amar'e Stoudemire, and Jeremy Lin and Carmelo Anthony are banged up as well.
New York's a very deep team. That depth is about to be tested.
10. Los Angeles Clippers (28-21)
There's been some turmoil in Clipper Land around head coach Vinny Del Negro, but the Clippers have won two straight, shaking off a three-game losing streak and receiving a bump in the rankings in the process.
11. Philadelphia 76ers (27-22)
The Sixers have to feel a bit relieved that the Knicks are banged up, but they are now in a tie for the Atlantic Division lead with the Boston Celtics.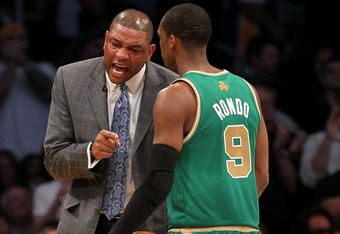 Stephen Dunn/Getty Images
12. Boston Celtics (27-22)
Speaking of the Celtics, they bump up a couple of spots after a win over Charlotte last night. They are only 2.5 games ahead of the Knicks for the No. 7 seed, but winning the division would cure all of that.
13. Memphis Grizzlies (26-21)
It's been an up-and-down year for Memphis as well. The Grizzlies' recent struggles have seen them win only four of their past 10 games, but they are only one game away from being the No. 4 seed in the West.
14. Dallas Mavericks (28-22)
The Mavs are in the middle of a 10-game stretch against teams that would be in the playoffs right now. They are 3-2 so far, so the next five games could potentially make or break them.
15. Utah Jazz (27-23)
Another solid win last night for the Jazz keeps them in the playoff picture. They could help their cause, with only two of their next six games coming against teams that are currently in the playoffs.
16. Phoenix Suns (25-24)
The Suns have won seven of 10 and are red-hot, making a serious playoff push of their own.
17. Houston Rockets (27-23)
The Rockets are coming off a win and face a must-win game against Dallas next  They are only 8-16 on the road this season, so the Rockets are going to have to find a way to win away from Houston to hold on to that No. 8 seed.
18. Denver Nuggets (27-24)
Denver's deep, and it can score. The Nuggets are another team hanging on in a very tight Western Conference race. A win over Chicago last night certainly helps matters out.
19. Minnesota Timberwolves (24-26)
The Wolves need to get things turned around as they sit three games out of the final playoff spot in the West. Kevin Love is having an MVP-type season and could put this team on his back.
20. Milwaukee Bucks (22-27)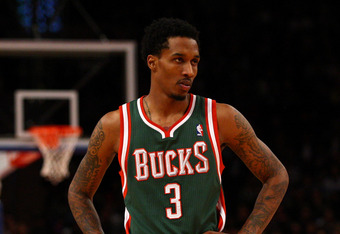 Chris Chambers/Getty Images
It's tough to make a case that this should be a playoff team, losing a must-win game to the Knicks, who were without Stoudemire and Lin.
21. Portland Trail Blazers (23-26)
The Blazers have split their six games since the trade deadline that saw them ship out some players and fire coach Nate McMillan. A late surge isn't out of the question, but it's unlikely.
22. Golden State Warriors (20-27)
The Warriors should have their hands full dealing with the Lakers' length tonight. 
23. Toronto Raptors (16-33)
The Raptors didn't put up much of a fight last night against Orlando, but hey, at least they scored 100 and got the crowd free pizza.
24. Sacramento Kings (17-32)
The Kings have some talent but haven't figured out how to win yet. They are a piece or two away, and when they figure it out, they could be a pretty good team.
25. Cleveland Cavaliers (17-29)
The Cavs have hit the skids as of late, losing six of seven, but they technically still have an outside shot at reaching the No. 8 seed in the East.
26. New Orleans Hornets (12-36)
It's been another rough month in New Orleans. The Hornets have won only four games in March, and the Clippers got some revenge against them last night.
27. New Jersey Nets (16-34)
The Nets have looked awful in March, winners of only two of their past 10.
28. Detroit Pistons (16-32)
A win by the Pistons yesterday over the Wizards put an end to a five-game losing streak.
29. Washington Wizards (11-37)
Losing streaks have been common in Washington. The Wizards are now losers of seven of eight.
30. Charlotte Bobcats (7-39)
Will they get to double-digits in wins? It's going to be tough to do.
---