NBA Rumors: 10 Injury-Plauged Players That Could Impact the Stretch Run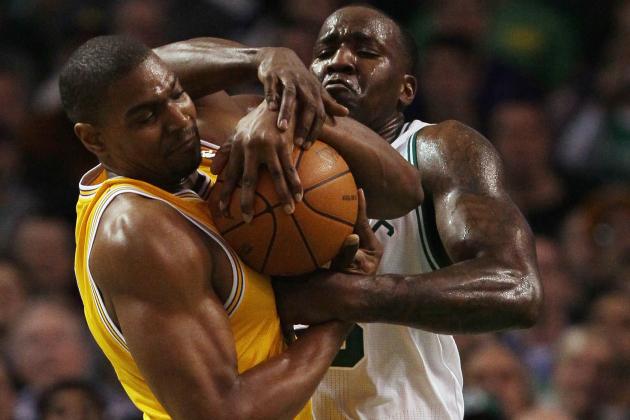 Elsa/Getty Images

In stark contrast to March Madness' upsets galore, the unrelenting schedule that makes up the NBA postseason typically leads to the more talented teams prevailing.
Hot shooting or foul trouble can only take a lesser team so far. The old adage of bigger, stronger, faster generally shows its face a few times over the stretch of a seven game series.
But if there's one equalizer that can change a team's fate more than anything but a roster/coaching change, it's this: the injury bug.
Surely, some credit (minute though it may be) is due for the positive energy that an emotional end-of-the-bench player can bring. But teams don't want their star players' biggest contribution being emotional support, no matter how enthusiastic that support may be.
Basketball is a superstar sport in every sense of the word. Not all of the players on this list would be considered superstars by marketing standards, but a stretch run (or worse, postseason) absence of any of them would be a crushing blow for their respective clubs.
Begin Slideshow

»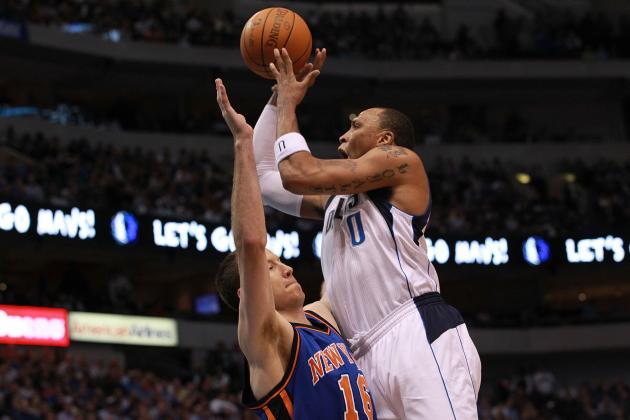 Ronald Martinez/Getty Images

The man with the league's ugliest jump shot has avoided its ugliest injury history, but the shifty Marion has failed to avoid racking up minor injuries.
In just the past twenty-four months, Marion has suffered a broken finger, a sore knee, a sprained wrist, a sprained oblique and bruised ribs. His 2007-08 season ended early due to plantar fasciitis in his left foot and back spasms.
And when injuries don't find him, he manages to find them.
With the disappointing season that Lamar Odom has managed, the Mavs' options at the three and four are limited behind Marion. Then again, given that he's third on the team in scoring (11.2) and tied for the top spot in rebounding (6.8), Dallas would have a harder time replacing his production than his position.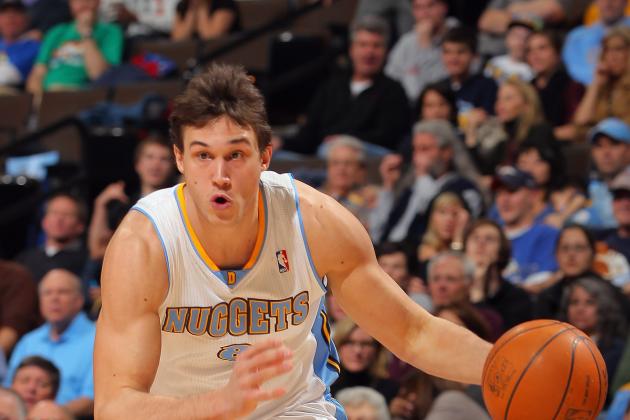 Doug Pensinger/Getty Images

With the Nuggets shipping out their veteran leader, Nenê, at the trade deadline for the talented but immature JaVale McGee, the direction of the Nuggets front office became a little hazy.
The Nuggets boast one of the widest collections of young talent in the league, and that depth has allotted them the seventh seed in the Western Conference.
The team lacks a real superstar, but if there's one blossoming star on the roster, it's Gallo.
He can score from the inside and out (team-leading 15.2 points) and knows what to do with the ball in his hands (his 2.6 assists rank third on the team, first of the non-point guards).
Denver has enough depth to stay in the playoff race if Gallinari's broken left thumb lingers down the stretch, but a first-round upset would be impossible should the sharp-shooter miss significant time with this or any other injury.
He's missed 98 games in his four seasons in the league, including 13 this season due to a sprained ankle, and nearly his entire rookie season due to a back injury that required surgery.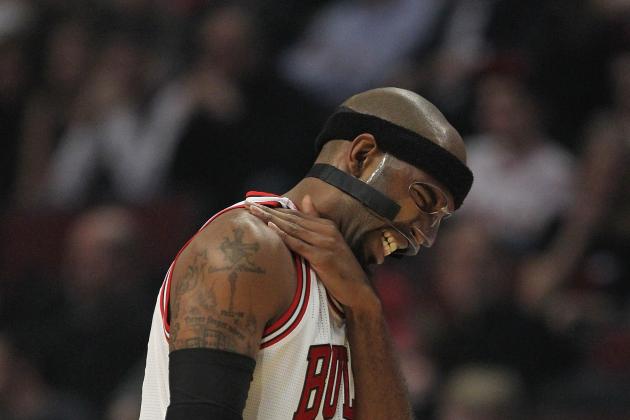 Jonathan Daniel/Getty Images

The December addition of Hamilton to the Bulls was as natural as a basketball signing can be.
A tough veteran and former champion on an immensely talented team competing for a championship. But even more than a good locker room presence, Hamilton could continue to thrive as an efficient scorer off the ball, playing alongside the league's best point guard.
Of course, this relationship could work a lot better if Hamilton actually, you know, played once in a while.
The formerly always-reliable Hamilton (he never missed more than 15 games in a season during his first 10 years in the league) has struggled to find his role on the team, largely because he's struggled to find his way out of the trainer's room.
Thanks to a groin injury, a thigh injury, a death in the family and, most recently, a shoulder injury that has kept him sidelined since the beginning of the month, he's appeared in just 16 of the Bulls' 48 games.
Granted, it's hard to say the Bulls have missed him that much considering they've paced the league with their 38-10 record. But when Chicago matches up with a strong defensive team in the postseason, it's hard to imagine they wouldn't miss Rip's production.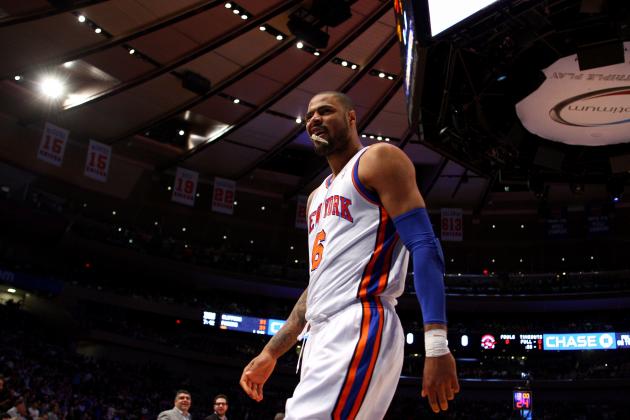 Chris Chambers/Getty Images

Chandler's injury history has been more boom (seven seasons of 71-plus games) than bust (three seasons with 31-plus missed games). But given the type of defensive presence that he's been on any of his five clubs, those bust years have been tough to overcome.
He's not going to wow fans with numbers (except for the zeros in his paychecks maybe), but he's always been the perfect complement to a potent offense.
He's a glass eater (8.9 rebounds per game for his career) and changes the shots that he doesn't block (1.4 for his career).
That's one of the biggest reason that Knicks fans should be concerned with these lingering left wrist and hand injuries he's been dealing with. Well, that and the fact that the only other centers on the Knicks' roster are rookies Josh Harrellson and Jerome Jordan.
The injury has yet to cost Chandler any games, but the Knicks need to climb the conference standings to make all of the pain worth it.
Drew Hallowell/Getty Images

The 76ers were a sexy sleeper pick heading into this season, and after a 10-3 start (suddenly turning them into everyone's "sleeper"), they certainly looked the part.
But there is cause for concern in Philly for a few reasons.
Doug Collins' club has played just .500 basketball since the All-Star break, winning just two of their seven matchups versus teams with a winning record. As a result, their former stranglehold on the Atlantic Division has dwindled to a one-and-a-half game lead on the Celtics, and a four-game lead on Mike Woodson's surging Knicks.
What may be a bigger concern, though, is that Elton Brand has been their healthiest big this season. Yes, the same Elton Brand who arrived in Philly with a "brand new" price tag, but in "refurbished" condition.
Brand has managed to play in all but four of the 76ers' games this season, which has bettered the game totals of rookie Nikola Vucevic (nine games missed) and starting center Spencer Hawes (29 games).
Like Denver, Philly's strength lies in its depth. Brand, Vucevic and Hawes are all back playing again, but losing any of the three could cost Philly its division lead and home-court advantage in the first round.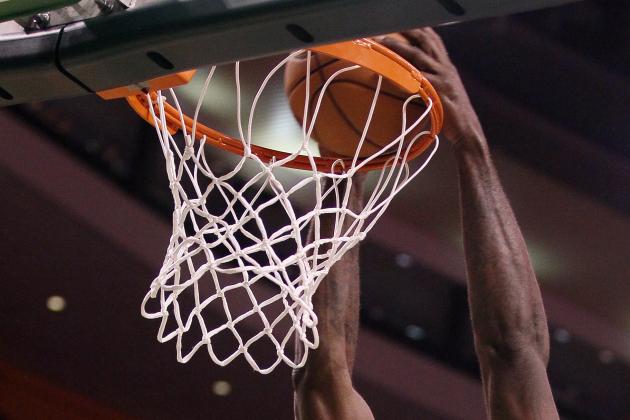 Elsa/Getty Images

Perkins is another player who has largely escaped the injury bug, but a devastating knee injury in the 2010 NBA Finals cost the big man 53 games last season (and possibly a second championship ring).
When the Thunder acquired Perkins at least year's trade deadline, the organization went from young and exciting to championship contenders. He was the lone missing piece on this talented squad.
His numbers don't do him any justice (they make Tyson Chandler look like Wilt Chamberlain), but his toughness and inside presence is something that the team clearly lacked at the center position.
Which brings us to why he's on the list: Oklahoma City's championship dreams would be derailed if Perkins experienced any trouble with his surgically-repaired knee. If the big man ends up back on the trainer's table, coach Scott Brooks would be forced to choose between Nazr Mohammed and Cole Aldrich. (My thoughts exactly.)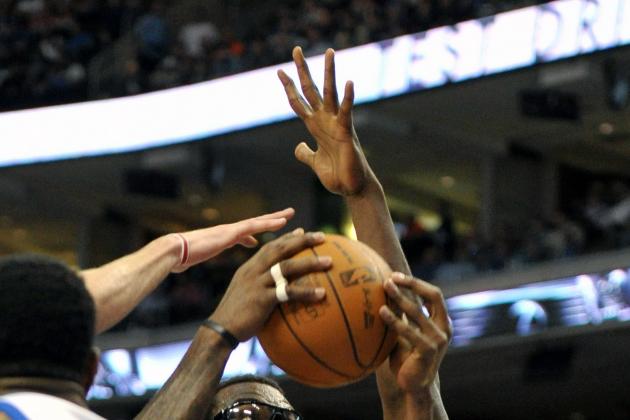 Drew Hallowell/Getty Images

Stoudemire's injury history is just plain hard to read.
On one hand, he's managed to play at least 78 games in six of his nine seasons in the league.
On the other hand, he's a player that relies on athleticism, yet already has suffered from ankle, knee and back injuries. And let's not forget the detached retina that cost Stoudemire eight weeks in 2009, effectively ending his season, but also establishing him as the league's premier goggle fashion expert.
With the Knicks still figuring out how to balance Jeremy Lin and Carmelo Anthony on the offensive end (and getting essentially nothing offensively from Chandler), the team needs Stoudemire to aggressively attack the rim and get easy buckets.
His 17.5 points and 8.0 rebounds this season have been decent, but the Knicks playoff chances—not to mention his contract—look terrible if he can't stay healthy.
Stephen Dunn/Getty Images

As the Celtics and their aging stars have struggled to hang on to any semblance of relevancy in the Eastern Conference this season, Boston bigs have been dropping like Rajon Rondo's dimes.
One-time starting center Jermaine O'Neal and veteran backup Chris Wilcox both were lost for the season in a February loss in Dallas.
Kevin Garnett has played all but three of the Celtics games, but has missed time with a hip flexor injury— don't forget that he's spent a fair share of his Celtics tenure in street clothes.
Brandon Bass has also battled swelling in his knee, missing seven games in total.
The Celtics are a long shot to even get out of the first round this season. If they lose Garnett or Bass for any more time, they'll be watching the first round from home.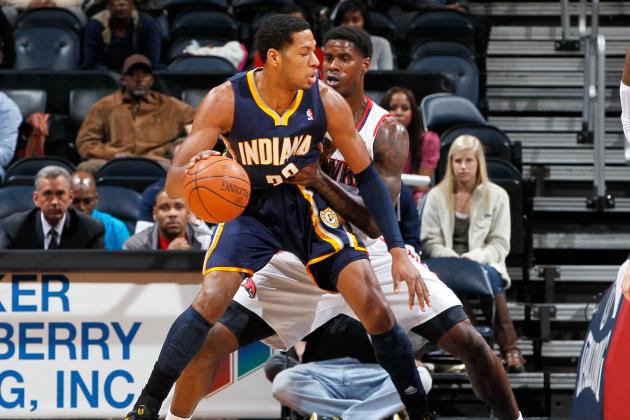 Kevin C. Cox/Getty Images

Everyone says team has no star. News flash: they do have a star. It's Granger.
He averages 17.8 points per game, exactly five more than any other Pacer (Roy Hibbert).
He also has attempted 174 more field goals than any of his teammates (Hibbert and David West have taken the second-most), so his production is both expected and by design.
He'll draw the opponent's best defender on any given night, and he'll be option number one in crunch time.
Maybe he's not labeled as Indiana's star, because he doesn't have that injury-free history that teams would like from a star.
This season, he's suffered a wrist injury that forced him out of a few games. But he's also had knee issues since before leaving the University of New Mexico, and also lost a quarter of his 2009-10 campaign with a torn plantar fascia in his right foot.
In terms of actual games missed, Pacers fans shouldn't have too much to worry about (the 20 he missed in 2009-10 were a career high). But given the nature and location of those injuries, any concern they have is understandable.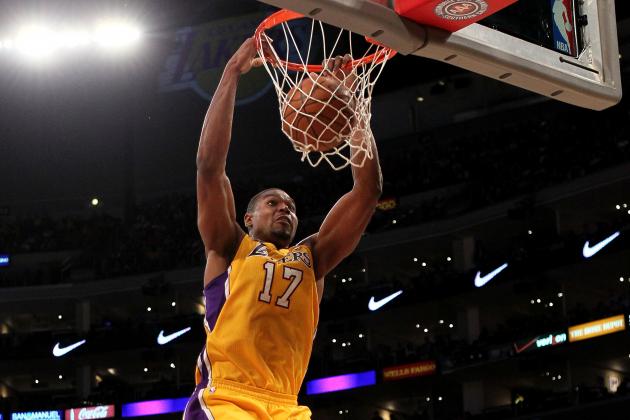 Stephen Dunn/Getty Images

Fortunately and unfortunately for Lakers fans, Bynum deserves this top spot for so many reasons.
The 24-year-old has separated himself from any center not named Dwight Howard by posting career bests in scoring (18.0), rebounds (12.7) and minutes (35.9).
He has also moved himself ahead of Pau Gasol in the Lakers pecking order. Gasol is averaging a career low in points (16.7) and his field goal percentage is his worst since 2005-06 (50.8).
He might mean more to his team than any single player on this list, which is saying a lot considering he plays alongside Kobe Bryant. But the championship hopes of the Lakers rise and fall on their young center.
The unfortunate side to all of this is that Bynum's career has been marred by injuries to this point. He played 82 games in his second season, but that's one of only two seasons in which he's played in more than 54 games. A rash of knee injuries has defined his career to this point (moreso than even the club's two championships).
And with the club shipping Bynum and Gasol's only reliable backup, Lamar Odom, to Dallas in a cap-shaving move before the season began, the Lakers have no "plan B" should Bynum's knees get shaky.
The Lakers have enough issues to sort out at the point guard (how is Ramon Sessions not starting?) and small forward positions to worry about. A Josh McRoberts vs. Troy Murphy vs. Jordan Hill debate is not a debate that coaches of championship contending teams will ever have.