Now that the Dwight Howard saga came to an end, at least for this season, all the focus will switch from Howard to New Jersey Nets point guard Deron Williams.
Only there won't be the circus that was involved with Howard.
That's because Williams is heading to Dallas. It's a lock.
The Nets became the biggest losers in the Howard sweepstakes and now they must prepare themselves for an even bigger loss.
New Jersey general manager Billy King knew this situation could likely happen and rolled the dice to attempt to acquire Howard in order to keep the All-Star point guard around.
Unfortunately for King, he crapped out and the chip he had on the table was Williams.
While King crapped out, the guy at the other end of the table cashed in on the Nets' failures.
The biggest winner in all of this is Dallas Mavericks owner Mark Cuban.
Is Williams a lock to end up in Dallas?
Cuban quietly played his cards right throughout the process and cleared enough cap room to not only add Williams next season, but also add some talent around him.
While the Nets also have the cap space to do the same, one thing you know for sure is that Cuban will do something about it.
With New Jersey, you have a franchise with money to spend, but not many talented players in line to give it to. Moving to Brooklyn next season isn't going to be the attraction that brings big free agents aboard.
Speaking of big free agents. There aren't any next season.
The biggest three on the block would have been Howard, Williams and Chris Paul. Only Williams isn't spoken for at the moment.
He wants to win and the Nets don't, and won't, have the talent to do that in the near future.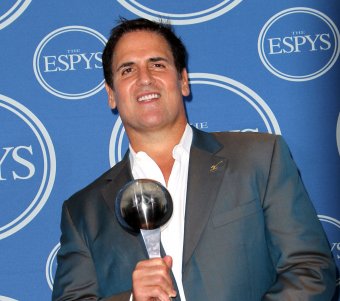 Frederick M. Brown/Getty Images
Even last Thursday's trade that brought Gerald Wallace aboard doesn't help the situation in New Jersey. Williams even has to question the talent-evaluating process in New Jersey.
While they saved money, do they really value Wallace more than what the potential of the No. 4 or 5 pick in a draft loaded with talent would have brought them?
Even if Wallace plays at an All-Star level, it's not enough to keep Williams aboard.
Dallas is not only Williams' hometown, but they also offer him a better chance at what he covets the most. A shot at winning a championship.
He can be paired with Dirk Nowitzki for the final couple years of the future Hall of Famer's career and you know Cuban and Mavericks general manager Donnie Nelson will add to that group. Then when Nowitzki's career comes to an end, there's even more money for Dallas to bring in top-level talent around Williams.
That includes possibly even Howard in 2013.
Williams just doesn't know if New Jersey will be able to do the same.
At the end of the day and the beginning of the offseason, Dallas will be celebrating the addition of an All-Star point guard.
The Nets will be starting over once again.