NBA Rumors: The Dwight Howard Trade Saga and Biggest Dramas Around the League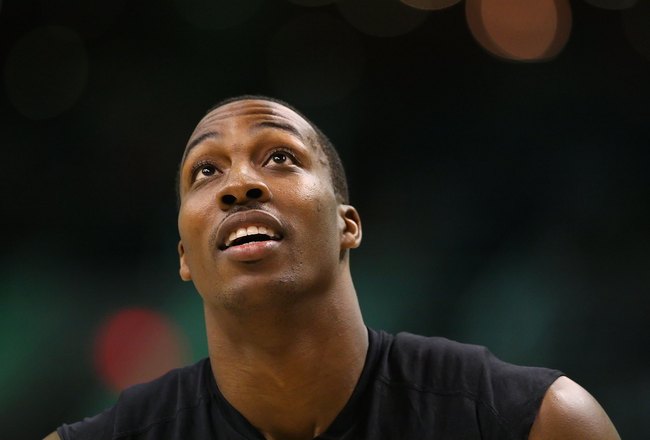 Christian Petersen/Getty Images
With the trade deadline a little more than two weeks away, many teams still have questions remaining as to what they should do to tweak their rosters in preparation for the playoffs.
The Orlando Magic still appear to not be willing to break off their relationship with Dwight Howard, who appears to be distant and more concentrated on this summer than winning a title with the team he has.
The New Jersey Nets are currently trapped in a similar situation, with Deron Williams giving mixed signals concerning his loyalty to the team that took a huge risk to get him before last year's trade deadline.
And finally, will the Lakers stop quibbling amongst themselves and try to come together as one to get Kobe ring number six?
There is still plenty of drama around the league, and with time getting short and teams having to make decisions about their futures soon, some teams could be getting a face-lift within a couple of weeks.
Orlando Magic and "The Decision"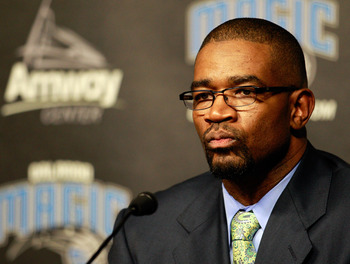 Orlando Magic GM Otis Smith
Sam Greenwood/Getty Images
As a Spurs fan, Dwight's physical stature and statistics immediately remind me of David Robinson back in his prime.
The dominance inside, the freakish muscular body that intimidates anyone he goes up against, and the wonderful athleticism that allows him to snag rebounds and swat away shots that might appear to be physically impossible are all things Howard effortlessly shows on a daily basis.
But what Dwight does not have is Robinson's attitude, specifically being concentrated on the team at all times and doing his best to win the team he was on a title at the time. It was rumored that if Robinson bolted during free agency, the San Antonio Spurs would be no more and probably would have been moved to New Orleans.
However, Robinson was loyal to his team, signed an extension, and helped lead the team to two titles during his career.
This is just my opinion, but I have no tolerance for players like the Dwight's of this year and the Melo's of last year who continually send mixed signals to the press and their teams as to what they want to do. Dwight has shown immaturely this past year saying what teams are on his "list" and who interests him.
As a professional athlete who is committed to the contract you sign with the team you are currently on, you talk about the team you are on in terms of who you want to play for until the time you are a free agent.
Dwight could take a lesson from Steve Nash, who is on a disappointing Phoenix Suns team that has either traded or lost its biggest assets over time.
As tempting as it must be to "demand" a trade, Nash has remained steadfast to the club throughout this year instead of pulling a "Dwight." To Nash, he said he signed a contract to the team, so therefore he is committed to the team until his contract is up. To me, that shows leadership and maturity.
So what does Magic GM Otis Smith do? Does he trade for a lighter version of Howard in Andrew Bynum (which the Magic have reportedly been offered but shot down multiple times), or does he test free agency and see if Dwight wants to become the next LeBron in terms of fan popularity?
Smith is playing his cards well, knowing that Dwight's big personality and desire to be liked by everybody weighs heavily on his mind.
I think the Magic hang on to Dwight for the remainder of the season, but based on Howard's past "demand" of playing with Deron Williams, I expect the Nets to arrange some kind of sign and trade involving the skilled but scared-to-rebound Brook Lopez during this off-season.
Deron Williams and…..the ex-Kardashian?
Ronald Martinez/Getty Images
That's basically all this Nets team consists of, right? All-Star Deron Williams has to continually put the Nets team on his back on a nightly basis while Kris Humphries plays his part of rebounding and getting set up for easy layups and short-range shots.
Brook Lopez is coming back from a devastating foot injury that kept him sidelined for what felt like an eternity, and MarShon Brooks is a promising young player, but a rookie, and thus consistency is not going to be one of his strengths.
Do the Nets pull another shocker like they did before last deadline and send Williams packing somewhere else just so that they can get something for him instead of seeing him walk during free agency?
It is a long shot, especially considering that the Nets GM is Billy King, an ex-Sixers GM, who held on to Allen Iverson for as long as he possibly could before dealing him.
I do not see the Nets being able to improve their supporting cast for this year around Williams to make a serious run for the playoffs to convince Williams that they are going in the right direction.
All hope is not lost though, as it appears the Nets have a couple of different options they could try with Dwight Howard, seeing he demanded a trade to them earlier in the year.
1.) They offer a package of Lopez, Brooks, Humphries, Mehmet Okur's expiring contract and a couple of first round picks for Howard, Hedo Turkoglu, and Daniel Orton and do it before the deal before the trade deadline.
The Magic shed Turkoglu's ugly contract, get a shooting guard to work on in Brooks, a big man who wants to rebound in Humphries, and a polished low-post scorer with length who is oozing with potential in Lopez, plus a couple of picks.
It is a lot, but the Nets do the deal if the Magic want to, seeing they instantly keep both Howard and Williams together, and have a solid point guard/center combo going forward into Brooklyn for the next five to six years ideally
2.) They wait until the off-season, offer a similar package constructed around Brooks and Lopez (and Humphries if they can resign him), and arrange some kind of sign-and-trade deal where Dwight dons a Nets uni. Either way, if you get Dwight to New Jersey, you know Deron Williams is staying.
I believe that the Magic hold on to Dwight and reject any deal New Jersey offers them, but are forced into a sign-and-trade deal with New Jersey when Dwight declines to resign in a state that is only big enough for one Florida team in the Miami Heat.
The Magic are no longer very respected around the league. They are at best a fringe contender, but one that relies on a starting supporting cast that would be bench players for most teams out West.
The New Jersey Nets are headed to Brooklyn, and Dwight wants to be the toast of one of the biggest markets in the world in New York City. L.A. is Kobe's town, and New York is, for now, Jeremy Lin's, but change is coming.
Will Kobe Bryant and the Los Angeles Lakers Find Cohesion?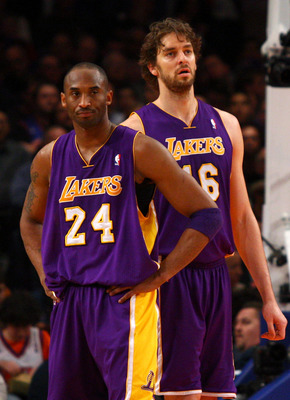 Chris Chambers/Getty Images
Does Pau Gasol go to the Boston Celtics for Rajon Rondo?
Does Kobe stop attacking Mitch Kupchak like he has done countless times whenever something is just a little off-kilter?
Does head coach Mike Brown meet with his front office and start feeling more comfortable about the overall direction of his team and that he has their total confidence leading them forward?
The Lakers are easily the most overly talked about team amongst the media, just because, well, they are in a town that is enveloped in drama on a constant basis.
There is a definite pendulum when it comes to the media and the Lakers.
First, there is the ridiculous side, where the media drums a story to death that is not a big deal and makes it larger than it really is, such as the Kobe/Shaq "feud" of 2004.
Then there is the other side of the scale—the reasonable side—when we question the Lakers title chances every single year, because they are just one of the teams that should be talked about when the NBA championship is mentioned.
The possible Pau Gasol-for-Rondo swap falls somewhere in the middle of the reasonable pendulum.
It is not totally ridiculous to talk about non-stop, considering the fact that Gasol is definitely a wounded warrior doing his best to forget the fact that the Lakers view him as expendable (Gasol was part of the failed Chris Paul trade this past winter.)
However, it is not on the totally reasonable side to talk about on a 24/7 basis because the Lakers are still a formidable opponent even if they rely completely on their big three of Bryant, Gasol, and Bynum.
The way the media is talking about it you would think they are out of the playoff picture and desperately needing a trade. Not true.
So what happens from here on out?
I think the Lakers hang on to Gasol, realizing that his length and versatility were key components behind the team's successful championship runs of 2009 and 2010.
They lost some of those qualities dealing Lamar Odom away to the Dallas Mavericks, but they still have enough to get by and make some noise as long as they are on the same page for when the playoffs start.
And this begs the next, and arguably most important, question—will the team find that cohesion and togetherness that made them so powerful for the better part of a decade?
I think a meeting between Brown and the front office is now imminent, as Brown indicated just this past week that he feels distant from the front office and barely has any discussion with them. If the Lakers have held on to any of the intelligence that helped them win five titles in twelve years, the front office sits down with Brown and addresses his concerns to make things right.
It has come to the point where the front office should consider pulling Bryant in for a meeting as well and giving him a "We want to win a championship, just like you, so just trust in us and what we have done in the past and let us do our job" speech that I am sure they have given him before.
In terms of how the team does for this season, I think they get to the second round but get ousted in six games to the Oklahoma City Thunder, who want to dish out some payback from a few years back when they were kicked out of the playoffs on their home court by L.A.
A second round exit will immediately put the spotlight right back on L.A. and their "failing expectations" and an ESPN frenzy of analysts and questions like "Should Kobe demand a trade?" or "Has Andrew Bynum reached his peak already?" You heard it here first, folks.
Keep Reading