Why Dwyane Wade's Foul Delivered a Strong Message to Kobe Bryant and the NBA
February 27, 2012

Ronald Martinez/Getty Images
Dwyane Wade's hard blow to Kobe Bryant's face was not intentional.
He did not mean to break his nose, nor did he mean to give the perennial All-Star a mild concussion.
But there is no doubt there was a message behind his foul.
This wasn't going to be a game where Bryant got whatever he wanted—Dwyane Wade was not going to allow that to happen.
In a contest where most participants appeared tired and going through the motions, Wade and Bryant were two players who actually sought to compete for a chance to win the basketball game.
Wade's message was simple—Bryant was not getting easy buckets while Wade was on the floor.
These two are cut from a similar cloth.
Despite the exhibition nature to the All-Star event and the idea that this should be a spectacle for the fans, both players have the same goal every time each steps onto the court: win the game by any means necessary.
"Kobe fouled me two times in a row, so he's still got one up on me."
That response isn't going to sit well with some people, but it doesn't have to in order for Wade's point to be effectively and emphatically delivered.
There is a strange double standard in the NBA, and the type of tenacity we saw from Wade is exactly the type of demeanor we demand from LeBron James on a regular basis.
Think about it—James draws a ton of criticism for being "too nice," passive and not having a "killer instinct" that we've seen from great players before him.
And now we're going to tear down Wade for his tenacity and fiery competitiveness?
That has got to stop.
Yes, the foul was hard. And yes, the end result was unfortunate.
But in no way did Wade intend to purposely hurt Bryant.
Wade and his Miami Heat team have been widely overlooked this season after living under the microscope during the 2010-11 campaign.
Despite playing at a ridiculous pace and enjoying an incredible first half of the season (27-7, tied for first in the league), Miami's play has been pushed aside.
Instead, we've heard about storylines like Jeremy Lin, perpetual Dwight Howard trade rumors and manufactured melodrama surrounding underperforming teams.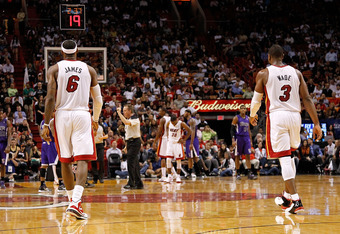 Mike Ehrmann/Getty Images
Wade is having a season to remember. His team is dominating on a consistent basis, and he's clearly tired of being forced to take a backseat in the public sphere.
Wade's 28.14 PER is second-best in the league behind just LeBron James.
Averaging a career-high 50.2 percent shooting from the floor, Wade's free-throw percentage (80.4) is over 80 percent for the first time since the 2006-07 season.
What is most impressive? Wade is posting 22.4 points, 4.4 rebounds, 4.8 assists, 1.7 steals and 1.4 blocks in a career-low 32 minutes per game.
Wade wants everybody to know something that he so firmly believes—he's the best shooting guard in the league.
Some feel that he's been the top dog for some time, others feel as if he's finally earned it and there is another set of fans who believe that title still belongs to Kobe Bryant.
Everyone has an opinion, and rankings are always extraordinarily subjective, but Wade is tired of being overlooked as one of the best players currently in the game.
It's tough to blame him.
With a warrior mentality and a style of play that we just don't see in the league very often, Wade has effectively put the onus on his shoulders as he looks to carry the Heat going forward.
Consider the message delivered, Dwyane.
All eyes are on the Heat in the second half, and Wade is ready to play a leading role.