The End of 'Linsanity': LeBron, D. Wade and Co. Stop Jeremy Lin Cold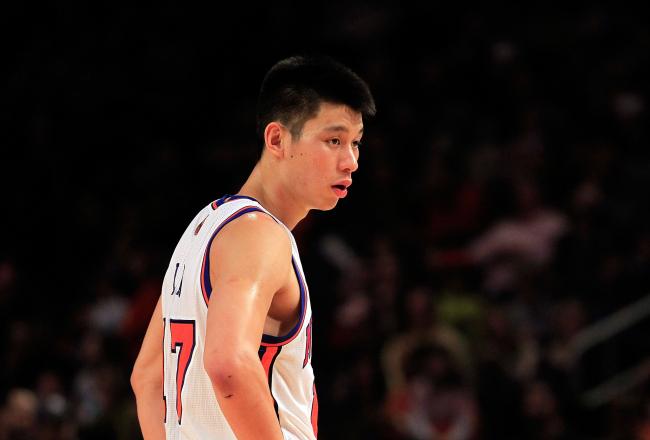 Jeremy Lin: Lost his composure and his way in losing to the Miami Heat.
Chris Trotman/Getty Images
Now Jeremy Lin can return to reality.
Just yesterday, the Miami Heat made Lin's game look ugly on the court, in the process thoroughly drubbing Lin's New York Knick team, 102-88.
But, in dispensing with the myth of "Linsanity" and returning all of basketball and its perimeters to the real world, the Heat ironically did Lin, in particular, a favor.
In the aftermath, the 23-year-old Knick guard and Sports Illustrated two-time cover boy can wake up and say to himself each morning: "Now, I understand true NBA basketball."
It wasn't an easy lesson. Lin looked like a high school player versus the Heat, as LeBron James, Dwayne Wade, Norris Cole and Mario Chalmers yanked, stripped and snatched the ball from him, and alternatively, made him stop dribbling, virtually any time they wanted to.
Lin confirmed as much: "I can't remember another game where it was hard to just take dribbles."
All game long, Jeremy Lin was in panic mode. By the third quarter, Lin looked like he just didn't want to be there, or more precisely, he looked like he had given up.
A more experienced NBA fighter might have found other avenues of effectiveness, exuded more wherewithals, but Lin, since being inserted as a starter approximately a dozen games ago, had no realms of reference. It had been relatively smooth sailing heretofore.
Before Miami, other teams had attacked Lin with multiple defenders at various points in the half court—the Dallas Mavericks were salient in their effort to do this on February 19—but none of those teams had or have athletes like the Miami Heat. Further, none of those teams have an attacking defensive system which is executed so well.
On offense, it's never another night at the office when you play the Miami Heat.
Said D. Wade, referring to the stifling of Lin: "I don't know if anybody's tuned in to watch us lately, but that's what we do."
Wade also had some helpful advice for Lin and the Knicks:
""He's done an unbelievable job...The big thing is that their team's winning. And that's why he got it because he was helping his team win. But once you get up here, he's got to extend that stardom because now he's on everyone's radar. There's a good reason for it because he's worked hard. But he's got to continue to push, and that's what changes good players to great players."
Yes, Lin must push. He totally cannot be lackadaisical like he was versus a super athletic, geared-to-disrupt-and-destroy Miami team.
The Knicks, over the last few years, are veritable, habitual excuse-makers. They will call—and did call—Lin's extremely poor performance an off night. But Lin, a Harvard graduate, should know better.
He should listen closely to D. Wade's advice.
This article is
What is the duplicate article?
Why is this article offensive?
Where is this article plagiarized from?
Why is this article poorly edited?