Dwight Howard: Oscar Robertson Right to Criticize Orlando Magic Star
February 23, 2012

Mike Ehrmann/Getty Images
"Keep your mouth shut and play basketball."
That's the advice the great Oscar Robertson offered to Orlando Magic center Dwight Howard via a conversation with Mike Bianchi of 740 The Game in Orlando on Wednesday.
Like everyone else in the basketball world, The Big O is in O-Town for NBA All-Star Weekend, though he's there mostly to raise awareness for prostate cancer. And, apparently, to lend some stern words to a wantaway star who could certainly use some tough love right about now.
Who better to chastise Howard in this regard than Robertson? His impact on the game extends far beyond his Hall of Fame pedigree and his pre-LeBron James pioneering of the point-forward position.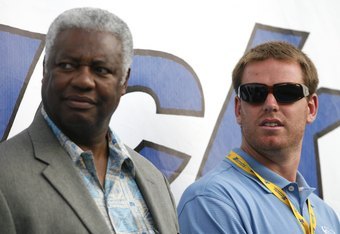 Joe Robbins/Getty Images
Though that's all well and good, Robertson's greatest and most lasting contribution is the landmark lawsuit he levied against the NBA in the 1970s. In the suit, Robertson's side argued that the league's rules pertaining to the draft and player ownership were in violation of US antitrust laws.
The end result? Free agency, otherwise known as "that thing Dwight Howard will get to do this summer."
Assuming, of course, he isn't traded before the March 15 deadline.
Not that The Big O wasn't sympathetic to Dwight's plight in Orlando:
Anytime they (Magic) stumble and fall and every time they get beat, they're going to blame Dwight Howard and it's totally unfair because it's not all his fault. I don't think management has done a great job in keeping certain players on the team. They had a nucleus of players that got them to the Finals and then, all of the sudden, it's gone downhill.
Rather, Robertson suggested that if Superman is truly intent to flee to a new metropolis (i.e. New Jersey, Los Angeles or Dallas), he'd be well advised to make such a demand behind closed doors rather than try to play ball through the media, as such a strategy can only hurt his reputation around the league and with his own teammates:
"If he wants to be traded, he's going to be traded. Go and talk to the owners and say, 'I want to be traded,' and keep it a secret. In a situation like this, he can't win."
Robertson, of all people, knows full well the benefits of leaving a bad situation to team up with another superstar, as Howard would do in each and every one of his preferred scenarios.
The Cincinnati Royals traded The Big O to the Milwaukee Bucks prior to the 1970-71 season amidst a dispute between the triple-double machine and head coach Bob Cousy. Robertson immediately went on to win the first and only title of his basketball career in Milwaukee while playing alongside a young Lew Alcindor (i.e., Kareem Abdul-Jabbar) on a team that went 66-16 and swept the Baltimore Bullets in the 1971 NBA Finals.
Now, Howard isn't likely to turn any particular team into such an overwhelming favorite, at least not right away and not with so little practice time amidst this current condensed schedule.
That being said, if Howard does indeed want to have his cake and eat it too—that is, leave Orlando and still be loved everywhere—he'd do well to heed Oscar's words of wisdom.
"Keep your mouth shut and play basketball."