Lakers Rumors: Dealing Pau Gasol to Bulls Makes No Sense for LA
February 20, 2012

Christian Petersen/Getty Images
If NBA rumors are like The Bachelor, than Pau Gasol is most certainly the star of this season.
This time, the Los Angeles Lakers' forward is being rumored to the Chicago Bulls. Or, more specifically, Derrick Rose of the Bulls would love to see the team trade for the Spaniard. From Chris Sheridan:
Derrick Rose has let it be known to Bulls management that we wants to play with Pau Gasol if Chicago is able to swing a trade with the Los Angeles Lakers for the veteran power forward from Spain, a source close to Rose told SheridanHoops.com on Sunday.

The Spanish news outlet Marca was the first to report Sunday that Rose has given his blessing for the Bulls to go after Gasol with a package that would be centered around Carlos Boozer and another player.

"He hasn't said so publicly, but he has made that known privately," said the source, who spoke to SheridanHoops.com on condition of anonymity.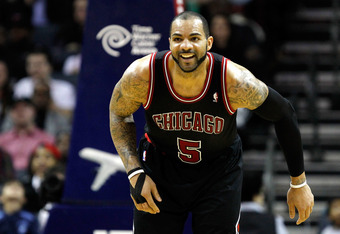 Streeter Lecka/Getty Images
The other player the Lakers would want that would make this deal work on both sides would be C.J. Watson, the Bulls' backup point guard. I went ahead and checked things out on ESPN's trade machine—it works.
But how does this deal make any sense for the Lakers? Yes, they get an upgrade, however slight, at point guard, but they lose their most valuable trade asset and don't really improve in return. Are Boozer and Watson really going to make LA better?
I don't think so. And more so, they won't work in a package deal for a superstar like Dwight Howard. Gasol has far more value in that regard.
But the next piece alongside Boozer that the Lakers would probably like if they moved Gasol would be Luol Deng, and I just don't see a scenario in which the Bulls would ship Boozer and Deng to LA for Gasol. That doesn't seem like a very good deal for them.
So, I think what we have here is a lack of a middle ground. I'm not sure if there is a deal that could happen between these two teams that would make a lot of sense for both. I'm not general manager, but that's my take on why this deal won't happen.
And why the Lakers should totally ignore it.
Hit me up on Twitter—my tweets have the perfect amount of foam at the top.