NBA New York Knicks: The Curious Case of Jeremy Lin's Global Appeal
February 18, 2012

Chris Trotman/Getty Images
By now, almost everyone in America, and certainly everyone in China, is Linsane in the membrane. The dynamic play of the unlikeliest of sources—the New York Knicks' benchwarmer, Jeremy Lin—has spawned an international epidemic. No one could have expected that the performance of a backup point guard would ignite such a widespread outbreak of interest in basketball.
Especially the play of an Asian-American backup point guard.
But that is single-handedly what Lin has done with his week-long explosion. In a span of eight games in two weeks, Lin averaged 24.6 points and 8.6 assists per game—and over a billion fans—along the way, earning Eastern Conference Player of the Week honors.
Of course, a significant number of his new-found followers are in China, where Lin has become an instant phenomenon, a cult classic not only for what he does but also for who he is.
And yet, ironically, it's his heritage that makes his popularity in China a bit difficult to interpret.
In a country that has experienced a humongous void with the retirement of national icon Yao Ming last year, China has been anxiously awaiting the emergence of a player to keep their interest in the NBA. Likewise, the NBA frantically wanted—needed—something to happen in order to remain attractive to the largest market in the world. Without Yao, how would China stay involved in lil' old American basketball?
Jeremy Lin.
Nobody saw that coming. True, China kept a distant eye on him last season when he was signed as an undrafted free agent by his hometown team Golden State Warriors. But he received little playing time, and thus, China wasn't really on board with Lin.
Furthermore, Lin is American, not Chinese. Basketball fans in China didn't have the same connectivity with Lin that they had with Yao, or even the likes of Yi Jianlian, the lone remaining Chinese export NBAer, currently on the Dallas Mavericks. Yao and Yi are fellow Chinese countryman, while Lin is in fact of Taiwanese descent. Though a tiny island off the East China Sea, Taiwan is a major issue of contention with the People's Republic of China, its de facto motherland.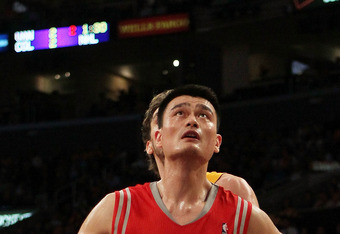 Jeff Gross/Getty Images
It's an incredibly long and complicated history that requires a political science lesson. But basically, Taiwan considers itself its own entity—with its own government, its own rules, its own identity, etc. Meanwhile, China regards Taiwan as a Chinese territory, making China Taiwan's parent company, if you will. Obviously, there is much dispute about the political status of Taiwan and tremendous controversy about China's claimed ownership. It's like a child trying to gain emancipation from his parents. The parent still sees the child as their own, even though they are no longer legally responsible for him.
But make no mistake, the people of Taiwan consider themselves Taiwanese, not Chinese. If you come across a Taiwanese national, they will staunchly correct you in noting their Taiwanese heritage. All the while, if it were up to China, that person would be regarded as Chinese. China is very protective of its image, and Taiwan's defiance toward the mother ship is a cold slap in the face.   
This is what makes Lin's success so difficult to forecast globally, since both countries lay claim to the newly anointed golden child. China has been slow to embrace the Linsanity outburst, partially reporting the results of Lin's Knicks games, censoring minor details about his Taiwanese roots and the like.
Another reason for China's caution in elevating Lin's status is his deeply ingrained religious faith. Under Communist rule, religion is also somewhat controlled by governmental restrictions. And because Christianity is deemed an outsider religion (as opposed to institutional religions like Taoism), Chinese Christians have been long considered a minor religious group.
Because of Lin's devout faith, and his Taiwanese background, China has been unsure of how to exactly endorse, promote and root for him during his meteoric rise in the NBA. Certainly the Chinese citizens are excited about having a player to supplant Yao after his retirement. But the government is quick to control too much publicity.
Still, there is no suppressing the fact that Linsanity is at a fevered pitch in Asia, as noted by NewYorker.com staff writer Evan Osnos. And the fact that he has supporters of all nationalities—Chinese, Taiwanese and Asian Americans—gives him a global appeal that supersedes that of even Yao at the extraordinary height of his prime.
Such is the curious case of the Jeremy Lin Show: He provides so much connectivity to such a broad range of different people—through race, nationality and religious belief—it makes him relatable on many levels. How, then, does his unique identity as a Christian Taiwanese-American male provide such a modicum of controversy?
As the Linsanity epidemic continues to spread fervidly across the Far East, one can only hope that Lin does not get pulled in too many directions by different communities who claim his as their own. Lin is and has stayed true to his own self, one who has overcome tremendous odds to showcase his talents on the brightest of stages. In a sport and industry where nobody of his makeup has ever set foot. Trying to take hold of his allegiance to a country where he was not born is a strange pressure that is more daunting than the 1.3 billion-member onus Yao carried during his career. And having him choose to whom he belongs is not fair, either.
Why should Lin have to carry that weight on his shoulders?
Yes, Lin's popularity is a wonderful story that has graced the headlines and front pages of nearly every media outlet. His accomplishment as a fortnight sensation is only magnified by his distinct background. Maybe with continued success he can bring the countries of China and Taiwan together, to root for the same player and to stand united as Jeremy Lin fans. Who knows, as a basketball ambassador, he would be the one thing that the Chinese and Taiwanese have in common.
And yet after all is said in done, all Lin is trying to do is pursue his own American dream. Such is the curious case of Jeremy Lin.
Follow me on Twitter: @nathanieljue