Floyd Mayweather Says Popularity of Linsanity Is Because of Race—"So What?"
February 14, 2012

Chris Chambers/Getty Images
Yesterday it was reported all over sports newswires that boxing star Floyd Mayweather, Jr. questioned the factor for the popularity of New York Knicks guard Jeremy Lin, the international overnight sensation.
"Jeremy Lin is a good player," he tweeted, "but all the hype is because he's Asian. Black players do what he does every night and don't get the same praise."
Mayweather's implication is that Lin's race is a predominant reason for his lofty status as a media darling, throughout the country and all over the world. Jeremy Lin is popular because he's Asian.
To that I retort, so what?
Isn't this America? Aren't we a melting pot of a multitude of races, ethnicities and creeds? That is what makes the United States so unique. We are a brand of different peoples. And each respective difference is an important trait to who we are. That is why our differences are the focal points of many aspects of American life, whether it's our race, religion, gender or sexual orientation.
The media plays a huge part of that characterization. On TV and on the streets of our cities, in movies and in our classrooms—race is an issue wherever we go. Until we as a nation become a cohesive entity of peoples, race will always be a variable in differentiating one another.
That is what America does best. Each individual group naturally partitions itself in its own way—especially minority groups. The Latin Grammys, the NAACP Awards, heck, even the Jewish-American Hall of Fame each underline what individualizes itself from the rest of society, while also lauding the accomplishments of its people.
Praising our success and recognizing our individual identities is part of the American way. And sports is no different. Highlighting Lin's performance this past week is definitely in large part due to his Asian background. But it is no different than highlighting other athletes because of their races and backgrounds.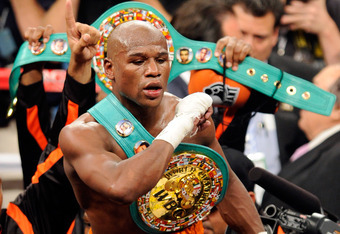 Ethan Miller/Getty Images
Take Tiger Woods, who is continuously acknowledged for being the first African-American golfer to win a major title. At the height of his reign in the late 1990s, Woods' race was at the forefront of many storylines, not the least of which was his breakthrough in a sport that was previously white-dominated. Was race not an issue in his escalated popularity? Ironically, Woods, as we all know, is half-Asian and one-quarter African-American. Nary a peep, however, of his Asian heritage.
Race is, fortunately or unfortunately, always a factor when a specific athlete's unexpected performance breaks the tradition of a particular sport. The Williams sisters, Venus and Serena, are lauded for their supremacy in women's tennis as African Americans; while Michael Chang's magical French Open run in 1989 helped him become the first Asian American to win a tennis major. Nancy Lopez was acknowledged for her ascent as a Mexican American in the LPGA; and Chi Chi Rodriguez is enormously popular on the Senior PGA tour. Would his toreador dance be as wildly admired were he Caucasian?
Of course, who could forget the pedestal underneath former Washington Redskin Doug Williams.  In 1988, Williams was the first African-American starting quarterback to win a Super Bowl. And what about Fernandomania, anyone? Hell, the story of the Jamaican bobsled team became so incredibly popular, a freaking movie was made based on their adventures and journey to the 1988 Winter Olympics!
The list goes on and on.
Yes, race played a factor in evaluating all of these great athletes—just like it does in praising Lin. The ignorance in Mayweather's comment belies the nature of sports and sport-related media. Lin is in fact doing things that nobody expected of him—as a backup point guard, as a twice-cut undrafted free agent, as a Harvard graduate and, yes, as an Asian American.
Linsanity is significant because of all of those factors. Thus, is it wrong for the American media to hone in Lin's race in his unforeseen and astonishing rise? No, not really.
How we identify ourselves and how we manage our achievements is not what matters. That's part of the culture of Americans and our independent cultures as individuals of race, religion, gender or sexual orientation. We are not a point in the progress of America where those individualizations are not important.
What is ignorant, though, is for Mayweather to think that an athlete's race does not matter. Because, sometimes, maybe it does.
Follow me on Twitter: @nathanieljue