Chauncey Billups Injury: Losing Billups Isn't so Bad for Los Angeles Clippers
February 8, 2012

Harry How/Getty Images
To everyone out there in Clippers Nation freaking out over losing Chauncey Billups for the remainder of the season, calm yourselves. The Clippers will be just fine without "Mr. Big Shot" in the lineup.
No disrespect to Billups, whose veteran leadership, championship experience and overall presence will surely be missed, but hasn't Mo Williams become a better version of Chauncey himself? I'd say so.
Like Billups, Williams has a point guard's pedigree, but as his career has progressed he has excelled at playing off the ball, first in Cleveland when he ran with LeBron James, and now with the Clippers, where it seems he has mastered the art of microwave scoring.
At this stage in their careers, Williams can play with more pace, get into the lane more easily and create more scoring opportunities for his teammates than Billups can. His advantage in speed and agility also allows him to create more turnovers on defense, which allows the Clippers more chances to get out on their deadly fast break.
Mo also shoots lights-out curling off of down screens and in catch-and-shoot situations when he's spacing the floor. In fact, he's been a much more effective shooter than Billups has been this year. Both are taking 11.4 shots per game, but Billups has shot a dismal 36.4 percent from the field, a number that has actually gone up recently—it was even worse just a few games ago—while Williams is shooting it at an impressive 48.8 percent clip.
Williams has also showed better range than Billups this year, knocking down 43.1 percent of his treys to Chauncey's 38.4 percent. When you look at effective field-goal percentage—which accounts for the additional value of three-pointers—Mo is miles ahead of Billups, ranking sixth in the NBA among guards with significant playing time. Billups barely cracks the top 70 in that metric.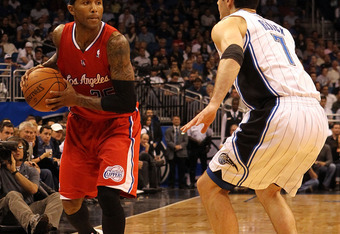 Sam Greenwood/Getty Images
While Chauncey has maintained his ability to get to the line at a decent rate, Williams is just as effective when at the stripe, as both are a tad above 89 percent at the foul line this year. We just saw Mo ice Monday night's game in Orlando with two clutch free throws, so we know the Clips are comfortable with him filling in for Chauncey as the team's designated game-icer.
Speaking of clutch, it may be time for Chauncey to ditch the Mr. Big Shot moniker. We all remember the game-winner he hit against the Dallas Mavericks last month, but Billups is only making 36.4 percent of his attempts in clutch time (defined by 82games.com as fourth quarter or overtime, less than five minutes left, neither team ahead by more than five points). Chauncey's play late in games has been slipping since last season when he shot 40 percent from the floor and 38.9 percent from three in crunch time.
Meanwhile, Williams has knocked down two-thirds of his clutch field-goal attempts this season and shot 44.1 percent in crunch time in 2011 (better than Kobe Bryant, Derrick Rose, LeBron James and Kevin Durant) including 44.4 percent from three-point range.
You want a stat that will really surprise you? Last season, Williams was third in the entire league in clutch scoring per 48 minutes, trailing only Bryant and Rose. Mo was also fourth in the NBA in clutch assists per 48 minutes and only two point guards with significant ball-handling responsibilities turned it over less frequently in the clutch. When it comes to crunch time, Williams is just as money as Billups is, if not more so.
Mo has been the third-best player on the Clippers so far this season, so more playing time for him is simply a good thing for the team. Also, Randy Foye will be more effective playing extended minutes as a starter, and the Billups injury frees up some minutes for talented youngster Eric Bledsoe to get himself integrated with the team. If there is one position at which the Clippers can afford to lose a player, it's guard.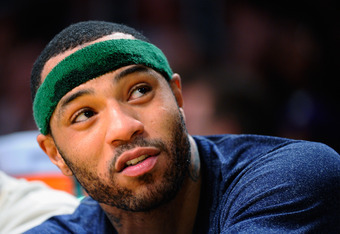 Kevork Djansezian/Getty Images
The Billups injury was not even the most impactful roster move this week for the Clippers. That honor goes to their addition of veteran forward Kenyon Martin. The team was desperate for frontcourt help, and Martin will provide just that. He's another excellent lob target for Chris Paul to find, and he adds some grit and toughness, as well as a lot of playoff experience to the squad.
K-Mart is at least somewhat of a scoring threat, so teams will have to respect him a little as opposed to just totally ignoring the likes of Reggie Evans and Solomon Jones on offense. Even without Billups, the Clippers now have a sweet nine-man rotation for Vinny Del Negro to stick to just about every night.
Losing Billups for the season was a tough blow to the Clippers, but he will still retain a lot of his off-the-court value where everyone on the team looked up to him as a leader and mentor. Luckily for the Clippers, Chris Paul is more than enough to lead this team while they're on the court. Plus, the Clippers have the pieces in place, particularly in Williams, to cover up for Chauncey on the floor as well. 
There aren't many teams who can survive an injury to a cog as important as Billups as well as the Clips can. That's why they'll still be one of the toughest teams to take out come playoff time.