Chicago Bulls: Luol Deng's Worth Being Shown in Losses
February 2, 2012

Jonathan Daniel/Getty Images
Remember when people wanted the Bulls to do whatever it took to trade Luol Deng out of town?
Well, I am here to say that he is almost untouchable now.
If you want proof, all you have to do is look at the past six games for Tom Thibodeau's Bulls. In those six games, they have gone 3-3, with all three losses coming at the hands of teams with very good small forwards.
LeBron James, Danny Granger and Andre Iguodala lead their respective teams in scoring in those three losses and had a pretty easy time doing it, shooting over 50 percent.
Now, it is true that the Heat, Pacers and 76ers are all good teams who will all most likely be in the playoffs. So they aren't truly bad losses, but still, you can see a difference watching these games.
I have heard many people say that the Bulls should give Orlando whatever they want for Dwight Howard. I completely disagree, because Howard will not be able to offset the loss of Deng. If the Magic want some package of Carlos Boozer, Joakim Noah and draft picks, that is fine, but if they want Deng, I say no deal.
Ronnie Brewer is a nice player and a good defender, but against some of the bigger small forwards, he is over-matched. Brewer is much more of a shooting guard than a small forward, and we have seen Kyle Korver get burned time and time again by athletic wing players.
If the Bulls did trade Deng, who would guard the likes of James, Carmelo Anthony, Granger and Paul Pierce?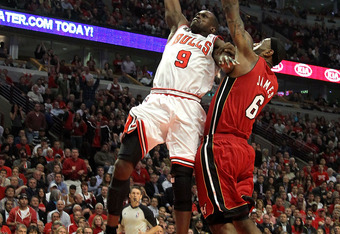 Mike Ehrmann/Getty Images
Also, I would like to point out that I doubt the Magic would accept a deal of Deng and Noah, even with draft picks included. Both have injury issues and have pretty hefty contracts. 
In the six games Deng has missed, the Bulls have given up an average 97 points a game (Nets, Pacers, Bucks, Heat, Wizards and 76ers). In the previous six games with Deng, they only allowed 84 points per game (Celtics, Grizzlies, Suns, Cavs, Bobcats and Raptors). Now, I will admit the competition wasn't the same, but still, that is a 13-point swing. 
The Bulls are in for a big test tonight against Carmelo Anthony and the struggling Knicks. Based on the stats, he is probably going to have a big game. The only question is, can the Bulls overcome it?
With both Rip Hamilton and Luol Deng out indefinitely, it might allow the rest of the Eastern Conference to catch up to the first-place Bulls. Let's hope both return sooner rather than later and, most importantly, are healthy for the playoffs.
Make sure to follow me on Twitter @dachicagofan, and check out my weekly Bulls podcast every Wednesday on my site The MG Experience