Ranking the Top 5 NBA Teams with the Most Talent from 2011-2012 Season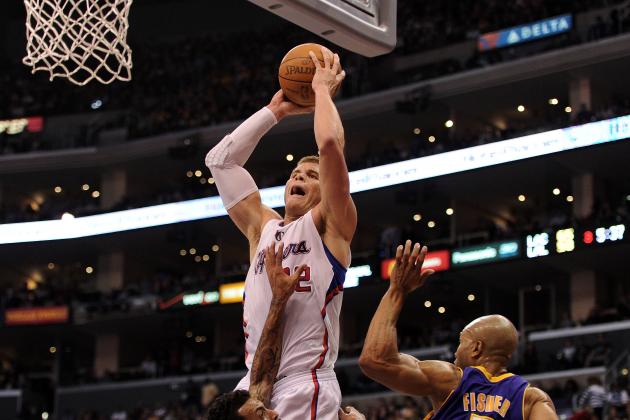 Harry How/Getty Images

Everyone knows which teams are the best in the NBA. That's easily identifiable: Just look at the records.
It should be noted, however, that a good record does not consistently correlate solely with talent.
Many other different factors, such as coaching, chemistry and experience, are all useful determiners of a team's competitiveness and standings in the NBA.
Excluding these components, which teams in the NBA are the best based only on pure talent?
Begin Slideshow

»
Elsa/Getty Images

Honorable mentions go Chicago, Dallas and Los Angeles (Lakers).
Chicago has talent in Derrick Rose, but their strength lies in their chemistry and coaching.
Both Dallas and Los Angeles have a considerable amount of raw talent, but not enough to make this list.
It was hard not to put every team in the honorable mentions. They all have incredible amounts of pure talent. I guess, however, this is why it is called the National Basketball Association, and not the National Scrub Association.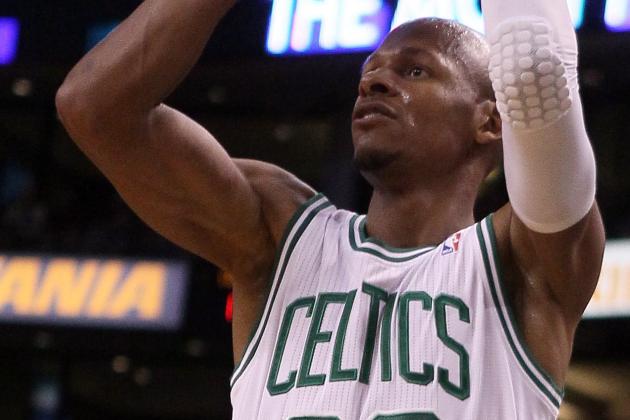 Elsa/Getty Images

It doesn't matter how old they are, what their record is or where they stand in the Eastern Conference. This team is still laden with a considerable amount of talent.
Whatever is slowing them down this season, it is most certainly not the ability of the players. Perhaps the compacted season and reduced stamina because of old age? Regardless, here is why Boston is the fifth-most talented team.
First off, the big three, although on the tail end of their careers, are still incredible players in their own respect.
It's hard to think of another player as trustworthy as Ray Allen when taking a shot from downtown. This man is a fossil, but he still plays with the intensity and skill of a 23-year-old. So far, he is shooting with a whopping 56 percent success rate from behind the arc. That is absolutely incredible.
Paul Pierce still is a reliable jump shooter and handles the ball well in traffic. When it comes to universal value, it is arguable that Paul Pierce still holds rank amongst players like LeBron James, Dwyane Wade and Kobe Bryant.
Pierce also has an impressive three-point percentage this season: 41 percent. He averages 17 points per game and a solid five assists per game.
Garnett is still bringing phenomenal defense to the table, and exhibits a substantial amount of leadership on the team. This, believe it or not, requires talent.
Secondly, Rajon Rondo is a top-five point guard in the league. He is the most dangerous individual in the Celtics starting five.
There is not a more reliable player in the NBA, and Rondo has made some of the most incredible assists Boston, and the NBA, has ever seen.
When a player starts getting publicity because of how well he passes to scorers, then that's when you know he's talented.
His assists are just a small facet of his game. Rondo is a consistent and able scorer as well and he drains baskets with just as much skill as his passing game. Combine that with his superb ball-handling and you have one of the most talented and competitive young players to pick up the basketball.
The Celtics are now Rondo's team.
For these reasons, Boston arguably resides in the upper echelon of teams with the most talent.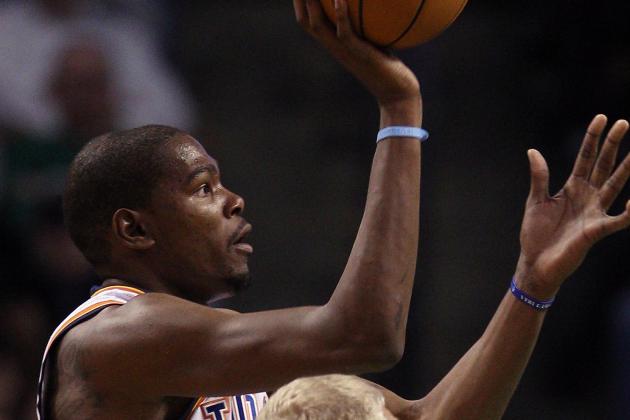 Elsa/Getty Images

In this case, there is a definite correlation between talent and success. The Thunder currently hold the second-best record in the NBA and not without good reason.
Kevin Durant is probably the most talented young player, and one of the most talented forwards currently competing.
His defense is suspect, but on the attack, there are few comparable to his scoring ability.
Last year, he averaged 30 points each contest and although his statistics aren't quite as impressive this season, he is still tossing the ball in the hoop for about 25 points per game.
Some people are even going as far as proclaiming him the future MVP.
That's probably not too ludicrous of a prediction.
Durant is supplied help from a valuable guard in Russell Westbrook. Westbrook puts up about 20 points per game and feeds his teammates closer to six times per game.
Not that age has anything to do with talent, but did I mention that both of these players are only 23 years old?
The Thunder also have a strong post presence in Ibaka and Perkins, both of whom are capable of taking it to the rim with some serious power. Although they are not considered elite big men, they are, at the very least, reliable and strong.
James Harden also gives Oklahoma City an edge when it comes to overall talent. He gives them a healthy 16 points each game and is a valuable complement to the team's star players: Durant and Westbrook.
The Thunder undoubtedly hold a spot amongst the NBA's most talented teams.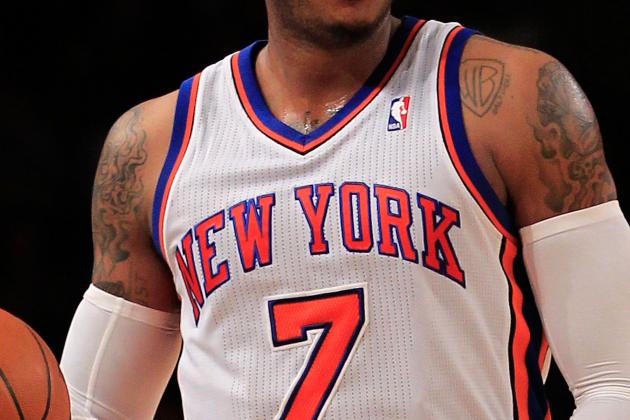 Chris Trotman/Getty Images

New York could be great, but they simply lack chemistry. The Knicks are the epitome of a team that does not perform well, but has a ton of talent on the roster.
Carmelo Anthony is invaluable offensively and one of the best scorers in the NBA. He is definitely the "go-to" guy in New York at 23 points per contest.
One of Melo's big criticisms, and maybe the reason the Knicks are performing subpar, is that he is not a team player.
This is irrelevant in evaluating how talented he is, but is worth noting in these comparisons.
Besides Melo, the Knicks have two big men that are extremely skilled and potentially valuable to a cohesive unit.
Amar'e Stoudemire, power forward, has devastating mid-range and post scoring abilities and scales the floor well with his height.
Tyson Chandler fills in at center and is the second dominant big man. When New York acquired Chandler, many thought of it as the "icing on the cake," and that the Knicks would surely become one of the NBA's elite teams.
This has been anything but true, but it goes to illustrate just how talented of a player Chandler is presumed to be.
Landry Fields is also a young competitor with good ball-handling, passing and scoring ability.
It's hard to argue the Knicks case, but on paper, this team looks like a championship-caliber club. Just goes to show you that talent isn't everything in this league.
Harry How/Getty Images

Blake Griffin, Chris Paul, Caron Butler and Chauncey Billups. Those names just sound scary.
The Clippers have a team that has every combination any club could want.
Need one from deep? Give the rock to Chauncey.
How about some certain points in the paint? Time and time again we've seen Blake Griffin throw it down and "posterize" opponents with ridiculously athletic moves. Caron Butler can help out here, too.
Who's dishing out the ball and putting a few (many) in himself? Chris Paul.
This Los Angeles team is stacked with talent. On top of these players, the Clippers have a solid player in DeAndre Jordan, and Mo Williams has been playing at the top of his game.
This team seems to have all the talent it needs in all of the right places. The only thing the Clippers have to do now is to figure what it takes to win and play as a team.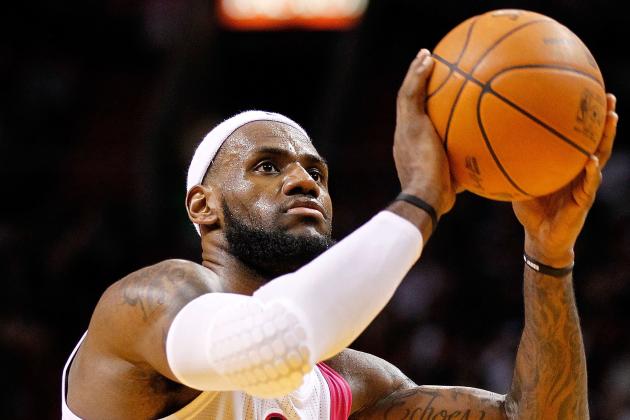 Mike Ehrmann/Getty Images

It's hard to pick anyone else. The Heat have the most raw talent in the entire league.
Statistics don't even need to be included to illustrate just how skilled the players of this club are.
But I'll include some anyways.
LeBron James, two-time MVP and the most dominant forward in the game, is second in the league in points per game at 29.1. He was second only to Kevin Durant last season, and even though he plays on a team with several big-time names, he is making his case to become a third time MVP.
His impact on the way the team performs is extremely profound.
Dwyane Wade, although recently injured, has proved his worth several times before, particularly in his championship season with Shaq in 2006. Many would argue that he is the best all-around player in the league.
Chris Bosh, leading scorer in the Raptors franchise, also has a name associated with extreme talent. Bosh is currently ranked in the top 10 in points per game and he only seems to be furthering his scoring abilities by picking up the art of three-point shooting. His performance during last year's playoffs and championship series are also a testament to his skill.
Mario Chalmers is a solid point guard who has recently been playing some of the best basketball of his career. Next to LeBron and Wade, he is probably the most consistent player from South Beach.
Shane Battier is also an addition to the team's overall talent with his outside shooting ability.
Overall, Miami is probably the most talented team playing in the NBA.