Have the Los Angeles Lakers Found Their Identity?
January 26, 2012

Stephen Dunn/Getty Images
OK Laker fans…..Let's all take a deep breath. Honestly, after that road trip to Florida I was in panic mode. 
Nobody likes watching Kobe doin' work more than me. But I knew that fighting the double (and triple) teams when he was on his shooting spree was unsustainable and potentially bad for the team. It has the unfortunate by-product of everybody else just standing around as Kobe takes his shots. That's a fast track to trouble. But what are you going to do? Not have him shoot? Especially since no one else could hit a basket to save their lives.
So I was filled with trepidation for this rematch with the Clippers. Lob City versus the Lake Show. It didn't help that Pau Gasol was yapping to the media about how he wanted the ball more. If Pau gets the ball more, shots are coming away from someone (read: Kobe). But, I feel confident that the coaching staff's position is that the entire offense can't just be Kobe. 
This always dances up to the fine line of: what if Kobe takes that the wrong way and pulls a "you want to see what it looks like when I don't shoot?" a la the infamous Phoenix Suns playoff game. Allegedly.
Something had to change. A 10-8 record is not the way the Los Angeles Lakers like to think of themselves. And no way were they going to get punked by the Clippers at Staples. 
The Lakers came out swinging. Maybe that is the identity of this team. Sort of a "You want to underestimate us? Really?" vibe. 
So what happened in the game? Kobe wasn't a ball hog. He distributed the ball and took shots when they were there for him. Pau was aggressive. He had a terrific night. Andrew Bynum played physical and also had some nice shots and solid defense. The Big Three seem to be gelling together.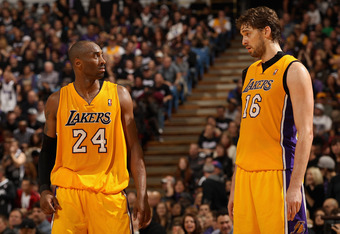 Ezra Shaw/Getty Images
I'm therefore off the Dwight Howard needs to be traded to the Lakers bandwagon. I can hear Laker fans' howls of protest already. But swapping him for one, or both, of Gasol and Bynum —why do it now?  If Gasol and Bynum can keep playing like they did against the Clippers, I don't think that trade adds a lot of value.
Mitch Kupchak was right. This team doesn't need another big man. It needs a point guard. That was the whole reason they went after Chris Paul. Well, that aborted trade is in the rear view mirror now. Nothing to be done about it. 
But, Andrew Goudelock looked great last night. Although not top draft picks, Goudelock and Darius Morris have talent. Both have also looked overwhelmed at times this season. It's understandable.
I mean you got drafted to the Lakers. Of course you might be a little tentative out on the court. It's a star franchise in a star-driven town with a superstar in Kobe Bryant, and there are literally movie stars sitting in the front row. Easy to see how that could be a little intimidating.
So, I hope somebody (coaches or teammates) sat those two down and said: Look, we don't mess around here in Los Angeles. We drafted you because we think you can ball. If you've got the shot, take it. And Goudelock had some beautiful shots in this game. If he can blossom…..
I think two other people had a big night even though it might not show up in the box score.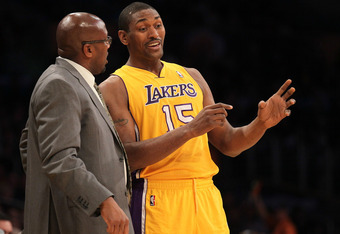 Stephen Dunn/Getty Images
I don't want to give Peace a chance. I want the old Ron Artest back. This is the first time all year I have seen him bring the kind of intensity we saw in the 2010 championship run. The Lakers need that edge from him. Ron needs to get in there and mix it up. Matt Barnes cannot do it alone. He can take some of the pressure off Bynum so he doesn't have to be the only one blocking shots down in the post.    
Which brings us to Derek Fisher. I will not bash him. I know it's fashionable right now to complain about him.  He's too old, too slow, blah, blah, blah. Maybe he is. But last night I saw something that Derek brings to this team that is invaluable. In a season with a lot of new faces for the Lakers, the entire team is feeling their way forward. But there is one thing I can say for sure: Kobe Bryant ALWAYS knows where Derek Fisher is. Kobe is going to get double teamed a lot this season because everybody knows he is the offensive firepower on this team. And everybody is ignoring Fish because their scouting reports say he's washed up. 
Guess what? That means he is open. There were several times last night Kobe was in trouble and got the ball over to Fish. Swish. Easy uncontested basket. Kobe and Fish have been together for so long that kind of thing is a part of their basketball DNA. I don't know how you formally shoehorn that into a game plan, but watching tape I hope that concept is pointed out to the rest of the team. That's a hidden asset. An intangible if you will. Maybe he's not as fast as he once was, but Fisher can still shoot.
We'll see what happens moving forward. The Lakers now go back out on the road to face Milwaukee and Minnesota. Whether they can build on this solid performance is unknown.
But maybe we will look back at this game against the Clippers and point to it as the moment where the Lakers found their winning formula for the season.