Dwight Howard Trade Rumors: Superman Adds Los Angeles Clippers to Wish List
January 16, 2012

Kevin C. Cox/Getty Images
According to SheridanHoops.com, Dwight Howard has added a fourth team to his wish list in the Los Angeles Clippers.
SheridanHoops.com learned exclusively Monday that Howard recently expanded his list of preferred future destinations, adding the Clippers to a list that already included the Nets, the Mavericks and the Lakers.

"He's been watching them a lot. He's intrigued by the Clippers," said the source, who is privy to the trade talks that have taken place between all of the aforementioned teams.
After trumping the New York Knicks in an impressive 103-92 Orlando victory, Howard broke his silence regarding his desire to be moved and expressed his interest of teaming up with Blake Griffin and Chris Paul in "Lob City."
This summer, the Orlando Magic went through a hectic few weeks deciding what to do with the All-NBA center. If traded, Dwight wanted to be shipped to either the New Jersey Nets, Los Angeles Lakers or Dallas Mavericks. With the inclusion of the Clippers, Orlando GM Otis Smith can become much more creative if he decides to deal Howard before the trade deadline.
The Los Angeles Clippers may not have fantastic trading assets, but they have a considerable amount of talent on the roster. Plus, they possess players that Orlando is looking for.
The Orlando front office wants experienced veterans in exchange for Howard, instead of young prospects. Sure, this may not be the right move for the future, but it will keep Orlando in contention for a few more years.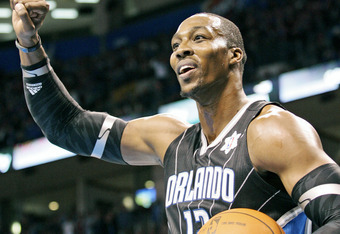 Brett Deering/Getty Images
The Clippers have a plethora of veterans that they can deal for Superman. Between Caron Butler, the resurgent Chauncey Billups, Mo Williams and Randy Foye, Donald Sterling and the Clippers can put a decent trade offer together.
However, those three players aren't going to cut it. With their rival, the Los Angeles Lakers, possessing the breakout Andrew Bynum, the Clippers are going to need a little more than four role players to compete for Superman.
Orlando will probably ask for either Griffin or Paul in exchange. However, the Clippers are going to be extremely reluctant to split up the combo that has led them to a 6-3 start.
They will try to entice the Magic with DeAndre Jordan, but the center's cumbersome contract will probably not be too appealing to an organization with an extremely high payroll already.
In the end, Orlando needs to deal Howard before free agency. Even though all of O-Town wants to see D12 retire in blue and white, it is becoming more and more likely that Howard bolts as soon as he gets the chance.
With Mark Cuban and the Dallas Mavericks waiting in the shadows to snag both Howard and New Jersey Nets point guard Deron Williams in the offseason, Orlando should definitely consider dealing the 6'11" superstar.
After all, the Magic definitely don't want to pull a "Cleveland."