Sacramento Kings: Smart Decision to Extend Keith Smart
January 10, 2012
Ezra Shaw/Getty Images
I don't know if Keith Smart is a good head coach or not.
His brief tenures in Cleveland and Golden State have ended with records far below .500, which on the surface seems to be not so great.
However, whether Smart is a good coach or not, whether he can handle the immense challenge of leading a team that is young, stubborn and full of isolation players who were born to chuck the ball without conscience, mercy or thought about team dynamic is ultimately irrelevant.
Because what the Sacramento Kings need more than X's and O's, more than rotations that make sense (neither of which were provided by Paul Westphal), is stability, finality and leadership.
Joe Maloof, Gavin Maloof and Geoff Petrie may have made a great decision in extending Smart, and putting their faith in him for the next two years.  Then again, they may have made a terrible decision.
The important thing is that a decision was made.  It was made quickly and decisively, and it was made without bickering, speculation or drama.
For the last few years, Sacramento has been home to a basketball team that has floundered in every way possible.
The most obvious example of this is the fact that the franchise itself seems to still be in a state of flux, with its owners publicly stating that they would like to stay in Sacramento, yet remaining unable to reach a new arena deal with the city.
As far as signs that your favorite basketball franchise is treading water, the fact that they don't have an arena or a city to play in next season are certainly high on the list.
But the apathy and general attitude of frustrating indecision that has defined the Kings has been visible in nearly every move the franchise has made in the last few years.
There were the middling first round picks who failed to develop into the players they were capable of being, and have thus failed to set the Kings' ship sailing in the right direction (Spencer Hawes and Jason Thompson, I'm looking at you).
There were the free-agent signings, the decisions that were made with money to spend and absolutely nothing limiting the team except maybe the market in which they play.
This summer, for instance, could have been a game-changer for the Kings.  They could have bid on Chris Paul or Dwight Howard. 
They probably wouldn't have gotten either of them, but they could have made a splash.
The Kings could have made a very public declaration that they are young, with money to spend, and are determined to improve dramatically and become relevant once again.
Instead, they signed John Salmons and Chuck Hayes.
Then there's the carousel of bad coaches: Eric Musselman, Kenny Natt, Reggie Theus, Westphal. 
Not only were these decisions uninspired, they were agonized over.  They were researched and debated, and ultimately, all of them failed.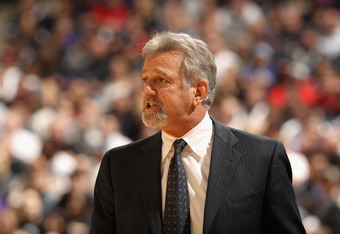 Ezra Shaw/Getty Images
For the past few years, every decision the Kings have made has reeked of hesitation, uncertainty and failure. 
This is the attitude that has defined the team—a step slow, a minute late and always a bad decision or two away from legitimate success.
Extending Smart's contract immediately after firing Westphal doesn't erase all of this.  There's no way it could.
But it seems, on the surface, to indicate a front office that's fed up with what it's been seeing, and is ready to act quickly to remedy what they can.
Consistently arguing with your coaching staff, teammates and anyone else who dares treat you like the petulant child you are?
Enjoy the view from the bench, DeMarcus Cousins.  Keep acting up and watch your minutes decrease.
Thinking of taking these disagreements public without first consulting your GM, owners or anyone else who represents good, old fashioned common sense? 
Adios, Westphal.  Enjoy retirement.
Like I said, maybe Smart is a great coach, and maybe he isn't.  The early returns certainly haven't all been positive, but there have been indications that things are headed somewhat in the right direction.
And in Sacramento, a basketball team that is headed even vaguely toward solid decision-making is major progress.
Tyreke Evans has looked like he cares again, putting up his three best games of the season under Smart's leadership.
The Kings' rotations seem to have leveled out somewhat, with players developing clearly defined roles—the importance of which cannot be understated on a young team like Sacramento.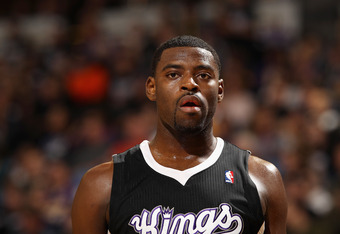 Ezra Shaw/Getty Images
Cousins still whines like a little girl with a skinned knee when things don't go his way, but he does seem happier and more involved in the new team concept than he did before.
But that may just be wishful thinking on my part.
At least there seems to be a team concept now.  Rotations are set, roles are defined.  The team has a new, young, energetic coach with an equally energetic roster.
Most importantly, the processes that kept Smart in Sacramento seem to represent an ideological shift away from the machinations that have been at work within the Kings organization in recent years.
At this point, a change in ideology may be the only thing that can save the Kings.