NBA All-Star Game 2012: 20 Surprise Players on the Ballot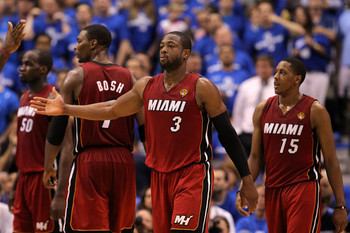 With the short season, All-Star voting has crept up on us faster than ever.
As a result, there are some names on the ballots that we would have never predicted to be on there at the beginning of the season.
Because some of these players have gotten off to good starts, they are presented with the opportunity to campaign and make a case for their spot on the All-Star team in February.
Voting ends on January 31, starters will be named on February 2 and reserves will be named February 9.
Try not to let your jaw drop as you click through the slideshow and see the name of some players you didn't even know saw the court.
There will not be a team in the NBA that has played more than 20 games by the time the All-Star game comes around, so don't be surprised if you see some players make their first appearance in the All-Star game this year.
Jose Calderon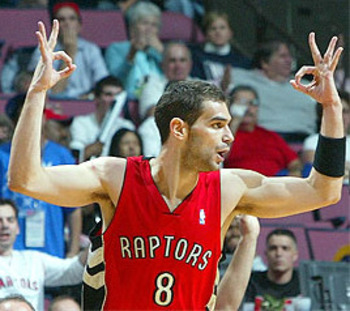 Jose Calderon is off to a great start this year after playing some of his worst basketball the previous season.
He and Andrea Bargnani are a nice one-two punch as Calderon continues to put up solid numbers and flirted with a near triple-double in the Raptors' last win over Cleveland.
Paul George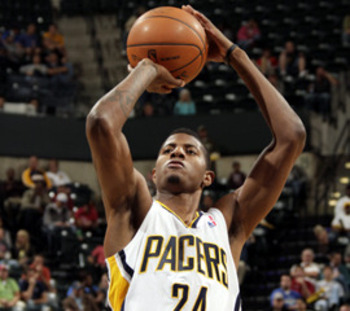 Paul George is one of six Pacers on the All-Star ballot. I don't think there is one person out there who expected the Pacers to have that many nominees.
George is averaging just over two threes a game for the Pacers and is a solid defender due to his 6'8" frame as a shooting guard.
Recently he scored 21 points against the Nets and was the best player for the Pacers in their recent loss against the Heat.
Nevertheless, he is far from your typical All-Star-caliber player.
D.J. Augustin
Many people wonder why D.J. Augustin even starts over rookie sensation Kemba Walker.
However, Augustin has been putting up some good numbers.
Maybe the pressure of Walker playing behind him has forced Augustin to elevate his game. Nevertheless, he has accepted the challenge.
It is clear that the Bobcats have two young talented point guards on their roster, as both of them are on the All-Star ballot.
It is not likely that either will make it, but Augustin is playing is best basketball thus far in his young career.
Darren Collison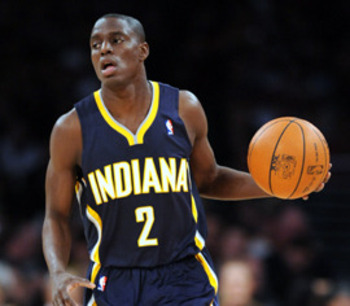 Darren Collison is another one of the six Pacers on the ballot.
The young point guard from UCLA is at the reins of a surprisingly talented Indiana roster.
Managing the team well, Collison is another young point guard in the league who looks likely to be around for a long time.
He will likely be an All-Star before his career is over, but making it this year is a long shot.
Brandon Bass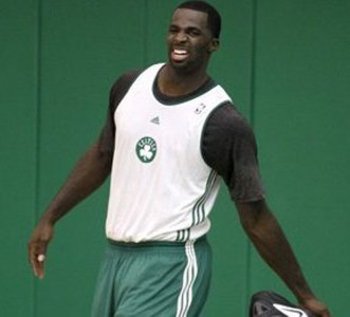 Brandon Bass has been a pleasant surprise for Celtics fans.
There have been multiple occasions where Bass has put up better numbers than starting power forward Kevin Garnett.
He brings solid production off the bench, but for now he is just a role player for the Celtics, who still boast the original "Big 3."
Keep ballin', Bass, keep ballin'.
Kris Humphries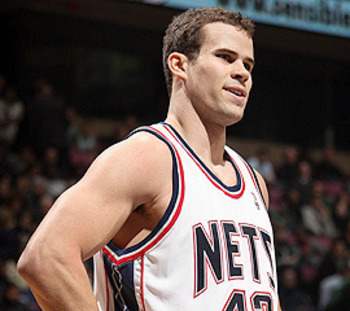 Well, well, well, who knew Mr. Ex-Kardashian could actually play some basketball?
Humphries recently suffered a minor injury and missed his last game, but he is still averaging a double-double.
Needless to say, what he does on the basketball court is not as discussed as much as what he got himself into during the lockout.
As a result, he was labeled the most hated player in the NBA.
However, I don't hate him and did not hesitate to draft him for my fantasy team.
But an All-Star? Not quite.
Jonas Jerebko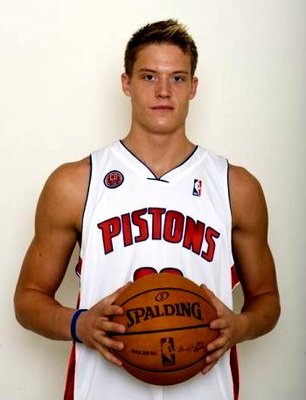 While the Pacers have six players on the ballot, the Pistons are right behind them with four.
The re-signing of Jonas Jerebko by the Pistons went unnoticed during the offseason, but Jerebko has been playing some good basketball for Detroit.
The Pistons are looking for someone to step up and Jerebko has been rebounding and finishing around the basket consistently.
But he is definitely a player that we did not expect to see on the ballot.
Jerebko is extremely fortunate to see his name on the list.
Tyler Hansbrough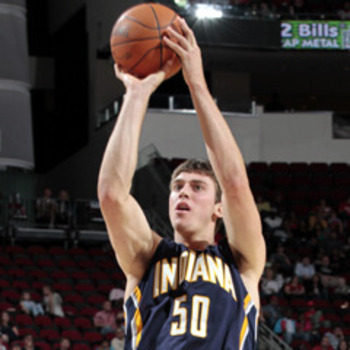 Tyler Hansbrough has always been labeled a hard worker and willing to get his hands dirty underneath the basket.
Although he was a standout player at the University of North Carolina, he is far from one in the NBA.
Nevertheless, he's right there on the list next to the likes of Amar'e Stoudemire, Dwight Howard and Chris Bosh.
Weird.
Joel Anthony
Joel Anthony receives MVP chants in Miami.
He is a fan favorite for the energy he brings to the court.
He is only 6'9" and is far from the biggest center in the league, but he will rarely be outworked.
The Heat's fast start and "Big 3" has forced many people to overlook Anthony's newly acquired offensive skills.
There are not a lot of premier big men in the league and I can't say I'd be surprised if he made the final cut.
But, like the others, it is not likely.
Boris Diaw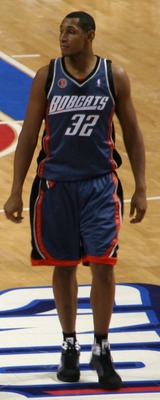 First off let me say that Boris Diaw has to be one of the least athletic players to ever play in the NBA.
He does not exactly have a typical NBA body.
But hey, he's doing big things (pun intended).
In his last game, he had 27 points and six rebounds and will play a big role in the fate of the Charlotte Bobcats.
He wouldn't be exactly exciting to watch in the All-Star game, but he does get the job done.
Arron Afflalo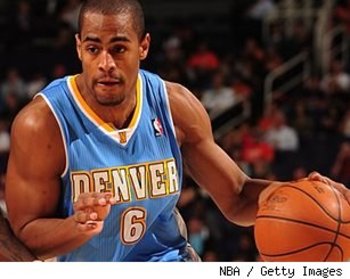 Arron Afflalo has scored in double figures in five out of seven games on a deep Denver Nugget team.
Usually labeled a pretty good defender, he would be lost in an All-Star game where there is little to no defense to be found until about the last two minutes.
Ricky Rubio
Dwyane Wade said Ricky Rubio has a chance to be better than Steve Nash.
He has definitely been playing very well and in his last game he had 12 points and 10 assists.
However, he's only a rookie and it is not his time yet.
Even though he probably feels 30, considering he's been playing professional basketball since he was fourteen.
Metta World Peace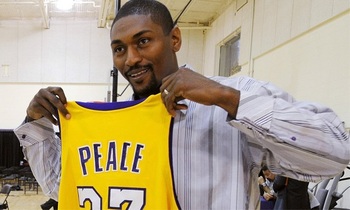 Wouldn't that be interesting to see what Metta World Peace would do on the court during an All-Star game?
I don't think I am the only one who wonders this and as a result, I think he will make the final cut and provide us with some entertainment in Orlando.
Lamar Odom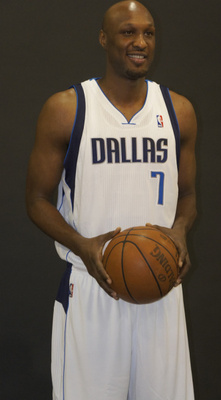 I do not understand how Lamar Odom is on the ballot but Ryan Anderson is not.
Odom is playing horribly and has not quite figured out his role in Dallas, while Anderson is playing the best basketball of his career and managing to score and rebound alongside Dwight Howard in the paint.
Odom is coming off his best game of the season with 15 points and five rebounds, but even that does not compare with Anderson's opening night of 25 and 10.
Odom should have been an All-Star last year, but does not even belong on the ballot this year.
Nicolas Batum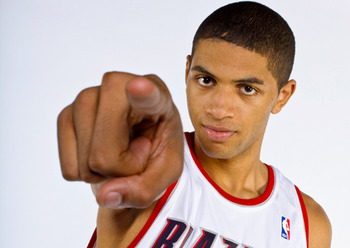 Batum is currently looking for a contract extension and is playing like it.
Recently he did a number on the Thunder, defending Durant on one end and finishing with 12 points and seven rebounds on offense.
His numbers are rarely head-turning, but he is a solid young player who will likely find his way on an All-Star team in the future.
Samuel Dalembert
Samuel Dalembert barely plays in Houston and when he does see the court is far from impressive.
Why is he on the ballot?
Marcin Gortat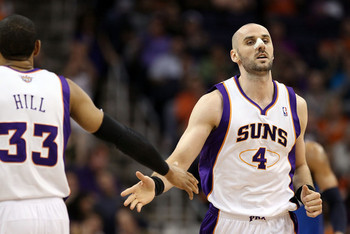 Marcin Gortat is quietly playing some good basketball for the Suns in Phoenix and is currently coming off a double-double.
He may make the cut.
Anthony Morrow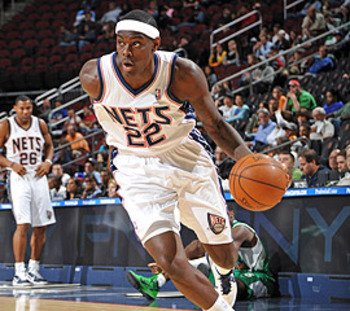 Anthony Morrow is one of the best shooters in the league.
He should be in the All-Star three-point shootout, but not the game.
That will be all.
Jeff Teague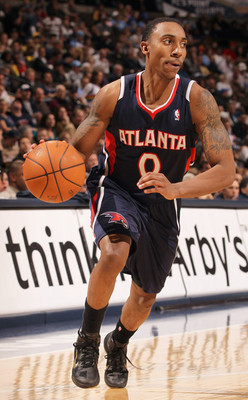 Scoring in double figures in four out of six games, Teague is producing more on offense than many expected.
However, playing alongside Joe Johnson and Josh Smith, it is not exactly his time to shine.
Greg Monroe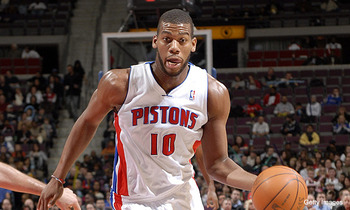 Greg Monroe continues to improve each game.
He has scored in double figures in his last five games and is one of the better rebounders in the league.
He is one of the bright young players for the Pistons and could possibly suit up for the East come February.
Keep Reading