Who Should the Raptors Amnesty Cut?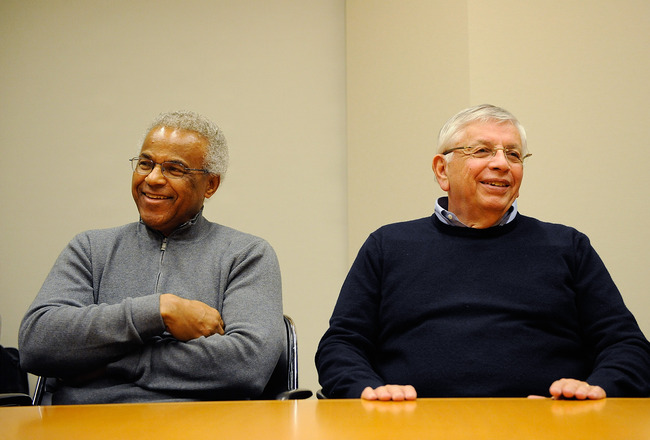 David Stern and Billy Hunter
Patrick McDermott/Getty Images
As most, if not all of you, know by now, David Stern and the NBA were able to negotiate a new collective bargaining agreement with Billy Hunter and the NBAPA. In the new CBA, one of the provisions is an amnesty cut that can be used by every team at any time during the decade long duration of the bargaining agreement.
Unlike the "Allan Houston" provision that emerged from the previous CBA negotiations in 1999, the amnesty cuts will actually remove any impact of the cut players' salaries from the salary cap. Of course, the team still has to pay the player the remainder of the money on his contract, but an amnesty cut could help teams get well under the salary cap or luxury tax threshold if necessary.
The Toronto Raptors, like every other team in the league, have the right to use their amnesty cut, and the purpose of this article will be to provide some insight as to which Raptors player should be slashed from the roster.
Amir Johnson: Power Forward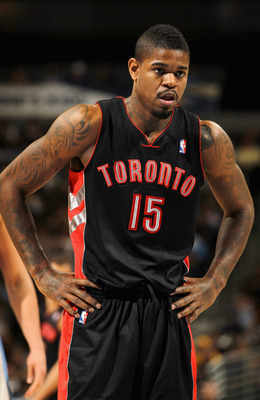 Doug Pensinger/Getty Images
Contract: $25,000,000 through 2014/2015
2010-2011 Key Statistics: 25.7mpg, 9.6ppg, 6.4rpg, 1.2bpg
Reasons to Amnesty Cut: Obviously, the biggest reason for cutting Amir Johnson is that he is currently signed to the longest, most lucrative contract out of any Raptors player not named Andrea Bargnani. Additionally, the Raptors have two other power forwards on the roster (the aforementioned Bargnani as well as sophomore Ed Davis) and could easily resign Reggie Evans on a very cheap contract to make it a third. Amir is not necessarily a must-have on the team, and cutting him would free up $6,000,000 right away for Toronto to spend in free agency.
Reasons NOT to Amnesty Cut: Amir may be making what seems like a lot of money, but in reality, he actually makes less than the league average of around $7,000,000 in yearly earnings. Johnson is the only competent offensive player on the Raptors who is still committed to playing defense, providing energy, and crashing the boards. In the event that the Raptors did cut Amir, they would likely be hard pressed to find another player capable of similar per-48 production for the same price, and the extra cap space could easily be wasted on mediocre talent.
Linas Kleiza: Small Forward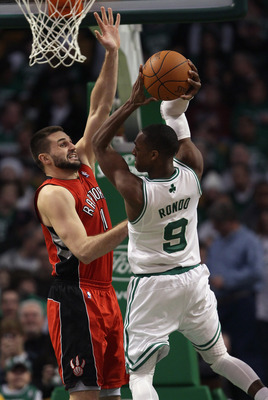 Elsa/Getty Images
Contract: $13,805,000 through 2013/2014
2010-2011 Key Statistics: 26.5mpg, 11.2ppg, 4.5rpg, 39 games played
Reasons to Amnesty Cut: You do not have to look much past the 39 games played to see why Kleiza is on this list. Last year, he showed that he is extremely injury-prone, missing over half the season. At first glance, it appears that his contract is actually quite reasonable for his statistical production, but he becomes much devalued when you look at just how few contests Kleiza was able to compete in during the 2010-2011 campaign. Can the Raptors afford to use up over $4 million of cap space annually to have Kleiza sit court-side with a suit on?
Reasons NOT to Amnesty Cut: Yes, Kleiza did miss a ton of games last year, but looking at the rest of his career, he competed in 61, 79, 79, and 82 games in the previous four seasons of his career. This demonstrates that Linas might not be as much of a liability as he demonstrated last season. Also, Toronto severely lacks talent in at the small forward position, with both James Johnson and Julian Wright being extremely raw offensive players. Kleiza is the only viable option as a starter (unless the Raptors sign someone else in free agency), as he could provide an added offensive punch for the team while still playing decent defense.
Jose Calderon: Point Guard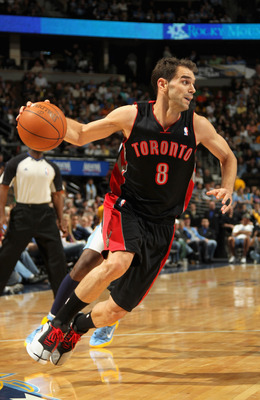 Doug Pensinger/Getty Images
Contract: $20,342,978 through 2012/2013
2010-2011 Key Statistics: 30.9mpg, 9.8ppg, 8.9apg, 3.0rpg
Reasons to Amnesty Cut: With the addition of Jerryd Bayless last season, the Toronto Raptors have someone who they can lean on to at least try to take the starting point guard job from Jose Calderon. Bayless demonstrated in spurts last year that he could be successful, sometimes even dominant as the starting point guard. Jose definitely did not earn his contract on the court last year, as he continued to play abysmal defense while not having much of an impact on games in the scoring department. Calderon will also be the highest paid player on the roster for the next two seasons, but many fans would argue that he is not even a top three player on the roster. An amnesty cut on Calderon would free up a lot of cap space for both the 2012 and 2013 free agency periods for Toronto.
Reasons NOT to Amnesty Cut: Calderon may have a hefty contract, but he is easily one of the best and most efficient passers in the NBA. His 8.9 assists per game were good for fifth in the NBA last year, and he was second in assist to turnover ratio after Chris Paul. It is hard to find that kind of efficiency in a point guard in today's NBA, and that is definitely one aspect of Calderon's game that should not be undervalued. Jose is also an extremely efficient scorer, as his shooting percentages typically sit around the 50-40-90 mark.
Andrea Bargnani: Power Forward/Center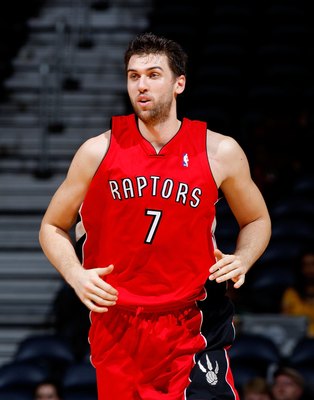 Kevin C. Cox/Getty Images
Contract: $42,000,000 through 2014/2015
2010-2011 Key Statistics: 35.7mpg, 21.4ppg, 5.2rpg, 66 games played
Reasons to Amnesty Cut: Bargnani has the heftiest contract on the Toronto Raptors, which automatically makes him a prime amnesty cut candidate. Many fans believe that Bargnani has not earned his contract with his play over the past few seasons and likely never will. Additionally, Bargnani does not really help Toronto in any area other than scoring. Just over five rebounds per game is absolutely unacceptable for an athletic 7'0 big man, and Bargnani's weak-side defense has been terrible throughout his career. By cutting him, the Raptors could rid themselves of over $10 million in salary each of the next four years.
Reasons NOT to Amnesty Cut: DeMar DeRozan aside, Bargnani is probably the most talented player on the Raptors. He has already established himself as a very good scorer, capable of hitting shots from outside (a rarity for a bigman) or even putting the ball on the floor and attacking the basket. Andrea also showed flashes of an improving low-post game last season. Bargnani has also never played his natural position (power forward) since he came to the NBA. It is very obvious that Bargnani is not capable of intimidating other teams in the paint, which does not make him ideal as the defensive anchor for any NBA team. That being said, contrary to popular belief, Andrea is actually a solid one-on-one, man defender, which means that his defense would be passable at the power forward spot. If Coach Dwane Casey can motivate him to rebound and be more aggressive on both sides of the ball, Toronto would have a Dirk Nowitzki-lite for a very reasonable price (Bargnani could potentially average 25 points and eight rebounds per game).
The Verdict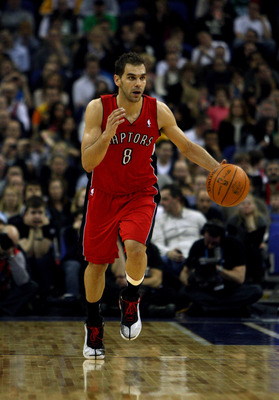 Warren Little/Getty Images
The Toronto Raptors should use their amnesty cut provision on Jose Calderon, but not right away. Of the four players mentioned, he is the oldest, the worst defensive player, and makes the most money per year for the duration of his contract. It does not make much sense for the Raptors to keep paying him the money that he is earning, especially with a young point guard like Bayless in tow.
That being said, Toronto should try to trade Jose Calderon for younger, inexpensive pieces throughout the 2011-2012 campaign. If the Raptors are unable to find a desirable suitor for Jose, then they should use their amnesty cut provision during the 2012 NBA Offseason.
Keep Reading

Toronto Raptors: Like this team?