NBA Lockout: Teams That Will Be Hurt by 66-Game Season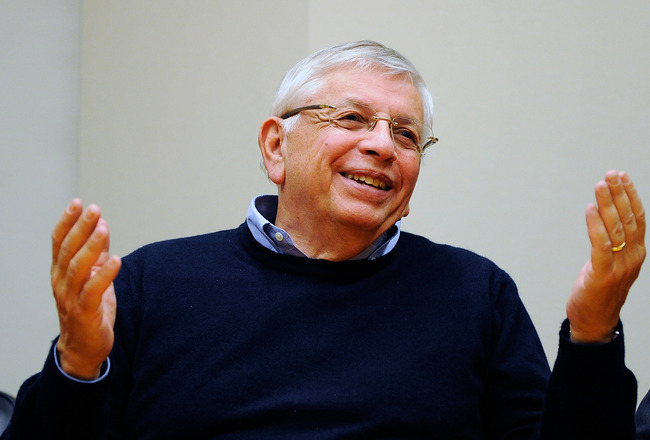 Patrick McDermott/Getty Images
Well basketball fans, the lockout is all but over!
NBA owners and players reached a tentative agreement early Saturday to end the 149-day lockout and plan to begin the shortened season on Christmas Day. The deal still must be ratified by both owners and players before it's official.
When you look at the slate of games on opening day, you will see that we are in for a treat. Santa Claus himself couldn't design this any better.
The day will open with the Boston Celtics at the New York Knicks at noon EST on ESPN. The Miami Heat take on the Dallas Mavericks at 2:30 PM EST on ABC. Last but not least, the Chicago Bulls head to LA to take on the Los Angeles Lakers at 5 PM EST.
What makes this shortened season tough to predict is that there will only be 66 games scheduled for each team.
This will undoubtedly have an effect on the players both positively and negatively. Let's take a look at a few teams that will be hurt the most by the short schedule.
Do you agree or disagree?
Post below and let me know what you think!
Miami Heat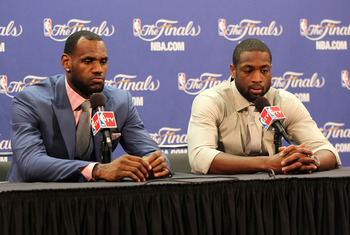 Mike Ehrmann/Getty Images
The Miami Heat had a great year, making it to the NBA championship the first season after the "big three" were assembled.
While they finished strong, this is a team that struggled for the first half of last season. LeBron James, Dwayne Wade and Chris Bosh had no chemistry for much of the season. Wade and James looked as though they didn't know who should shoot the important shots all season.
Both of those guys want the ball often and that cannot happen if this team is to win championships.
The Dallas Mavericks played as a team and it showed, as the Heat looked like a group of individuals instead of a team once again.
The Heat will struggle out of the gate again, much like they did last season. There haven't been any practices to speak of, and it will take them a while to clean up the offense yet again.
The difference is they can't afford to play poorly for half of a 66-game season. This is a team that will need to get off to a fast start, and that isn't going to happen.
This team is too good to miss the playoffs, but I don't see them finishing any better than third in the Eastern Conference.
I see both the Boston Celtics and Orlando Magic as better teams. The Chicago Bulls are another team that could edge out the Heat as well.
This team is living proof that there is no "I" in team.
San Antonio Spurs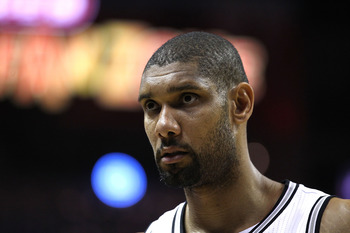 Jed Jacobsohn/Getty Images
The San Antonio Spurs are going to have a hard time this season.
Four of the Spurs projected starting five are over 30 years old, and Tony Parker is 29. This is still a good team but will be slow to start without some time to prepare.
Even if DeJuan Blair starts at center, they are an injury away from 37-year-old Antonio McDyess taking over. Tim Duncan isn't getting any younger, either. As good as he has been, Duncan is nearing the end of his hall of fame career.
The Western Conference is loaded with young talent, too, which doesn't bode well for this aging franchise. This season will be the beginning of the end for one of the most consistently good teams in all of sports.
Cleveland Cavaliers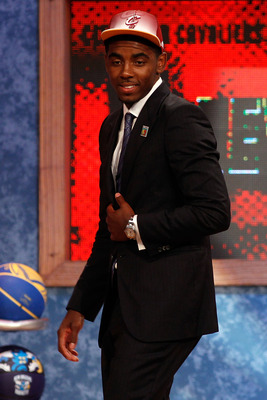 Mike Stobe/Getty Images
The Cleveland Cavaliers have a bright future ahead, but it's been pushed back an extra year.
The Cavs' No. 1 draft pick, Duke guard Kyrie Irving, will need a season under his belt before he can reach his full potential. He didn't play much at Duke due to injury, so he is far from polished as a player.
Fellow rookie forward Tristan Thompson will need even more time before he is a legitimate NBA starter. I was baffled by this pick and the trade of forward J.J. Hickson. Tristan is the same type of player as Hickson, who had already proven himself in the NBA.
The Cavs are extremely weak at the center position, which will set them back as well.
Anderson Varejao has played center, but he can't do it often and be successful. Semih Erden and Ryan Hollins are both big but not strong enough to be starting centers in the NBA.
If the Cavs could add a guy like Greg Oden, it would give them a true center to build around. I know the guy has been injury prone, but it wouldn't cost much to bring him in.
Los Angeles Lakers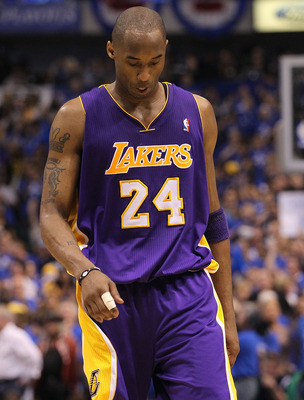 Ronald Martinez/Getty Images
Kobe Bryant is getting old and fragile, and the best coach in NBA history has retired.
These are the two reasons I see the Los Angeles Lakers having a hard time succeeding this season. New head coach Mike Brown won't have much time to get the players used to his system. Kobe is used to playing one way, as are most of the Lakers' core group of players.
Mike Brown was star struck coaching LeBron James—how will he handle Kobe Bryant?
If the Lakers get off to a slow start, Mike Brown will have a hard time gaining the trust of Kobe. If Kobe doesn't respect Brown, neither will Pau Gasol, Lamar Odom, or the rest of the players.
Kobe was banged up most of the time, and it showed. He was forcing up shots and trying to do too much. If Kobe can't get the players around him more involved, the Lakers will be a mess.
Not to mention Mike Brown couldn't keep the peace in Cleveland, which is part of the reason he was let go.
Don't be surprised if the Lakers lose Kobe—like the Cleveland Cavaliers lost LeBron James.
Minnesota Timberwolves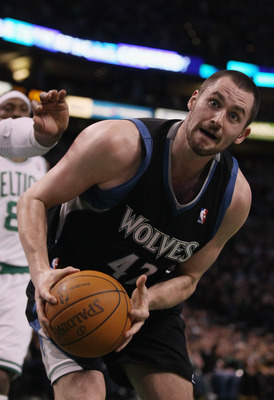 Elsa/Getty Images
The Minnesota Timberwolves may lose more than games this season.
Power forward Kevin Love is going to have a lot of teams calling when he becomes a restricted free agent in 2012. The Timberwolves front office now have less time to show Love that they can contend for an NBA championship.
Either they surprise everyone and make a playoff run or they are going to have to break the bank to retain Love.
I was pretty surprised that the Timberwolves drafted another forward. As good as Derrick Williams is, the team already has plenty of talent at the position. Maybe they are planning for a future that doesn't include Kevin Love.
They could have used another guard, especially considering that Ricky Rubio may never agree to play in the United States.
Head coach Rick Adelman has his hands full, but he is more than capable of turning this team around. There is a lot of young talent on this team, but I'm not sure it will keep love from chasing the money or joining a team like the Boston Celtics.
Keep Reading