10 NBA Players Who Need to Be Benched Now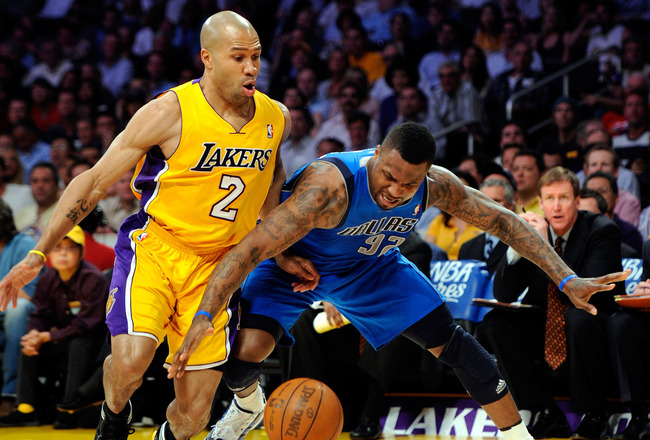 Kevork Djansezian/Getty Images
Assuming a starting role is a gargantuan responsibility in the NBA, and there are a number of players who are no longer up to the task.
The goal of every team in the league should be to put the best possible product on the floor, beginning from tip-off. Starting lineups set the tone for the game and often decide its outcome.
However, what if a player is no longer up to the demanding nature of such a role? What if a team makes the wrong decision on who to start? Or what if an athlete was never fit for such duty to begin with?
Teams can ill afford to have severely weak links in their starting rotation; liabilities in the starting lineup can prove costly down the road.
That is why if a player is not suited to perform up to the standards of such a role, he must be relegated to the bench.
Starters were determined using ESPN's 2011-2012 team Depth Charts.
Maurice Evans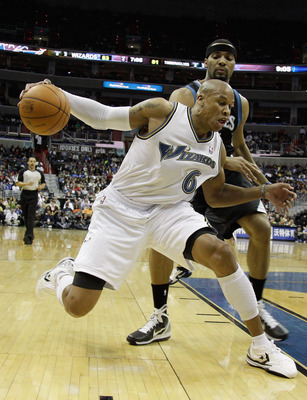 Rob Carr/Getty Images
If the Washington Wizards opt to re-sign Maurice Evans, they would be better off doing so in a diminished capacity, as he is not an especially capable starter.
Evans averaged 9.7 points and 2.8 rebounds in nearly 28 minutes per game during his time with the Wizards last season, where it became increasingly evident just how undersized he was for his position.
While athletic, Evans is not especially strong and fares horribly on the glass. He is a sporadic shooter and a subpar defender. His scoring potential is passable for that of a player coming off the bench, but not for a starter.
After eight seasons in the league, it is unlikely Evans' ability to be effective increases even slightly. And if his potential has peaked, there is no benefit to inserting him into any starting lineup.
Antonio McDyess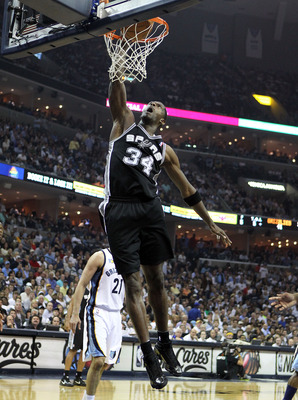 Andy Lyons/Getty Images
Antonio McDyess used to be one of the most athletic players in the game, but that has all changed thanks to age and past injuries.
The 37-year-old is still a decent rebounder but is no longer the fierce defender or prolific scorer he once was. He still has an okay touch around the basket, but his ability to score in the low post has nearly disappeared; McDyess can no longer effectively create his own offense.
With Tim Duncan's days numbered, the San Antonio Spurs need to ensure they are putting their best foot forward. Richard Jefferson's contract is a nightmare, but he still helps the team stay competitive. The same cannot be said of McDyess.
Although he only has one year left on his deal, McDyess can easily become a major liability on the court. At this point in his career, the Spurs need to be prepared to substantially diminish his role.
Thabo Sefolosha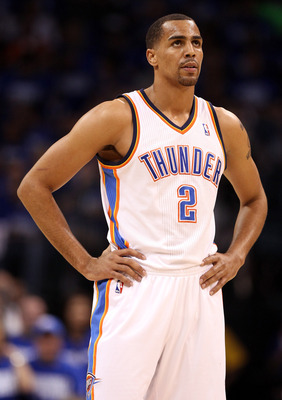 Christian Petersen/Getty Images
Thanks to the great on-the-ball defense Thabo Sefolosha plays, he can still make an impact on the Oklahoma City Thunder, but his skills do not warrant a starting spot, especially with James Harden behind him.
While the Thunder may be looking for Harden to be the Lamar Odom bench leader of their team, Sefolosha is a major liability on offense. His outside game is abysmal and he isn't a skilled passer either.
Sefolosha's average of 5.1 points and 4.4 rebounds per game last season do not speak volumes about what he can mean on defense, as he hounds the ball and creates turnovers, but even this is not enough to overshadow his woes on the other end.
As a utility player who is put in at certain times to lock opposing players down, Sefolosha is solid. As a starter, though, he is too much of an offensive wash.
Sefolosha is best served coming off the bench as defensive relief.
Keith Bogans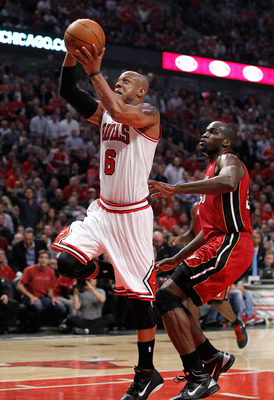 Gregory Shamus/Getty Images
The Chicago Bulls are in need of a competent backcourt mate for Derrick Rose, and Keith Bogans is not the answer.
Bogans started all 82 regular season games last season, managing averages of 4.4 points and 1.8 rebounds per game. His jumpshot needs a lot of work and he isn't that great of a passer.
The 31-year-old is best served on the defensive end, but even that part of his game isn't starting-five caliber.
Chicago's failure to reach the NBA Finals can be largely attributed to their shallow pool of talent at the shooting guard position. Had the Bulls boasted a more efficient running mate for Rose, things could have turned out a lot differently.
Very few starters averaged less than 20 minutes per game. Bogans is one of those few.
And for a good reason.
Travis Outlaw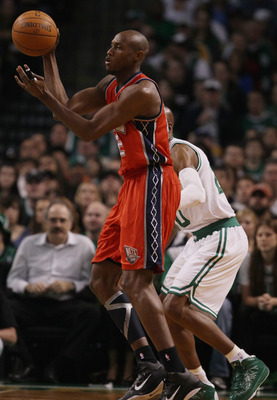 Elsa/Getty Images
If the New Jersey Nets are to convince Deron Williams to commit long-term, they are going to have to present a better small forward than Travis Outlaw to handle the starting duties.
The 27-year-old started a majority of the games last season, averaging 9.2 points and four rebounds per contest. Outlaw is one-dimensional, preferring to focus on offense over defense, but even his offense is nothing to write home about.
At times, Outlaw showcases his athleticism, but most of the time, he flies under the radar. And not in a good way.
Outlaw is not that good of a defender, and even less impressive on the glass. He stands at 6'9", yet has a career average of 3.5 boards per game. Such a number is acceptable for a player getting minutes off the bench, but for an everyday starter?
Not so much.
Chris Wilcox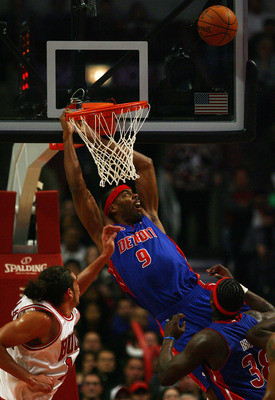 Jonathan Daniel/Getty Images
Chris Wilcox's ability to be effective was short-lived, and such days are long gone for the 29-year-old.
Last season, Wilcox, who is currently listed at the Detroit Pistons' starting power forward, averaged 7.4 points and 4.8 rebounds per game. He is an okay offensive player, but only tends to capitalize when within five feet of the basket.
Defensively, Wilcox can be a liability. For someone who was thought to run the floor well coming out of college, his agility is not all that impressive.
Additionally, given the strong upper body Wilcox boasts, one would expect him to be much more aggressive going after rebounds. At 6'10", the opposition should not be able to box him out so easily.
Wilcox burnt out a long time ago. While it is sad that he never reached and maintained his full potential, it is even more tragic that he is considered a starter.
Metta World Peace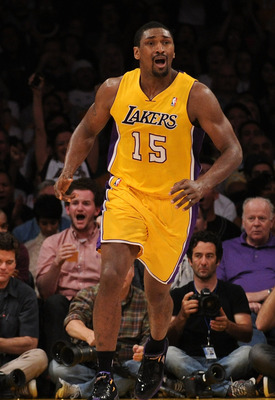 Harry How/Getty Images
Fairly recently, Metta World Peace was known for his offensive resilience and defensive prowess. If the past two seasons are a sign of things to come, though, the Los Angeles Lakers need to rush the small forward to the bench.
Peace is a roller coaster ride off the court, but his contributions on the court have always been stable and significant. That has all changed.
Last season, Peace averaged a mere 8.5 points and 3.3 rebounds per game. He struggled extensively on offense and exhibited defensive weaknesses that we have never seen before.
Peace's defensive potential should earn him minutes, but these minutes should come off the bench.
The Lakers are frantically trying to salvage whatever is left of Kobe Bryant's career. Keeping Artest in the starting lineup is not the best way to do that.
Jamario Moon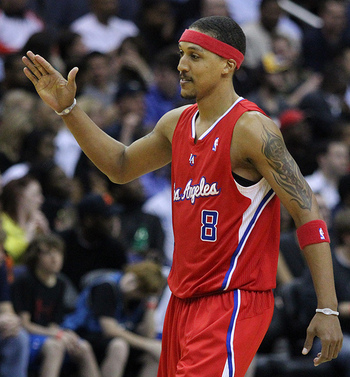 Photo courtesy of flickr.com.
Jamario Moon averaged a not-so-whopping 4.3 points and 2.8 rebounds per game last season—numbers that don't exactly warrant a starting position.
Moon is extremely athletic, but he is one of the most inconsistent players in the game. His jumpshot goes more cold than hot and his defense can be a nightmare. Moon attempts to block too many shots and finds himself in foul trouble often.
While Moon is only four years deep in the league, he is 31 and fairly set in his ways. His energy can be appreciated, but his execution, or lack thereof, can make you cringe.
The Los Angeles Clippers are a team on the rise, but they are liable to remain somewhat stagnant if they cannot find a different answer to the starting small forward question.
Joel Anthony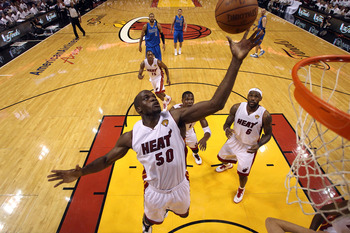 Ronald Martinez/Getty Images
Joel Anthony is valued for his defense, but that facet of his game is nowhere near effective enough to overshadow his incredibly raw offensive skills.
Anthony averaged two points and 1.2 blocks in nearly 20 minutes per game last season. His shot-blocking prowess is impressive, but there is a reason he didn't quite reach the 20 minutes per game mark.
When Anthony is on the floor, the Miami Heat are essentially playing a man down on offense. He is not especially athletic and is less than adept at running the floor.
While offense is not a concern for a team that boasts the likes of LeBron James and Dwyane Wade, irrelevancy is not a valued attribute in any setting.
The Heat are in need of both a deft point guard and center. A center should be higher on their list, though, as Miami is better off burying Anthony on the depth chart.
Derek Fisher
Chris Trotman/Getty Images
Derek Fisher is a likable enough guy—outside of Utah—but that doesn't change the fact that he clearly cannot cut it any longer as an everyday starter.
Fisher is 37, but not Steve Nash 37. His mobility has suffered as a result of his age and he is no longer a scoring threat. Defensively, he is also a liability as he is unable to keep pace with most of the other point guards in the league.
The Lakers are fighting to regain their championship composure and salvage the time Kobe Bryant has left, but will have a tough time doing so with Fisher at the helm. At this stage in his career, he is better coming off the bench as a backup, even if it is behind the rookie Darius Morris.
Fisher's willingness to be the face of the NBPA is admirable, and he has seemed more than capable at handling the rigors of such a position.
Being an effective full-time facilitator on the other hand is a different story.
You can follow Dan Favale on Twitter here @Dan_Favale.
Keep Reading