Can Former Duke Star Shelden Williams Shed Bust Label in NBA?
November 18, 2011
Christian Petersen/Getty Images
A former NBA lottery pick in 2006 that had an outstanding college career and has seen his NBA career become scattered is forward Shelden Williams. Williams, who spent last season with the Denver Nuggets before finishing the season with the New York Knicks, has become known for his marriage to Candace Parker (a star athlete at Tennessee and current WNBA player).
It was not that long ago that Williams broke all sorts of records while at Duke University, including becoming their all-time rebounder, and was eventually selected with the fifth overall pick by the Atlanta Hawks (a team in need of a big man at the time). Williams spent only one-and-a-half seasons in Atlanta, where he averaged 4.3 points and 4.2 rebounds per game, causing the team to draft Al Horford in the 2007 NBA Draft, which made Williams expendable.
As a result, Williams, Tyronn Lue, Anthony Johnson and Lorenzen Wright were sent to the Sacramento Kings in exchange for veteran point guard Mike Bibby. In Sacramento, Williams averaged 5.2 points in the remaining 28 games of the 2007-08 NBA season as he was provided with minutes in the midst of the Kings rebuilding efforts.
Williams appeared in 30 games for the Kings in the 2008-09 NBA season before being dealt close to the trade deadline along with Bobby Brown to the Minnesota Timberwolves in exchange for Calvin Booth and Rashad McCants.
In Minnesota, Williams was another expiring contract and played sparingly. He was not able to show his skills on the court and was being traded for contractual reasons instead. At the end of the season, Williams signed a one-year deal with the Boston Celtics in hopes of resurrecting his NBA career and learning from the Celtics' experienced veterans.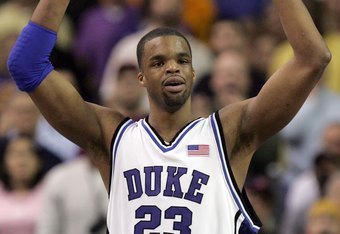 Streeter Lecka/Getty Images
In Boston, Williams saw more opportunities to play and made his playoff debut, but he was not living up to his lottery status. Although talented and an undersized power forward that is not a small forward, Williams was not included in the regular rotation. After spending one season in Boston, he signed a free-agent contract with the Denver Nuggets.
Williams was courted by the Nuggets in order to help shore up their frontcourt depth. Williams was a tough defender and a rebounder, and while not a true scorer, he could find some minutes under George Karl. However, after starting the 2010-11 NBA season with Denver, Williams was involved in the three-team Carmelo Anthony trade that sent him to the New York Knicks.
Included in the trade more for contractual purposes, Williams played in 17 games (including six starts) at power forward even though he only averaged 3.9 points per game.
Currently an unrestricted free agent, Shelden Williams is a player that could excel in a role that allows him to rebound and play defense rather than making him a scorer. Also, not being on a team for enough time to "find" his role is something that has caused his career to become scattered.
Hopefully, Williams is able to find an opportunity that will allow him to use his strengths and help a team achieve.