2011 NBA Lockout Simulation: Scores and Results for Opening Night
November 1, 2011
Jonathan Daniel/Getty Images
Each Wednesday during the 2011 NBA lockout, WhatIfSports.com's NBA simulation engine will simulate the previous week's unplayed games, using the NBA's actual 2011-2012 schedule. The NBA simulation will include cumulative standings updated each week, a game of the week and a player of the week.
The statistical inputs to the NBA simulations are based upon analysis of each team's roster, depth charts and statistically based player rankings. Rosters reflect all transactions prior to the lockout and rookies are based on players of statistical equivalence.
David Stern, Billy Hunter and their owner and player counterparts have the NBA in lockout-mode. All November games have been cancelled and there remains a looming threat of more cancellations on the horizon. While they feud over the league's future, the fans are left with an unsatisfied craving for basketball.
Until now.
We'll be simulating every game of the NBA season for the duration of the lockout. Check back every Wednesday to review the previous week's action. We begin with the NBA's opening night.
NBA Opening Night: November 1
The Los Angeles Lakers played host to the Oklahoma City Thunder and narrowly escaped with a victory, winning 98-97. The Lakers were paced by Andrew Bynum's 20 points, eight rebounds and six blocks. Kevin Durant scored 27 points for Oklahoma City.
The Utah Jazz beat the Houston Rockets 115-96 behind the strong post play of Paul Millsap (27 points, 14 rebounds) and Al Jefferson (21 points, 14 rebounds). Kevin Martin led Houston with 17 points.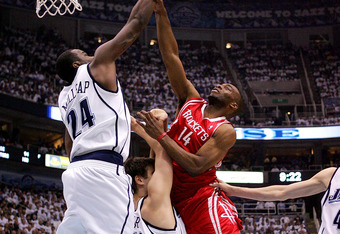 Jonathan Ferrey/Getty Images
Game of the Night
Teams
Q 1
Q 2
Q 3
Q 4
Final
WIS Interactive
Bulls
31
33
23
32
119
Boxscore
Mavericks
35
19
28
20
102
NBA SimMatchup
Player of the Game: Luol Deng - 23 points, 11 rebounds, 8-12 FG
The defending champion Dallas Mavericks received their rings prior to the game and then began their pursuit of a second championship by hosting the Chicago Bulls. The night did not go entirely as Dallas had envisioned however, and they showed they'd have some work to do if they hope to repeat as NBA champions.
Chicago used a strong second quarter to take a 64-54 halftime lead and never looked back, winning 119-102. Hot-shooting Luol Deng led the way with 23 points (8-12 FG, 2-2 3FG) and 11 rebounds. Derrick Rose overcame a poor shooting night and sloppy play (six TO) to add 15 points and 12 assists. Carlos Boozer scored 22 points for the Bulls.
Dirk Nowitzki had 23 points and eight rebounds in the loss. Jason Terry chipped in 20 points and Shawn Marion led all rebounders with 14.
Player of the Night: Paul Millsap, Utah Jazz
Paul Millsap Game 1 Statistics
Team Record
Points
Rebounds
Steals
1-0
27
14
4
NBA Simulated Standings Through November 1
Eastern Conference
Atlantic
W
L
Win%
Boston
0
0
.000
New Jersey
0
0
.000
New York
0
0
.000
Philadelphia
0
0
.000
Toronto
0
0
.000
Central
W
L
Win%
Chicago
1
0
1.000
Cleveland
0
0
.000
Detroit
0
0
.000
Indiana
0
0
.000
Milwaukee
0
0
.000
Southeast
W
L
Win%
Atlanta
0
0
.000
Charlotte
0
0
.000
Miami
0
0
.000
Orlando
0
0
.000
Washington
0
0
.000
Western Conference
Northwest
W
L
Win%
Utah
1
0
1.000
Denver
0
0
.000
Minnesota
0
0
.000
Portland
0
0
.000
Oklahoma City
0
1
0.000
Pacific
W
L
Win%
LA Lakers
1
0
1.000
Golden State
0
0
.000
LA Clippers
0
0
.000
Phoenix
0
0
.000
Sacramento
0
0
.000
Southwest
W
L
Win%
Memphis
0
0
.000
New Orleans
0
0
.000
San Antonio
0
0
.000
Dallas
0
1
0.000
Houston
0
1
0.000